An empty speech: Suu Kyi speaks about the Rohingya crisis without truly addressing it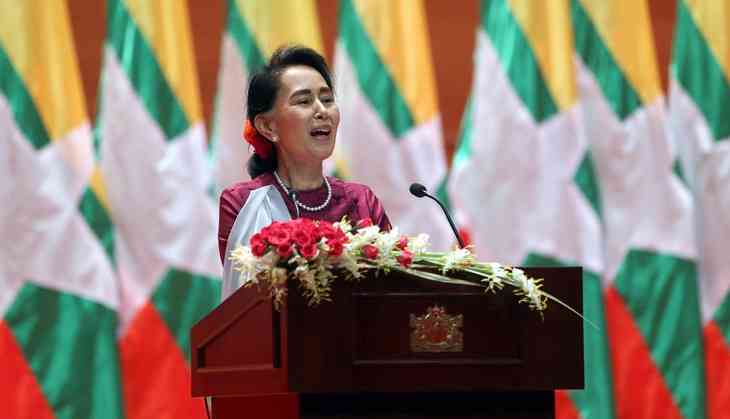 When Aung San Suu Kyi spoke on the crisis in Rakhine, the world watched with anxiety.
However, for her, the catastrophic situation in Rakhine - which international observers including the United Nations Chief have equated to a textbook case of ethnic cleansing - is just one of the many issues that Myanmar faces.
The State Counsellor also spoke about the repatriation of refugees from Bangladesh. "We are prepared to start the verification process at any time. A verification process was set up as early as 1993 and based on the principles of which both countries agreed, at this time we can continue with the verification of those refugees who wish to return to Myanmar," Suu Kyi said.
This could also pave way for the deportation of the over 40,000 Rohingyas who are in India.
Her speech contained the usual platitudes that one would expect: "We condemn all human rights violations and unlawful violence. We are committed to the restoration of peace, stability and the rule of law throughout the state. The security forces have been instructed to adhere strictly to the code of conduct, to exercise all due restraint and to take full measures to avoid the harming of innocent civilians."
But Suu Kyi went on to say that though the world's attention is focused on the situation in Rakhine, "Myanmar does not fear international scrutiny..."
As the Dutch Ambassador to Naypitaw put it in a tweet, "ASSK's speech on Rakhine: we feared denial and hoped for a message of compassion and justice: neither has come true."
ASSK's speech on Rakhine: we feared denial and hoped for a message of compassion and justice: neither has come true. #Myanmar @DutchMFA pic.twitter.com/EUspUREdfm

— Wouter Jurgens (@WouterJurgens) September 19, 2017
Amnesty International was even more scathing - one of its official said her speech was akin to "burying their heads in the sand over the horrors unfolding in Rakhine State."
Allegations and counter-allegations
She spoke for about 30 minutes in English more like a politician than as a human rights activist which had got her the Nobel Peace Prize. She also conveniently ignored some of the most brutal details of the happenings in Rakhine in the past three weeks since the 25 August attacks on some police posts. The attacks led to the latest crackdown by security forces which has left hundreds dead and over four lakh people, mainly Rohingya Muslims, fleeing to neighbouring Bangladesh.
Perhaps, playing to the gallery, the hundreds who had come to listen to her important speech held placards which said, 'We will stand by Daw Aung San Suu Kyi, we will stand by government, we will stand by Army."
There is little sympathy for the Rohingyas amongst other ethnic groups in Myanmar who still look at them as 'Bengali intruders' who have settled in Rakhine from neighbouring Bangladesh.
State Counsellor Suu Kyi sought to claim that violence had ceased in the Rakhine despite reports of how the Burmese security forces have planted landmines on the border to target those trying to cross over to safety to Bangladesh. And fresh photographs of Rohingya villages on fire have been coming in till recently.

"As I said earlier, there have been no conflicts since 5 September and no clearance operations. We too are concerned, we want to find out what the real problems are," she said, even as she pointed out how "there have been allegations and counter-allegations, and we have to listen to all of them, and we have to make sure that these allegations are based on the solid evidence before we take action."
She had earlier blamed "an iceberg of misinformation" driving the international criticism against Myanmar government over the humanitarian crisis in Rakhine.
Feigning ignorance
State Counsellor Suu Kyi, the most powerful politician in the country, beside the military generals, seemed to feign ignorance about the latest refugee crisis.
"We want to find out why this exodus is happening," she said, despite not having visited Rakhine since coming to power. "I think it is very little known that the great majority of Muslims in Rakhine State have not joined the exodus."
This is despite the fact that reports say that of the 1.1 million Rohingya population in Rakhine, around 4 lakh have fled to Bangladesh in the last two weeks alone. This number, together with those who fled earlier, puts the exodus to about two thirds of the entire Rohingya population.
Suu Kyi also did not use the word Rohingya, and referred to the world's most persecuted group just as Muslims despite the fact that there are Muslims from other ethnic groups who inhabit Rakhine - the Kamens for example. There are also Hindus who claim to be of the same Rohingya ethnicity. She had not allowed the Kofi Annan Commission to use the word 'Rohingya' either.
No quick fix
However, with mounting international and regional pressure, the State Counsellor reiterated that Myanmar would implement the Kofi Annan Commission reforms.
"Every single recommendation that will benefit peace and harmony and development in Rakhine State will be implemented within the shortest time possible," she said.
Implementing the Kofi Annan Commission report would include not just recommendations like socio-economic development of the state, but also other serious measures on citizenship of the disenfranchised and dispossesed community, and is being looked upon by both global and the regional players as one of the long-term measures which could stem the crisis.
With regard to citizenship, the State Counsellor said that "a strategy with a specific timeline has been developed to move forward to the national verification process."
Suu Kyi's address to the diplomatic community also seemed to suggest that international community is overzealous in its focus on Rakhine. "As we concentrate on problems in the Rakhine State, I would also like to take the opportunity to remind you that there are problems as serious for us for what is happening in the west of our country. We have been trying to build peace out of internal strife," she told the audience, which included several heads of diplomatic missions.
She was also quick to again remind that "our government has not yet been in power for even 18 months."
"Eighteen months is a very short time in which to expect us to meet and overcome all the challenges that we have been expected to do," she said.
Meanwhile, India's envoy Vikram Misri said her address was encouraging.
"We would like the situation to be dealt with in the context of rule of law. What we heard in the remarks of the State Councillor today was encouraging from that perspective. She has spoken about the process by which Myanmar will be ready to take back the refugees who have gone across the border and further steps will be taken in accordance with laws here in terms of national verification," he said.
"The situation that has come about in Rakhine in recent days is something that has caused a lot of concern to not only people within the country, but its neighbours, including us, too. It is a concern that we have shared at various levels," he added.