Af-Pak intelligence deal: why would Ashraf Ghani sleep with the enemy?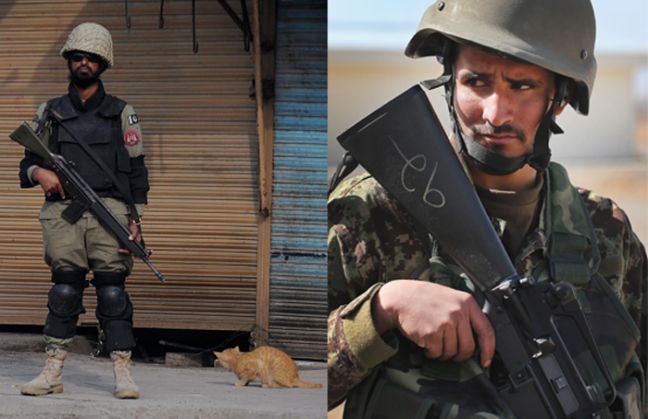 Alarm signals
Afghan President Ashraf Ghani has got into a secret intelligence sharing pact with Pakistan.
Afghans are deeply divided on this. Even the elected Jirga opposes it.
Ghani\'s own spy chief Rahmatullah Nabeel refused to sign the deal. But his deputy did.
Pakistan creates safe havens for the Taliban and Haqqani network. Is considered a primary source of trouble.
Indian anxieties
India has invested heavily in building Afghan infrastructure.
This deal could give Taliban a greater play in Afghanistan and erode India\'s own friendship.
The geo-games
Ghani wants to consolidate his position with the Taliban. Believes only Pakistan can bring the Taliban to the table.
Pakistan wants to instate a Taliban government in Afghanistan. This would increase its leverage with the US again.
The US and NATO want a face-saver: show they made the Taliban talk to an elected government.
Pakistan has apparently sold an alternative plan to the US: install an Islamic State in Afghanistan - akin to Saudi Arabia. Such a government would have no international ambition.
The losers
Those who dream of a moral and liberal Afghanistan.
Afghanistan and Pakistan have entered into a controversial bilateral intelligence cooperation agreement. When Prime Minister Narendra Modi met former Afghan President Hamid Karzai in Delhi on 23 May, he inquired about this.
Karzai dismissed the agreement as something that had become infructuous. Indian officials, however, did not buy his nonchalance.
New pact has India worried
Delhi has good reason to be apprehensive about Kabul's overtures to Islamabad.
India has invested heavily in developmental activities in Afghanistan. It has also been a target of Pakistan-sponsored high profile suicide bombings and other terrorist attacks there. The intelligence cooperation deal is seen by India as the thin end of the wedge.
It could eventually pave the way for Pakistan's proxies - the Taliban - to get a share in political power and erode India's friendship with Afghanistan.
For the time being, India can draw solace from the fact that within Afghanistan itself, a storm is gathering against President Ashraf Ghani for sleeping with the enemy. Most Afghans view Pakistan as the primary source of their woes. The Taliban and the Haqqani network, ensconced in safe-havens in Pakistan and supported financially and materially by the government, have been wreaking havoc in Afghanistan.
Ghani signed the agreement with Pakistan secretly going against his own spy-chief Rahmatullah Nabeel, Chief of National Directorate of Security (NDS). Nabeel refused to sign the agreement; eventually his deputy had to step in and sign it.
Disquiet even among Afghans
Afghan security experts fear that this Memorandum of Understanding (MoU) on intelligence cooperation will enable Pakistan's Inter-Services Intelligence (ISI) to penetrate the Afghan security establishment and undermine the sovereignty of their country. To be asked to reveal their hand to the very enemy they are fighting is not acceptable to them.
The government is vertically divided on the issue. While President Ghani and his National Security Advisor Hanif Atmar support the deal, the rest of the National Unity Government stands opposed to it.
Pakistan has sold the Americans an alternative plan to end the turmoil in Afghanistan
Ghani apparently did not consult his Cabinet colleagues and now finds it difficult to get their support for the MoU. The National Unity Government's Chief Executive Officer, Dr Abdullah Abdullah has also left President Ghani's side on this issue.
Former President Karzai was so agitated on learning about the secret deal that he called up President Ghani and advised him to immediately cancel the MoU or be ready to face public protests.
Draft or done deal?
The Afghan Wolesy Jirga, as the lower house of Parliament is called, is also up in arms. It wants the deal scrapped. Both NSA Hanif Atmar and NDS Chief Rahmatullah Nabeel were summoned to depose before it. Atmar did not turn up as he was travelling abroad but Nabeel did.
He told the MPs that the MoU was only a draft that had not been finalised and that was why only the deputy intelligence chiefs of the two sides had signed it.
Those who have taken a public stand against the deal with Pakistan include two former NSAs Amarullah Saleh and Rangin Dafadar Spanta, former deputy NSA Ibrahim Spinzada, Parliament Speaker Abdul Rouf Ibrahimi, an influential member of Parliament and former presidential candidate Prof Abdul Rasul Sayyaf, besides the heads and members of the parliamentary committees on internal security, defence, international relations and judiciary.
The government seems to have gone defensive in the face of growing opposition. The NDS has clarified that the draft MoU will go through a five-stage verification process that includes seeking public and legal opinion before it is finalised.
Strategic goal: taming the Taliban
President Ghani, on the other hand, is looking at a strategic relationship with Pakistan that involves more than intelligence cooperation. He believes that Pakistan alone can help him start effective negotiations with the Taliban.
[fullsuite/]
All the three Afghan Taliban Shuras - Quetta, Peshawar and Miranshah - are based there.
President Ghani may be able to consolidate his position by making the Taliban partners in power.
Pakistan envisages an Islamic Emirate in Afghanistan, politically akin to Saudi Arabia
Starting negotiations with the Taliban also suits the US and the European Nato powers who do not want to be seen as the defeated party as they withdraw forces from Afghanistan. This way, they can claim credit for bringing the Taliban in direct negotiation with the elected Afghan government.
Earlier, the meetings with the Taliban took place almost surreptitiously in hotels or in similar venues in other countries. It was in Kyoto in June 2012, in Chantilly outside Paris between November 2011 and December 2012, in Xinjiang's capital Urumqi this year on 19-20 May and earlier, on 2 May and 3 in Doha under the auspices of the Pugwash Conference.
However, in none of these meetings was it clear whether the negotiators had the mandate of their respective leaderships - i.e. the Taliban and the Afghan government.
Pakistan hopes to hook the West
Looking beyond negotiations with President Ghani, Pakistan is believed to have sold the Americans an alternative plan to end the turmoil in Afghanistan through the British.
The plan envisages an Islamic Emirate in Afghanistan, politically and ideologically akin to Saudi Arabia. Such a power structure would not have any international ambitions and, therefore, would not threaten the US and its allies.
It would be headed by an Amir-al-Momineen ('Commander of the believers' - a title adopted by Taliban leader Mullah Omar), and supported by the Taliban Shura. The Taliban will get legitimacy as well as a substantial share of formal state power.
This opens the way to the Taliban becoming the sole power in Afghanistan if they can marginalise moderates of Ghani's ilk. Pakistan would regain its position as the West's power broker in Afghanistan.
It can legitimately demand financial and military aid to keep Afghanistan stable. It would also break the friendship between Afghanistan and India and provide a space outside Pakistan's borders to nurture anti-India jihadist forces.
All eyes on post-NATO scenario
The two-pronged strategy is part of the larger game that Pakistan and some Western powers in retreat from Afghanistan are playing. This is obvious to Afghans who are opposed to bilateral intelligence sharing with Pakistan and who still want Afghanistan to develop as a modern, moderate and liberal Islamic republic.
Photo credit: Left: Mohammad Reza/Anadolu Agency/Getty Images. Right: Scott Olson/Getty Images