Mahagun Moderne residents move to ban Bengali, Odiya help; 13 slum-dwellers arrested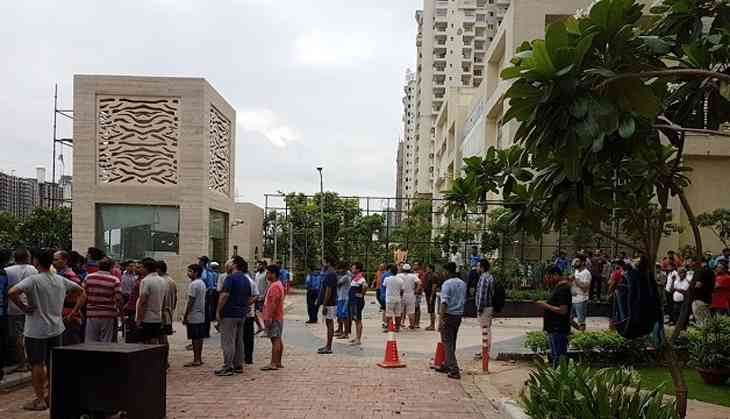 Mahagun Moderne (Photo: Twitter)
UPDATE: Zohra has made it back home. She was dropped off by the police earlier this evening.
Following news of an 'angry mob' breaking in and vandalising housing society Mahagun Moderne in Noida Sector-78, police on Wednesday night picked up 40-60 men from the nearby slums for interrogation.

Of this, 13 persons were arrested on the basis of three FIRs. In stark contrast, a fourth FIR, lodged against the employer of domestic worker Zohra Bibi for allegedly thrashing and unlawfully detaining her, seems unlikely to result in any police action.

Speaking to Catch, a local resident, who asked not to be named, claimed, "The situation is very threatening in Mahagun." She said that society members are up in arms against the domestic workers community.

"I attended the residents' meeting yesterday and I could feel that entire sense of we vs them," she says.
Bengalis and Odiyas not allowed?
A WhatsApp group that contains a large chunk of the Mahagun society is plotting to rid domestic help of their daily wages, in a move that can only be understood as an attempt to 'show them their place'.

"[Some residents] have been going from person to person, sending WhatsApp messages on how we need to build consensus and how this matter must be settled once and for all," she says.

And how are they planning to do that? By unitedly choosing to boycott domestic help.

"Yesterday, you won't believe the vengeance they had. These huge Boleros and Mahindra SUVs were coming out of the basement and they were all going to the District Magistrate's office with a petition," the source says.

"They signed on the sheet, which said: 'For ten days I will not hire any maids.'"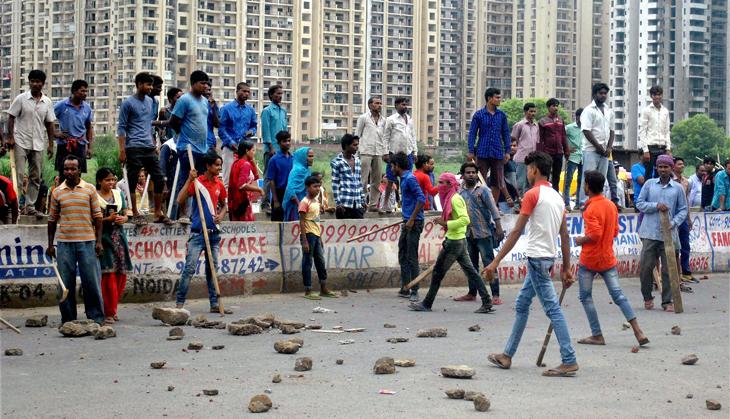 Local villagers gather at a housing society to protest after a domestic help was allegedly beaten by her employers on suspicion of theft in Noida on Wednesday. (Photo: PTI)
But this rich man's protest doesn't end at barring help for 10 days, for there's a larger agenda. Some residents are convinced that Zohra, given her name and spoken language, is a Bangladeshi immigrant. This, despite police confirming otherwise, as she has all the necessary documents to prove she's an Indian citizen.

But classism doesn't care for logic. That this isn't a communal matter is clear, but to paint it so ensures that those who are easily communally swayed will support the residents in their attempts to hit the disadvantaged where it hurts.

Matters have gotten so out of hand that the society is considering putting a ban on all Bengali and Odiya household help in order to avoid confusion.

"I asked the security officer what the [new maid] policy is going to be," says the source, adding, "He said we're going to see all the residents tomorrow, at 12:30 PM, when working people like us can't join, and this small group will decide if any Bengali and Odiya speaking people be allowed to work at Mahagun Moderne or not."

She says the general attitude is that these people deserve it, for daring to break into a gated society. "'Kaam bandh ho jayega, pet pe laath padega toh they'll understand what it is to protest against us' is what they think." (When they stop getting work and go hungry...)

"The maid stands no chance. Almost everyone, barring very few like us, is on the WhatsApp group. Once she's reported she's gone," she adds.
Zohra's husband considers suicide
Shortly after Catch spoke to the resident, Zohra's husband Abdul Sattar told us he didn't know of her whereabouts.

"Main kya bolun, mera dimaag poora ghum gaya hai," a frustrated Abdul told Catch. (What can I say, my head is spinning.)

"Policewomen took Zohra, said it will take time. When my sister and brother-in-law went to check the hospitals, she wasn't there," he adds.

But Zohra isn't the only family member he's worried about.

"Yesterday, they picked up around 60 men, and today some have been jailed. The cops just showed up after 11 PM and picked up people."

Abdul claims that one among those picked up was his 12-year-old son. "I'm a majboor banda, not educated, I don't even have the brains for this. I don't know where to go and what to do."
Almost certain he won't survive this situation, Abdul says he's barely had two rotis in two days.

On being asked what he thinks happened to his wife, he says, "She won't survive either. Look at the wives of the men who've been picked up, they're all boycotting food, refusing to eat till their husbands are returned."

Suddenly, he pauses and says, "Didi ekta kotha bolbo? Janina kirom lagbe.

"Amar eto tension hochhe je ekta roshi niye gaache jhulale bhalo hobe."

(Didi, can I say something. I don't know what you'll make of it. But I'm so tense that I'm considering tying a noose around a tree and hanging myself.)

Desperate at not knowing where to turn, Abdul is already considering suicide. He can't find his wife or son, or go to the police, because they may just arrest him.

"I went near the thana and learnt they're probably looking to detain me as well. I can't go back home because that's also unsafe. I'm just walking around in this heat," he shares.
No evidence against Zohra's employer
Abdul's arrest is a very real possibility, UP Police confirms.

According to Senior Superintendent of Police (SSP) Noida, Love Kumar, "Only 13 persons have been arrested, some more were brought in for interrogation."

Confirming that the arrests were made at night, the SSP categorically denied the possibility of any 12-year-old being picked up.

On being asked if they were looking for Abdul, he tells Catch, "See, if he was also a part of that mob, I don't remember if he was named or not, he'll also be arrested."

As for Zohra not returning home after her medical check-up, the SSP says, "I can't tell you so much detail because I remember she was called for the X-ray and she was sent to the hospital for medical check-up. After that, whether she's there or she's returned home, I'm not sure."

Noida Superintendent of Police (SP) Arun Kumar, who is the officer on the case, on the other hand, rubbishes the possibility of there being any case against the employer.

"Uss ilzham mein dum nahi hai," he casually tells Catch. (There's no merit in that allegation.)
"See, there's one FIR against the employer and three against the miscreants who vandalised property. Evidence ke aadhaar par iska doodh ka doodh paani ka paani kar diya jayega," he adds. (All will be clear based on the evidence.)

SSP Love Kumar, on being asked about the allegation against the employer of beating up Zohra, claims that "certain things that are under investigation." But his colleague, Arun Kumar, candidly says, "No such evidence in the medical report."

That there was access to the medical report, but not to the person it was carried out on is truly suspect.

And while SSP Love Kumar cannot confirm if Zohra was beaten up, he is certain she lied about being unlawfully detained.

Stressing that she wasn't found in the basement, he says, "Her main allegation was that she was detained overnight. In the preliminary enquiry [we learnt] that she was in a lady's house in the night.

"There's an old lady in the same society whose house she went to, saying she needed to stay the night. The whole night she was there.

"She should've clarified that she was not missing, she was in somebody's flat with consent."

On being asked if he then considers this a ploy on the part of the domestic workers, he says, "I'm not saying anything, but her primary allegation is not true."

Catch contacted the Additional Director General of Police (ADG) UP Law and Order, Anand Kumar, bringing the matter to his notice.

The ADG promised, "I have been told that 13 people have been arrested, if a child has been arrested we'll ensure that he's released."