Youth 'attempts self-immolation' at Mamata rally, goes missing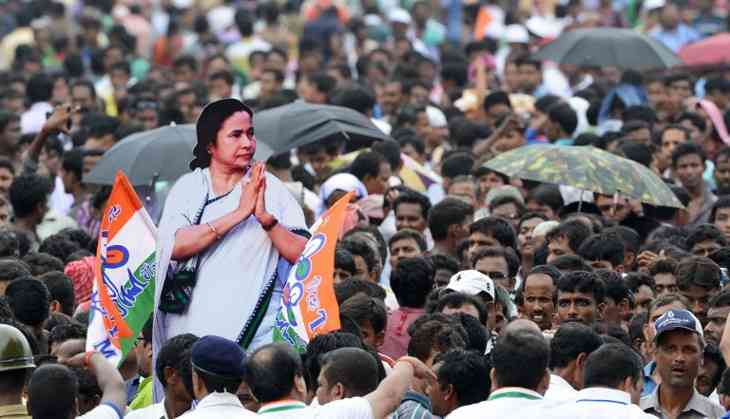 On a day when West Bengal Chief Minister Mamata Banerjee gave a call for the BJP to 'Quite India' at a mega rally in Kolkata, behind the stage, a youth attempted self-immolation. This was after he was allegedly thrashed by Trinamool Congress activists, when he tried to pose a question to her.
According to media reports, Sukhen Karmakar, who hails from Bhangar in South 24 Parganas district, drank kerosene and also poured the fuel on his body, and tried to set himself on fire, before being taken away by the police.
He was taken to the Kolkata Medical College and Hospital (KMCH) for treatment, and is now said to have vanished without a trace.
However, both the Kolkata Police and the South 24 Parganas district police have denied any knowledge of such an incident.
"We are not aware of any such incident," Kolkata Police Joint Commissioner Vishal Garg said.
An officer at the Bhangar police station gave an identical reply, and asked to contact the Kolkata Police for any information.
There were also contrasting reports about the fuel used by Karmakar. While some media reports claimed it was kerosene, others said it was petrol.
Media reports
Biswa Bangla Sangbad, a news portal, said Karmakar wanted to question Banerjee about a controversial power project in Bhangar. As soon as he raised slogans to attract Banerjee's attention, Trinamool activists beat him up.
The project by the Power Grid Corp of India Ltd, since its inception in 2013, has run into strong opposition from farmers, as well as environmentalists. The area has been on the boil since last November, over 'forced' acquisition of 16 acres of farmland – spread over several villages.
In violent clashes between the protestors and the police in January, two people were killed.
The news portal has also uploaded a picture where Karmakar is seen being accosted by a group of men near the dais from where Banerjee addressed the annual 21 July Martyrs' Day rally.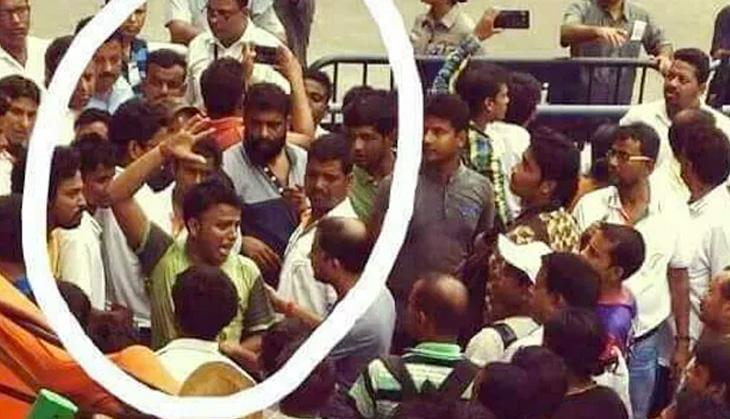 Picture of the youth (circled) carried by the media and by Facebook users. (Facebook/Sangram Chatterjee)
The same picture was posted by a Facebook user, Sangram Chatterjee, who claimed that Karmakar was admitted to KMCH.
The CPI(M)'s Bengali mouthpiece Ganashakti claimed that Karmakar was hastily released from the hospital after primary treatment and, along with his family, was taken to an undisclosed location. There has been no trace of him since then, it said.
CPI(M) state secretary Surjya Kanta Mishra accused Banerjee's regime of trying to hush up the matter.
"When she was addressing the rally, Sukhen drank petrol behind the stage and tried to immolate himself. But there is hardly any news about it. Much like the BJP at the Centre, the Mamata regime too has been intimidating and attacking the media," said Mishra.
Mishra also questioned how Karmakar managed to go backstage, an area that was accessible only to Trinamool functionaries and the police.
Even though the police have officially denied the incident, media reports claimed that cops were trying to cover up the incident by claiming Karmakar was mentally unstable.
Quoting police sources, an Eenadu India report claimed that Karmakar had brought a bottle full of petrol with himself to the rally. It quoted the sources as saying he suffered from mental instability due to familial problems.
Efforts to locate him
Human rights activist Sujato Bhadra said he was trying to locate Karmakar.
"We have taken cognisance of media reports, and are trying to locate him. Only after talking to him can we know what actually happened. It is being said he has been taken to an undisclosed location by the police," said Bhadra of the Association for Protection of Democratic Rights (APDR), a Kolkata-based rights group.
Not the first time
This is not the first time that someone has been trouble for trying to publicly question temperamental Trinamool supremo Banerjee.
Shiladitya Chowdhury, a farmer from the left-wing extremism affected district of West Midnapore, was branded a 'Maoist' and thrown into jail for daring to question Banerjee about the rising fertiliser prices at a public rally in August 2012.
"Oke dhorun… ekkhuni dhorun (catch him at once)," Banerjee had ordered the police as soon as Chowdhury asked the question.
As the police led the farmer away, Banerjee had told the crowd: "Did you see how I caught one of them (Maoists) red-handed?"
'Booting' incident
The APDR is also planning to approach the Human Rights Commission against the Kolkata Police for 'booting' a suspected mobile thief at the same rally.
A picture of a police officer wearing a gum boot about to stomp the youth has gone viral on social media.
"Even if the youth was caught stealing, the police have no right to boot him like that. There is also no report about where that youth is. We are gathering information about the incident, and will lodge a complaint of rights violation with the Human Rights Commission," said APDR secretary Ranjit Sur.