With their tea stall open, two men defy the norm in a standstill Kashmir
Parth MN
| Updated on: 11 February 2017, 6:41 IST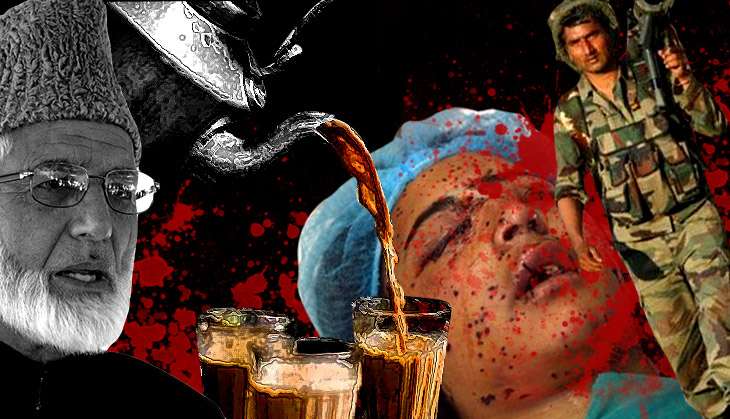 Shutters are down. Shopkeepers are huddled in their homes. As far as the eye can see, one can notice barracks parked at regular intervals on the forlorn streets. The city resembles a ghost town, so much so, that the picturesque beauty of Dal Lake is admired only after sparing a thought for the desolate houseboats and anchored Shikaras.
Srinagar - reflecting the picture of the Kashmir Valley - is in hibernation mode, awaiting approval to function from a frail 87-year old man under house arrest. Syed Ali Shah Geelani, leader of Hurriyat, releases an agitation schedule, or "protest calendar", around which the Valley revolves.
Except for two men.
Business as usual
Mohammad Shafi, 50, and Mohammad Yousuf, 47, arrive at Lal Chowk's Lambart Lane in the morning with business-as-usual written all over their demeanour. The two cousins have been running a tea stall here for the past 25 years.
They have seen the grisly days of early '90s and are living through another hostile phase now. "Even when grenades ruptured the buildings around me in early '90s, I sold tea from this lane," says Shafi, taking a break from work, while Yousuf keeps the stall going. "But the current phase is no less a nightmare."
Also read - Stop the press! Indian media is not welcome in Kashmir and here's why it makes sense
Shafi used to run a houseboat at Dal Lake before opening up a tea stall. The lack of money for the maintenance and repairs ensured the houseboat leaked and eventually drowned in the lake. He is diabetic and has to buy medicines worth Rs 200 a day, along with taking care of five kids - two daughters and three sons - of which three are studying."I admire my fellow shopkeepers for following the calendar," says the robustly built, kurta clad Shafi. "I even identify and endorse the cause they are fighting for. We are all sick of the repression in Kashmir. But I cannot afford to participate in the strike. I have a family to feed."
100 days of unrest
It has been more than three months since Hizbul militant Burhan Wani was killed in Tral, triggering an endemic of protests, resulting in over 90 civilian deaths and 12,000 pellet wounds. The disaffection of the years, piled on by the current burgeoning crisis, has led to a mass strike, or hartal, in the Valley. And the strings of the hartal are firmly in the hands of Geelani, who remains shackled in his house. He regulates the hartal with the ease of handling an electricity switch.
If Geelani declares Monday a "deal day" from 5 pm to 8 pm, Lal Chowk has the look of Marine Drive during the stipulated period, before obediently going back to being dormant. Except, again, two men.
Tea warriors
The only corner alive in Srinagar on a hartal day is that of the tea stall at Lambart Lane.
In the past three months, it has become an adda of sorts for local journalists reporting from the ground. Even journalists traveling from the rest of India, or for that matter foreign journalists, have tasted Shafi's tea.
Steps of the closed shops across the street work as benches for Shafi's customers. Journalists sit and discuss their stories over tea and biscuits. Shafi also serves omelets, which come in handy when no eatery is open in the city. Common civilians also appear occasionally for a breather, curious for an update of the situation from reporters over a hot cup of tea.
Interestingly, these are not Shafi's only customers. He also serves paramilitary forces patrolling the area, on the lookout for protestors. "Initially, the security forces would be apprehensive about me running my business," says Shafi. "Once they realised I am not creating any nuisance, they too became my customers."
When asked if he has made friends with the forces, Shafi smiles. "They are cordial," he says. "But I am not sure if they will not run after me with a stick."
A matter of equality
Shafi, by selling tea and omelets, has managed a feat that the tallest of leaders have found arduous. He makes security forces, journalists and civilians stand on the same platform, albeit just literally.
He says his fellow shopkeepers do not treat him like an outcast for being the odd man out. "I have highest of respect for Geelani sahib," he says. "Mine is not an act of defiance but that of desperation."
Defiance or desperation, he makes around Rs 800 a day. The Valley, however, has lost almost Rs 10,000 crore in the past three and a half months. Imtiaz Khan, 32, lower middle class man, makes a living out of selling garments from a small shop at Lal Chowk, says he is finding it difficult to sustain his household, yet is in no mood to throw in the towel. "Enough is enough," he says. "We are ready for anything this time. The commands of our leader will be followed no matter what."
The influence Geelani wields over the people of Valley pushes the existence of government and that of the opposition into the realm of speculation. Education Minister Naeem Akhtar even wrote an imploring letter to Geelani - the man manacled by his own government - seeking permission to reopen schools in the Valley.
In Kashmir, the line between curfew and hartal has been blurred, except for the fact that a curfew can be willingly disregarded. Geelani is in control, and he is doing his thing. But quietly and respectfully defying his edicts in a corner of Lambart Lane, so are Shafi and Yousuf.
Edited by Aleesha Matharu
More in Catch - Blinded by pellets, Kashmiris wait for eye doctors from Mumbai for help
100 days of unrest in Kashmir: Local militancy gets a shot in the arm