With land deeds in hand, Singur farmers celebrate Durga Puja with fervour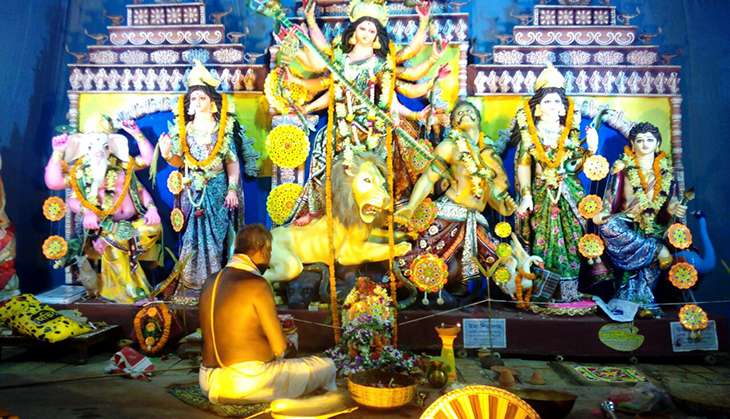 The Supreme Court verdict on Singur has made this year's Durga Puja a double celebration for the local populace.
Farmers are celebrating Puja with far more fervour than in previous years, because the land that was taken away from them for the Tata Motors factory, is now being returned to them, as per the SC's order.
Many farmers have already received their land documents, which has led to a far more relaxed mood than was seen in the past decade of struggle.
Senior state government officials say that the verification of 1,679 application forms and their supporting documents has been completed, out of the total figure of 2,522 that are eligible for compensation.
While the farmers are busy with Puja celebrations, on the other hand, the dismantling of the project site is continuing in full swing. On Friday, state education minister Partha Chatterjee visited Singur to inspect the work. The possession of land is to be handed over to the farmers by 21 October.
Farmers' plans
The entrance to a Durga Puja pandal in Singur. (Photo: Sulagna Sengupta/Catch News)
Mahadeb Das, one of the unwilling farmers who had lost four cottah of land in the Beraberi area of Singur, says: "This year we have organised a jatra (folk theatre) on the evening of Ashtami (the eighth day of Durga Puja, i.e. Sunday, 9 October), and some other cultural programs on Durga Puja to celebrate our victory."
The organisers of the Sitalamata Shakti Sangha Club of Singur have also decided to celebrate the Durga Puja in grand manner .
This year, nearly 89 community Durga Puja pandals have been erected in the five mouzas (local area) of Singur.
Krishna Bag, wife of an affected farmer, says: "We have received the compensation cheque, after a long wait of 10 years, and this year, we will be celebrating the Durga Puja with renewed vigour and happiness."
Her daughter Payel adds: "I want to spend my time with my friends during the Puja, and will spend my time mostly watching the several dance programs being organised by various puja committees in our village."
For Lakhiratan Mondal, another affected farmer, this year has brought a special sense of satisfaction. He says that after years, the farmers can finally relax and have fun.
Some other farmer families have decided to watch some the reputed pujas in Kolkata, which will be broadcast on television, while others have reached Kolkata for pandal hopping.
Edited by Shreyas Sharma
More in Catch
Durga Puja - a time of mourning for Mahishasura's descendants
Dummies guide to Durga Puja: a look beyond the prayers
In pics: 11 lip-smacking Durga Puja delicacies that will make you drool instantly