Will Pakistan really launch a nuclear war if attacked? Strategic experts are divided
Catch Team
| Updated on: 10 February 2017, 1:47 IST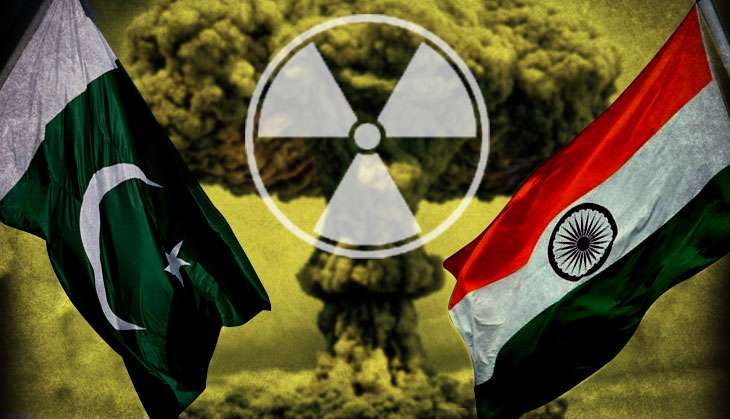 Surgical strikes on terror launchpads across the LoC by special forces in retaliation to continued cross border terror from Pakistan-backed terrorists have led to speculations over Pakistan's response.
Pakistani's NSA Nasir Janjua has claimed that Pakistan will give a befitting reply. Earlier, Pakistan Prime Minister Nawaz Sharif and the ISPR, the public relations wing of the Pakistani Army, in a face saving measure, had claimed that it was unprovoked aggression from India.
The heightened tensions have also led to fears that the escalation ladder may finally culminate in a nuclear war.
That Pakistan may go for this option was indicated by the country's defence minister Khwaja Asif, who said they would not hesitate in using tactical weapons if their security is threatened.
While strategic affairs experts haven't wished away such a possibility for "Pakistan is a rogue state", they have described this recurring threat as "nuclear blackmail". Some have even advocated that India take a re-look at its doctrine of "no first use". Others, meanwhile, have rubbished the possibility of a nuclear war between the two hostile neighbours.
Also Read: Uri terror attack: what India may do to retaliate
Whereas India has been tactically silent on its nuclear capabilities, especially tactical nukes, Pakistan has pompously claimed that it has developed tactical nuclear weapons. It has also pointed out from time to time the loose threshold or the redline that could lead to a tactical nuclear strike against India.
A US State Department report says Pakistan, which like India is not a signatory of the Nuclear Non-Proliferation Treaty, has the fastest growing nuclear arsenal. The report estimates that Pakistan has 120-130 nuclear warheads, close to India's 120-odd warheads. While Pakistan may have lowered its threshold for a tactical strike, there is a growing understanding in a section of the Indian strategic and defence establishment that the country's no first use policy is not cast in bronze, something Pakistani generals need to be wary of before they embark on any such reckless move.
Nuclear blackmail
The fear that Pakistani nuclear arsenal is a threat to the stability of the region - it may end up in the hands of jihadis or may be deployed by rogue generals - is not unfounded. Indeed, so grave is the fear that Prime Minister Nawaz Sharif was compelled to reassure the international community in his speech at the UNGA: "We have introduced 'state of the art' measures to strengthen the safety and security of our nuclear materials and facilities."
Sharif claimed that Pakistan neither wants nor is it engaged in an arms race with India - although it just placed an order for Chinese submarines - "but we cannot ignore our neighbour's unprecedented arms build-up and will take whatever measures are necessary to maintain credible deterrence". An Indian strategic affairs analyst says Pakistani nuclear arsenal, or even a part of it, landing into the hands of jihadis is not a scenario one can totally wish away. And that it may have serious consequences.
The successful tests of the nuclear-capable 60-km-range missile Hatf IX (Nasr), and the declaration by the Pakistan Army that it can carry nuclear warheads with high accuracy and has been designed to defeat anti-tactical missile defence systems, signalled that Pakistan may have developed smaller nuclear weapons to blunt India's conventional superiority.
Also Read: Was the Uri attack designed to provoke in the run up to UNGA session?
Former foreign secretary Kanwal Sibal, however, rejects any possibility of Pakistan launching a tactical nuclear strike against India as the retaliation would threaten the very existence of the country. "There are more chances of a nuclear war between Russia and the US in the present scenario," Sibal says.
He points out how Pakistan has not tested a small nuclear device, although he did not rubbish the possibility of Pakistan having acquired tactical nukes. "It is a rouge state," he says, adding how the claims of tactical weapons are "useful for Pakistan to make to create fear", something analysts and even political leaders such as the BJP's Ram Madhav have termed as nuclear blackmail.
Sibal also points out that nuclear cooperation between China and Pakistan should be more worrisome for the international community than speculation about the chances of a nuclear war between India and Pakistan.
Hanging sword
Other experts seem to disagree such as George Perkovich of the Carnegie Endowment for International Peace, who was recently quoted as saying, "If India successfully fought through Pakistani defences (a big question) and threatened the Pakistani army's physical and/or political survival, I believe they would use some small number of nuclear weapons to motivate India to stop."
"It may be crazy or a bluff but is it a bluff India would be sane to call?" he questioned. Perkovich, interestingly, has been a critic of the India-US nuclear deal.
A former Indian Army general, however, says all talk of low threshold and use of tactical nuclear weapons by the Pakistani generals and politicians is merely a psychological warfare tactic to deter any conventional strike by the Indian Army or to stop India from follow what Pakistan terms as the "cold start doctrine", whose existence India has never acknowledged.
In support of his argument, the former general points out that India's military prowess to incapacitate Pakistan is much higher. Moreover, the fact that any Indian retaliation to a tactical nuclear strike may lead to widespread damage in Punjab, home to a majority of the Pakistani elite and the country's granary, would also act as a deterrent. The generals in Rawalpindi would be wary of doing anything that would disrupt their good life.
Also, China and the United States have strategic reasons to ensure that things do not escalate in South Asia. A nuclear war, for example, would threaten the Chinese plans of investing $46 billion in Pakistan, forcing them to advise their "all weather friend" to not make any reckless move. Similarly, the US, which would know of Pakistan's attempt to deploy tactical nukes since it can be easily tracked by satellite imagery, could also intervene or tip-off India in advance, blunting Pakistan's plan.
Also Read: Uri attack aimed at creating war-like situation in J&K, says CM Mehbooba Mufti