Why did 250 Chinese troops intrude into Arunachal for a few hours?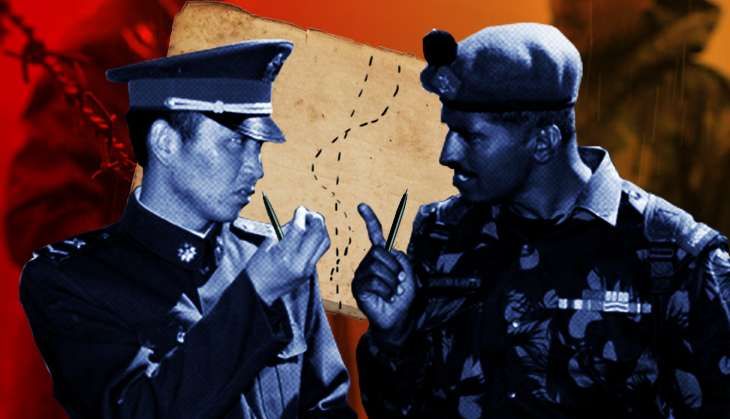 On 9 June, around 250 soldiers of the Chinese People's Liberation Army entered the Indian side of the border in Arunachal Pradesh's East Kameng District. They stayed there for a few hours before leaving Indian territory, defence sources have said. The violation happened in Yangste, situated at a height of 14,000 feet, some 25-30 kilometres of Bum La. The area is dominated by Indian security forces, including the Army and the Indo-Tibetan Border Police force.
The fresh transgression, is naturally being seen as an immediate fallout of India's growing relationship with the US. While the US has been supporting India's bid for a membership to the Nuclear Suppliers Group, the Chinese have been up in arms and have recently blocked India's entry. They claim that since India is not a signatory of the NPT, a country specific exemption would set a bad precedent. The argument put forth is aimed to garner support for Pakistan's entry into the NSG. Pakistan has applied for a membership, despite its awful proliferation record.
Also read - Why China is using NPT to block India's entry into NSG
There have been allegations that the Chinese, too, were involved in transferring sensitive nuclear technology to Pakistan. China is also not happy with India leaning towards Japan and the US over the South China Sea issue.
Defence sources, however, claim that the current transgression need not be viewed with the NSG lens. And that such transgressions in that area are common, since the Chinese have been claiming it to be their territory. There are over a dozen spots on the Line Of Actual Control over which China has laid it's claims, the reports say. This is being seen as a reason for transgressions which are seen as routine by the defence establishment.
A report in the Indian Express says that it is misleading to look at this incident in the context of China blocking India's entry into the NSG. It says that such events are routine and happen at least twice every year at this particular spot in Yangtse.
While India has been pushing for marking the LAC, the Chinese do not accept the proposal for there is a belief in Beijing that it could affect their territorial claims.
The matter came up during Chinese President Xi Jinping's visit to India in 2014 and Prime Minister Narendra Modi's trip to China last year. China, instead of agreeing on a LAC suggested suggested a code of conduct.
Even during the recent 19th Border Talks between NSA Ajit Doval and his Chinese counterpart, Yang Jiechi both sides agreed to reach a fair, reasonable and mutually acceptable solution.
Back in 2003, when both countries appointed Special Representatives, they aimed to solve the issue in three steps. Reports say that the process is in the second stage at the moment, where they are working out a framework of settlement.
Previous instances
Meanwhile, this is not the first time that the Chinese troops have crossed over to the Indian side. There have been major incursions, too, along the 3,488 kilometre border India shares with China. Most recent ones were seen in Ladakh along the ill defined border. In May 2013, Chinese troops set up tents in Depsang Valley and Daulat Beg Oldi sectors. The incident happened days before Chinese Premier's India visit. India later flew a Hercules C-130 Aircraft to the Daulat Beg Oldi airstrip in a strategic move. Both the countries have been shoring up their infrastructure on the border areas.
In 2014, coinciding with Chinese President Xi Jinping's visit, around 1000 PLA soldiers entered three kilometres inside India's territory in Chumar Sector and stayed put for a week. Earlier, the Chinese Army speedboats had come six kilometres inside on Indian territory in Pangong Tso in Ladakh. PLA Soldiers were also spotted in Pakistan Occupied Kashmir, ringing alarm bells in the Indian security establishment.
The transgressions have seen a drop of about 40% since 2013, according to reports. The year 2013 saw 411 cases. The dip has happened because of aggressive patrolling and strengthening of confidence building measures between the two countries.
More in Catch - India's NSG membership faces Chinese hurdle
India's membership in the NSG is symbolic; Lack of success does it no harm