Why death penalty for raping minors may not make Haryana safer for girls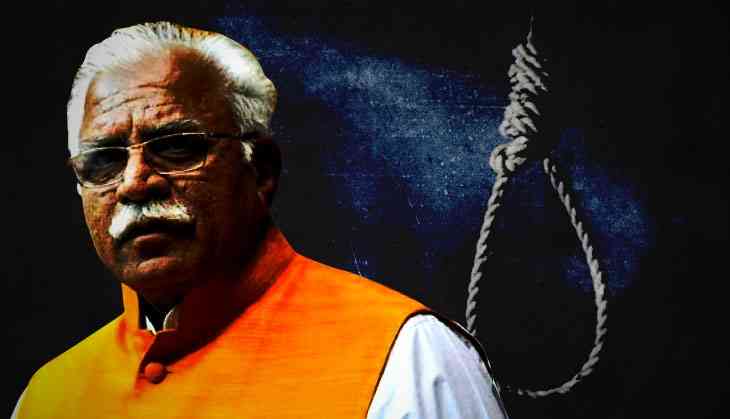 The Manohar Lal Khattar-led Bharatiya Janata Party (BJP) government in Haryana has decided to amend existing laws to award death or rigorous imprisonment to those found guilty of raping girls aged 12 years and below. Haryana is the second state after Madhya Pradesh to move in this direction. But the question remains whether such a step will prove a deterrent for those committing sexual assaults on minors in a state that has become infamous for the high incidence of rapes.
Women activists who have been engaged in getting justice for rape victims point out that sexual assault is a very complex issue that requires a prolonged effort from various sections of the society and mere enactment of a stringent law would not serve the purpose.
According to a Haryana government spokesperson the state cabinet on Tuesday decided to amend sections 376A, 376D, 354 and 354 D(2) of the Indian Penal Code (IPC). "According to the Section inserted under section 376AA of the IPC, whoever commits rape on a woman up to 12 years of age will be punished with death or rigorous imprisonment for a term which will not be less than 14 years, but which may extend to imprisonment for the remainder of that person's natural life and will also be liable to fine," he said.
A provision made under section 376D A where a woman up to 12 years of age is raped by one or more persons constituting a group or acting in furtherance of a common intention, each of those persons shall be deemed to have committed the offence of rape and will be punished with death or rigorous imprisonment for a term which will not be less than 20 years but which may extend to life which will mean imprisonment for the remainder of that person's natural life, in addition to a fine.
"Such a fine shall be just and reasonable to meet the medical expenses and rehabilitation of the victim. Any fine imposed under this section will be paid to the victim," the spokesperson added.
Under section 354 of the IPC, whoever assaults or uses criminal force to any woman, intending to outrage or knowing it to be likely that he will thereby outrage her modesty shall be punished with imprisonment of either description for a term which will not be less than two years but may extend up to seven years and shall also be liable to fine.
Similarly under Section 354D (2) of the IPC, whoever commits the offence of stalking will be punished on first conviction with imprisonment of either description for a term which may extend to three years and shall also be liable to fine; and be punished on a second or subsequent conviction, with imprisonment of either description for a term which will not be less than three years, but may extend to seven years and will also be liable to fine.
The number of rapes of girls below the age of 12 reported by a section of the local media stands at 377 over a period of last five years.
Social activist Sudesh Kumari of Jan Sangharsh Manch (Haryana) points out, "Had stringent laws alone been a deterrent, there would have been no rapes after the amendments made to the laws following the Nirbhaya case."
Pointing to the ongoing struggle for a CBI probe into the rape of a girl from Jhansa village in Kurukshetra, she underlined that a stringent punishment also requires foolproof evidence for conviction.
"But here we have several instances to quote where the police is the first one to dilute evidence and is insistent on the victim and the offenders striking a compromise," she added.
She is particularly skeptical of such amendments being effective in a state ruled by BJP whose own leaders and top officials in the police are known to have extremely regressive statements on issues like stalking and rape.
"Their leaders have come out with statements like girls wearing jeans and those who eat noodles being prone to rape. They are the ones who have been saying that rapes have been taking place over the centuries etc. The fact is that their own attitude towards women is undemocratic. This is evident from the fact that despite tall claims to ensure women safety nothing concrete has been done and even the Nirbhaya funds remain under utilised," she added.
Women rights activist Jagmati Sangwan further adds, "On the face of it such laws look good but they need to be scrutinies in context of existing social conditions as they can be counter productive." She says that with the threat of death sentence looming, there is every possibility that the assaulter would kill the victim to destroy evidence.
"This might also lead to the police not registering FIRs easily and instead seeking graft from the accused which would lead to an increase in corruption.," she added. Sangwan believes that surety of punishment instead of severity is more important.
Another prominent women's activist and CPI(ML) leader Kavita Krishnan told Catch, "Such laws can instead prove a deterrent in filing of complaints as quite often the assaulter is a close relative or even family member of the victim. This makes the possibility of justice even more remote. The emphasis should first be on creating an atmosphere where a child is able to speak up. It is a difficult problem and there are no shortcuts for it."
She pointed to a letter written by activists to the Delhi Chief Minister Arvind Kejriwal in the wake of the constitution of a group of ministers (GoM) to explore the 'feasibility' of introducing death penalty for the rape of minors as well as lowering the age of juvenile offenders from 18 to 15 years by amending the Juvenile Justice Act.
The letter had read, "While dealing with cases of sexual assaults, our experience shows that it is not the inadequacy of punishments that is the challenge. The real problem is that the crime is under-reported and rendered invisible. The system of policing and the trials themselves can often work to deter justice, leaving victims without the necessary support to resist the pressures of bribery, intimidation and emotional blackmail."
It further said, "While remedying this situation involves reform at both the level of the police and the courts, what is even more crucial is for the issue of child sexual abuse to come out of the shadows. We must enable children to respect and recognise the boundaries of their bodies and safety and report sexual abuse without fear."
These activists had underlined that swiftness and certainty of justice for perpetrators of crime is the only effective deterrent to crime. "We are against death penalty for any crime. We demand no impunity for criminals, irrespective of who they are, and complete accountability of the judiciary and law enforcement agencies," they said.