Why Kashmiris feel that India and the world have abandoned them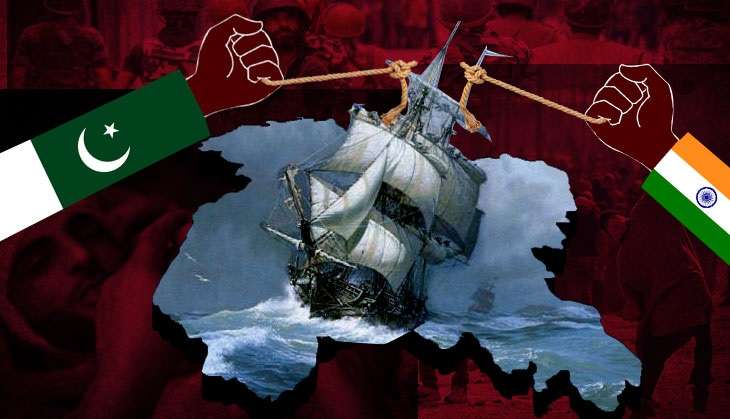 The situation in the Kashmir Valley is exceptionally grim. Not that there haven't been protests earlier holding security personnel responsible for civilian deaths. Schools have shut down before. Shops and establishments have also followed a centralised protest schedule dictated by separatist leaders in the past. The State has restricted the movement of separatist leaders many times before and jailed people under the notorious Public Safety Act.
Then why does the current political atmosphere in Kashmir have an unprecedented sense of desperation and despair?
There is a growing sense amongst the Kashmiris that no one in the international community has time for them. The attention of the world is engaged in West Asia where the larger Islamic world is in turmoil. Any misstep by Russia or the US in Syria can lead to unforeseen and disastrous developments for the whole world.
India's growing closeness with the US and its emergence as one of the potential engines of global economic growth has meant that the world wants New Delhi on its side. It is keen to woo India rather than reprimand it for any perceived domestic misdemeanours.
Pakistan on the other hand has become branded as the nursery of global terrorism, and its international credibility on India-related issues is severely reduced. In more proximate terms, the terrorist attack on Uri has damaged Pakistan and Kashmir more than anything else could have. The indigenous dimension of the Kashmir protests has been subsumed under a dominant public discourse of Pakistan inspiring terrorism against India, of which Uri is seen as the latest example.
Modi's Kashmir policy
Within India, the ascendancy of Narendra Modi had initially created some hope among the people of Kashmir as they thought he might take forward the Kashmir legacy of Atal Behari Vajpayee. That did not happen.
The Modi government's brand of politics has instead resulted in a discernible rightward shift in the national social and political discourse. Government policies - whether accidental or deliberate - seem to be moulding India into a national security state. Everyone is expected to be on the same page as the government on security issues - and Kashmir has been reduced from a political issue to one of national security and law and order.
This situation has been complicated by the Bharatiya Janata Party (BJP)-Peoples' Democratic Party (PDP) government in Jammu and Kashmir. It legitimised the entry of the BJP into the governance structures of Jammu and Kashmir on the basis of Hindutva ideology. As a result, the BJP thinks it is all right to see Jammu and Kashmir as a Hindu-Muslim problem and the state's governance as contest for loaves and fishes between Hindu-dominated Jammu and Muslim-majority Kashmir Valley.
India's problems with Pakistan have further impacted the public perception of the Kashmir situation. Dissident Kashmiris can now be equated with Pakistanis and everything that happens in Kashmir can be blamed on Pakistan. This obviates the need to recognise the disaffection among the Kashmiris simmering for nearly seven decades. Once the discourse is oversimplified and the perception is created that Pakistan pulls all the strings (not that it is uninvolved in Kashmir), then every protesting Kashmiri can be dubbed a pro-Pakistani fifth columnist. It doesn't matter then how the 'enemy' is dealt with shot guns or pellet guns.
The mainstream media - especially TV news channels and the Defence and Home Ministry correspondents of national dailies - have become a force-multiplier for this narrow, self-serving propaganda of the State. Narrow, because it cannot lead to a proper diagnosis of the problem and, therefore, cannot provide any remedies. It is also self-serving, because it helps the political interests of the party in power by boosting its image as the sole defender of national interest. The frighteningly simplistic question every critic of the government gets asked is whether (s)he is with India or against India.
The changes that this emerging reality has brought about in Kashmir and its people are profound and worrying.
Despair
Today

, there is unprecedented despair and desperation among the people. The Kashmiris think that they have fallen off the map, including amongst Indians, and that nobody cares for their fate.

When people in the rest of India showed little or no concern for the grief and hurt of Kashmiris, there was bound to be disillusionment and loss of faith in a tired political rhetoric that describes Kashmir as an integral part of India.

Kashmiris see such talk as nothing more than political posturing. One often hears them say that India is only interested in the land and not in the people of Kashmir. They believe that TV and the government in New Delhi have conditioned most Indians into seeing them through anti-Pakistan lenses.

When Atal Behari Vajpayee talked of 'insaniyat and jamhooriyat" (Humanity and Democracy), Kashmiris believed that he was sincere. This was also evident in the various initiatives taken by Vajpayee.

Today

, people view Prime Minister Narendra Modi with skepticism when he repeats the same phrases.

Why is it, they ask, that people in rest of India do not get upset when 4 to 12 year olds get blinded by pellet guns or when nearly a hundred people die in police firing in just four months? And why are pellet guns used for crowd control only in Kashmir when they were not used against Jats who went on a rampage including indulging in gang rapes in Haryana or against those who burnt more than one hundred buses and other vehicles during the Cauvery water dispute in Karnataka?

The government may have some rationalisation for its actions but these questions ought to shame ordinary Indians. That they don't is worrying the Kashmiris.

The most significant change that has taken place in Kashmir is that among the youth the fear of the Indian security forces has diminished significantly. An anarchic element has sprung up on the streets while the separatist leaders were locked up in jail. There is speculation that militant elements belonging to Pakistan-based groups are sheltering behind this chaos and fanning it further.

People in the rest of India may say that stone pelting will lead nowhere but that is not the perception in Kashmir. Kashmiris believe exactly the opposite. They claim that the stone-pelting children have shaken India - after all they forced a discussion on the Kashmir issue and the use of pellet guns in Parliament. They will tell you that the world has also noticed - even if it did nothing - what Indian security forces have been doing in Kashmir. The point, however, is that the streets

today

are ruled by teens who dare the army saying "shoot us, blind us" and not by the older generation of less impetuous and thoughtful political leaders, even though they espouse separatism.

There are those who talk of dialogue with India but increasingly people do not see the dialogue process as seeking a permanent and amicable resolution to the Kashmir tangle. They view it as a way for vested interests to bargain for personal benefits.

That is what makes the situation in Kashmir virtually intractable

today

.