What Republic Day means to the children selling Indian flags at signals
If you've been out on the streets of Delhi in the past week, you've probably encountered people selling the Indian national flag at traffic signals.
Each year, around Republic Day and Independence Day, the tricolour replaces USB and AUX cables, flowers, colourful balloons and snacks - the usual wares sold on streets. This year, though, the small paper flags seem to have gone out of style, with large cloth alternatives dotting the city's busy intersections.
The people who sell them, though, don't understand why they're bought, they just know they are.
The cost of patriotism
Govardhan, a man who looks to be in his fifties, sits under the Olof Palme Marg flyover - better known as the Adhchini intersection - smoking a beedi, while looking over the sale of these flags. Govardhan may be the boss here, but he hasn't been able to get himself or his family off the streets for 40 years now.
"Chalees saal ho gaye behenji. Bachcha tha, jab main Chittor se aaya tha," he rues. (I came to Delhi as a child 40 years ago.)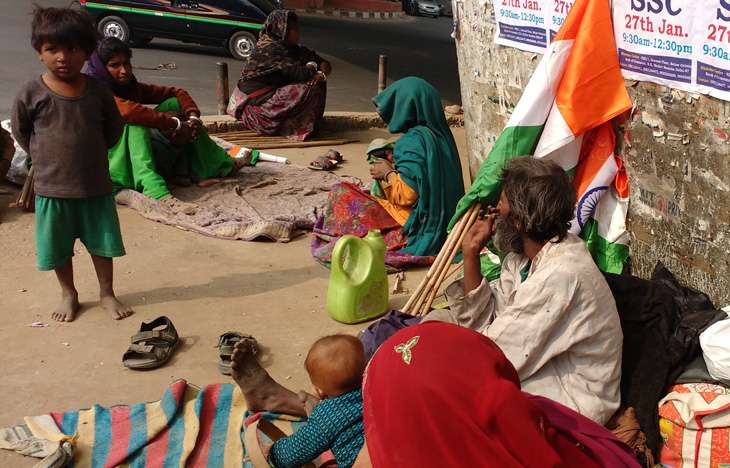 Govardhan smokes his beedi while the flags sit behind him. (Photo: Durga M Sengupta/Catch News)
Govardhan wanted a job, something that would help him send money back to his family. Instead he now supports his family under the flyover by selling flowers.
He is tired and hungry. And the flag means food for another night.
"Bhookh lagi hai, isiliye jhanda bech rahe hai," he says, looking me dead in the eye, throwing up a challenge to dare and question his reality. (We're selling flags because we're hungry.)
On being asked if the flags, patriotism, or India meant anything to him, Govardhan shrugs. "Haan, shayad pet ke liye maina hai," he says, after pausing a moment. (Maybe it's relevant to my stomach.)
The flags are brought from Sadar Bazaar in bulk and are distributed among all the street sellers. Children, women, old men like Govardhan, as well as the disabled, all carry these heavy flags, running from signal to signal, knocking on rolled up car windows in the hope that they can sell it to those privileged enough to feel patriotism.
"Humare liye kuch nahi hai," says Govardhan, when asked what he feels about being an Indian. Patriotism, after all, comes at a premium. (It holds no value for us.)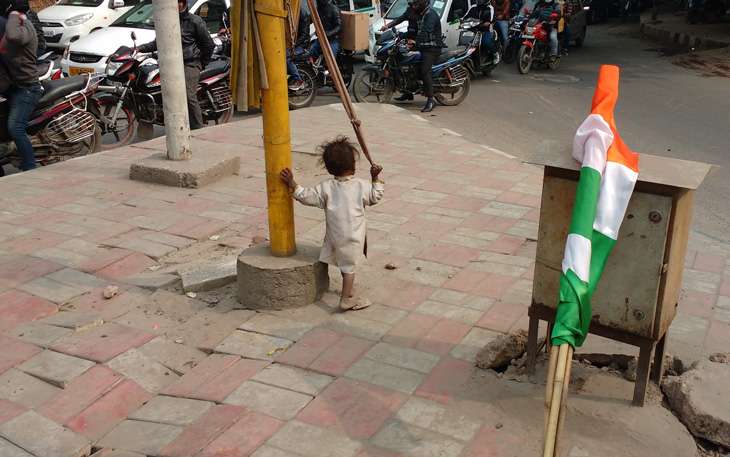 A little child and some flags lie unattended. (Photo: Durga M Sengupta/Catch News)
Colourful flags, colourless futures
Lali and Kali are two teenaged girls from Ajmer. They stand at the Nehru Place intersection watching over their baby brother and selling their wares during the day. At night, the flyover provides shelter for a fitful night of sleep.
The colourful flags excite them. They wave them about and giggle excitedly when the traffic light is green, when no potential customer is watching.
"Hum bohot item bechte hai, didi," Kali tells me proudly. "Gubbare wagera. Sab milta hai yahan." (We sell many things, balloons etc. You'll find it all.)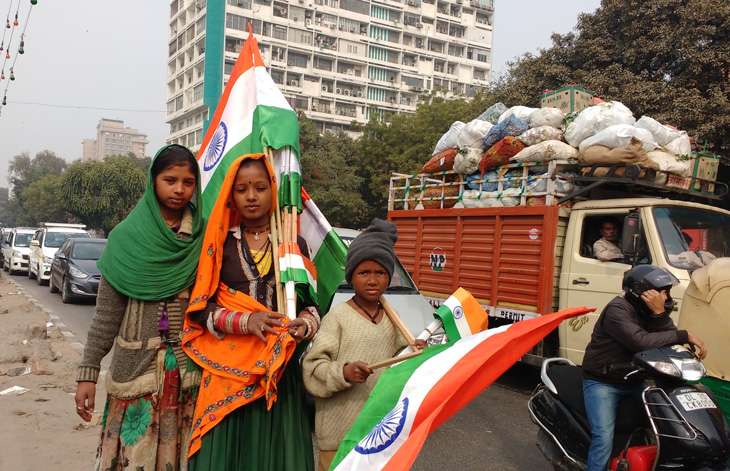 Lali (centre) carries the burden of heavy choodas on her arms and the heavy flags on her shoulders. (Photo: Durga M Sengupta/Catch News)
The girls have been selling the large flags for three days now, and yet, only one of them has heard of Republic Day. Lali, who is already married despite looking barely 16, is embarrassed by the question. She looks away, watching the traffic light.
"Kaafi bikein hai," she says, quietly justifying the work they do. (Many flags have been sold.)
I ask her if she knows why people buy them, what they do with them. No, she says.
Kali, the less shy of the two, talks about her idea of India and the government. "Koi kuch nahi karta, didi. Bas khud hi...," she trails off. [India and the government have done nothing for me, we manage on our own.]
Wonder what #RepublicDay means to those who sell us flags. So we decided to ask them #Adhchini #Tricolour #Patriotism pic.twitter.com/xzsPO0U0om

— Durga M Sengupta (@the_bongrel) January 25, 2017
Lali, Kali and their brother (who really wanted to be in the picture) sell an object that is of no significance to them. Because the country that we worship, that signifies development and progress to us, doesn't exist for them. And they don't expect things to change either.
On being asked what they wanted to do when they're older, if they want to be off the streets, Lali and Kali exchange looks and laugh nervously. They pose for my picture, look at it with enthusiasm before readjusting the flags on their tiny shoulders.
And with that I know it's time for them to get back to work. So I leave for mine.