'What drives Kashmir's youth to fearlessness? That's the issue'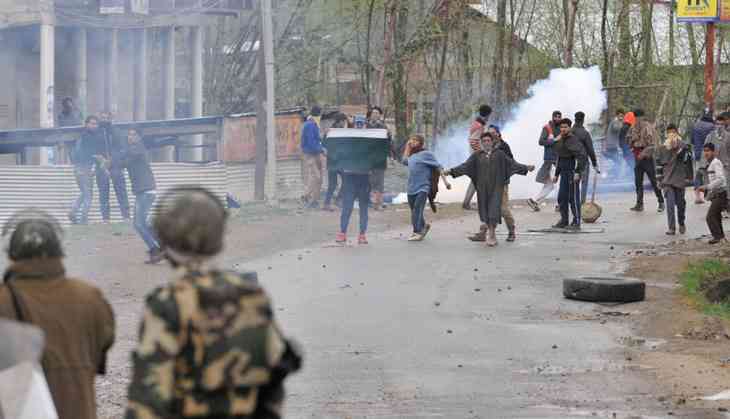 (Waseem Andrabi/Hindustan Times/Getty Images)
A blend of anger, despair and frustration marks the response in Kashmir to three more civilian killings during yet another encounter on 28 March - this time at Chadoora, a town in central Kashmir close to Srinagar.
The growing trend of massive turnouts at funerals of militants and encounter-triggered mobilisations is leading to an avoidable loss of lives that has left Kashmir teetering on the brink of fresh chaos.
Creating conditions of militancy
Prominent Kashmiri civil rights activist Khurram Parvez fears the situation will get out of hand if no urgent remedial political and security measures are taken.
"I think the killing of the three civilians at Chadoora was eminently avoidable. The protesters could have been dealt with by some professional policing and by using crowd control weapons. But killing has become the easier option for government forces as there is no accountability," says Parvez.
"See what happened at Chadoora - the forces tracked down a sick C-grade militant with a Chinese pistol in hand. It was an excellent opportunity to catch him alive. But in the nine-hour long encounter, a large contingent of the police and paramilitary forces killed the militant and the three civilians, injured a dozen others and blew down a house."
Parvez warned that these "wanton killings" would not only push Kashmir into more turmoil but also create conditions for more militancy. "The killings and the impunity for them is mainstreaming the militant thought and creating an acceptability for it at a larger level," he says. "This is making situation conducive for a bigger round of militancy".
The complexities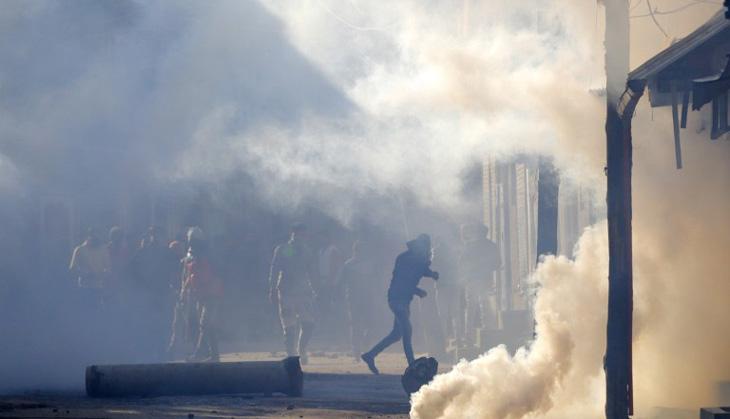 AFP PHOTO
While, agreeing that the youth should not throw their lives on the line by disrupting encounter sites Parvez, however, says the problem is not about anybody's personal opinion.
"To a large section of youth in Kashmir, it doesn't matter now what anyone is saying. Whether it is Army chief who warns them to desist from disrupting encounter sites or Geelani, they won't listen," he says.
"The issue is not that the youth run to rescue trapped militants, the issue is what drives them. The issue is the social and political conditions in which this is happening. You address none of that. You take the easiest way out available to you. You kill and blind."
Possible solutions
Shakeel Qalander, a prominent businessman and a former president of the Kashmir Chamber of Commerce and Industry, also laments this easy recourse to killings.
But he offers a solution too: the government should announce the cash awards for security personnel who catch a militant alive.
"Chief Minister Mehbooba Mufti has been talking about an outreach to local militants. Security forces are supposed to ask them to surrender when they track them down. But more often than not this isn't followed in practice. The militants once found are invariably killed," Qalander says.
"The solution to this is to incentivise the arrest of the militants. Announce a higher cash reward. If this had been the case, the militant at Chadoora would be alive, so would be the three civilians."
This is an argument that is also made forcefully by Parvez. "The militant Touseef Wagay was carrying only one pistol. This is yet another example of how armed forces are interested in monetary reward for killing militants, instead of arresting. This policy of monetary rewards ensures extrajudicial killings by incentivising it," says Parvez.
The sentiments driving the issue
According to Qalander, the government's "kill-only policy" was a big factor in forcing people to run to the rescue of trapped militants.
"Militants are local boys. They command overwhelming local support and sympathy. They have also acquired a larger political and ideological dimension. Armed forces on the other hand lack this aura. They are seen as driven to kill only to earn monetary and career rewards," says Qalander, adding the militant funerals and the protests at encounter sites are more about the sentiment and state of today's Kashmir than a transient law and order problem.
"The problem is that the state government is not seen as a player with the good of people at heart, nor an honest or a compassionate actor. It lacks credibility and the trust. The politics of the mainstream parties doesn't reflect or articulate the grievances and aspirations of the people. And so doesn't now that of the separatist outfits".
Minimal force required
Dr Hameeda Nayeem, chairperson, Kashmir Centre for Social and Development Studies, however rubbishes the government argument that the protests near encounter sites warrant a tough response.
"These youth who come out to the rescue of militants do not carry guns. They shout slogans and throw stones which don't pose a mortal threat to the security personnel. These protests can be easily handled by the police with a minimum use of force," says Nayeem.
"Armed forces in Kashmir had already a written law in AFSPA which freed them from accountability. But now they also have an unwritten law in the Army Chief's (General Bipin Rawat) warning to the protesters that they will be treated as overground workers of militants," Nayeem says.
However, these arguments do not hide a widespread sense of alarm at the troubling direction Kashmir is taking.
"Yes, we don't want our youth to die. We are not happy about our youth taking to gun again. Nor do we celebrate when people protest at encounter sites and are killed. This fearlessness concerns us," says Parvez.
"Our youth have lost faith in the system, in politics and even in their elders. And the ongoing killings are only reinforcing their anger, cementing their worldview and making them more rebellious."