What can be undone: helping Modi reclaim India from the Nehru-Gandhi family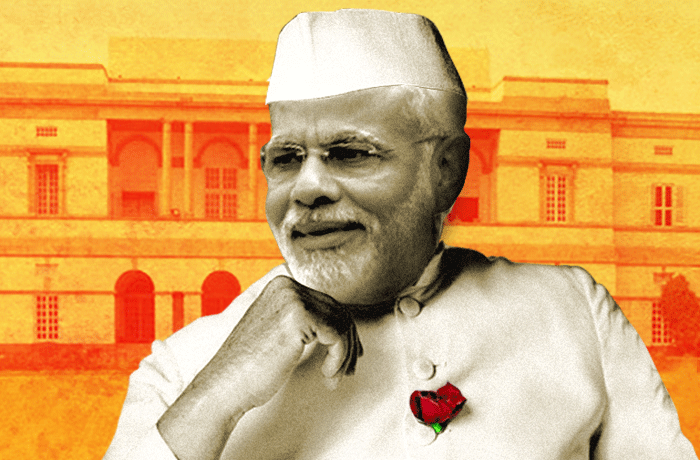 The Narendra Modi government is all about good governance. That's why silly things like Christmas need to move aside and make way for Good Governance Day. No one has time for virgin births and mangers. That's neither scientific nor urban.
If Christmas, something that's literally sacred, is no longer sacred any more, what is? Nothing. That's what.
And we realised exactly that when the Modi government recently announced plans to revamp the Nehru Memorial Museum and Library (NMML) - by sidelining Nehru. Not surprising, really.
Apart from being Prime Minister, he and Modi have little in common. Nehru's photographs depict him seemingly enjoying his drink and the company of women; Modi prefers prohibition and abstinence.
The revamped museum will see examples of good governance - like Mangalyaan and smart cities - take centre stage, while Nehru will be relegated to the fringes. Literally in his own home.
Why not a separate museum for good governance? Maybe because it wouldn't be good governance if we wasted more space on museums. Or perhaps because Nehru's party opposed the passage of that damn land bill, so we can't get space for a new one. Or maybe, just may be, it's because this sickular legacy needs to go.
So, if it's the latter, as good citizens, we'd like to help.
Firstly, just revamping the museum isn't going to be enough. We need to rename it. Why will people visit a place if they think it has something to do with Nehru? As NMML's own chairman Lokesh Chandra said, "To attract visitors, especially children, the place has to be made attractive, relevant to contemporary times."
Precisely.
Changing the name is a good idea, changing the abbreviation is a pain in the backside. So how about the Narendra Modi Museum and Library (NMML)? What could embody good governance better? The only problem would be stopping people from chanting "Modi! Modi!" in the library.
But why stop there? There's a long way to go to achieve a Nehru-Gandhi free India. Here are six more landmarks that could also do with a rebrand.
For too long the Nehru-Gandhi family has done nothing for the country. Their laziness is so well known and accepted that they even have places named after them where people can go and sit and be lazy.
There is no room for laziness in Modi sarkar. The Nehru Park in Chanakyapuri, New Delhi, will now be part of the Digital India initiative. We will call it the Vajpayee Tech Park.
We can also do away with that Lenin statue that keeps drawing those blasted commies to the park. Besides, what better place to appropriate than one with an annual Bhakt(i) festival?
After the great reception Gajendra Chauhan has received at the FTII in Pune, we're inspired to continue the revamp of India's higher education. And since Modi sarkar is the face of women's empowerment (sorry Rahul G.), what better place than one of India's leading women's colleges?
Delhi's Kamala Nehru College shall be renamed Kamal College after the symbol of good governance. Also, since the present dispensation loves it, let's change the dean.
Our suggestion is Amit Shah - that way the college will be able to keep track of every woman in the college. #BetiBachaoBetiPadhao
This well-known Delhi tech hub's name is completely at odds with modern India - because there is no place for Nehru in today's India. But Nehru Place is a testament to the BJP's 'Make In India' vision. No matter what brand you buy there, there's a good chance it was made in India, or rather a pirated version created in India.
So instead of doing away with the place altogether, let's just call it Nanaji Place instead. After all, Nanaji Deshmukh, the RSS and Bharatiya Jana Sangh patriarch, showed today's government the path to good governance. What better than to make him the centre of all things technology?
04
The Indira Gandhi Matritva Sahyog Yojana
It's not just places that need to be revamped. Government schemes need to be cleansed of the Nehru-Gandhi stain as well. How can a dynasty that used forced sterilisation at one point have a maternity benefits scheme in its name? This is sacrilege.
Instead, we should name the scheme after Hindu thinkers who have had so much input to give over the last year when it comes to having children. We can name the scheme the Sakshi Maharaj Matritva Sahyog Yojana, after the great thinker and MP who cares so much about maternity that he wants Hindu women to experience it four times each.
For too long, the Nehru legacy has been at the centre of Delhi. Finally, we've managed to get it voted out, but still it exists - at the literal centre of Delhi. We must reclaim this spot for India and Hindutva.
Let's rename it after the great RSS leader KS Sudarshan. But since Rajiv Chowk is round and we're all about very obvious symbolism, let us call it Sudarshan Chakra, so that it destroys this Nehruvian legacy once and for all.
Finally, here's one place that doesn't require renaming. All we need to do to reclaim Rajiv Gandhi's samadhi from the Nehruvian stables is to build a large statue of Veer Savarkar on it.
The statue will be 300 feet tall and will breathe fire to remind us all of Savarkar's fiery speeches. The LPG necessary for the fire can be funded with all the money saved by citizens giving up their LPG subsidies.
To be honest, the list is endless. We could turn Lal Qila into Kesri Qila, but if I give everything away, Modi won't have any reasons left to hire me as part of his team! My Twitter handle is on this page, Modi ji, and your Twitter skills are on point. Your move.