What a smart guy! This man dials 100 and asks UP Police to do him this favour; Twitterati love his spunk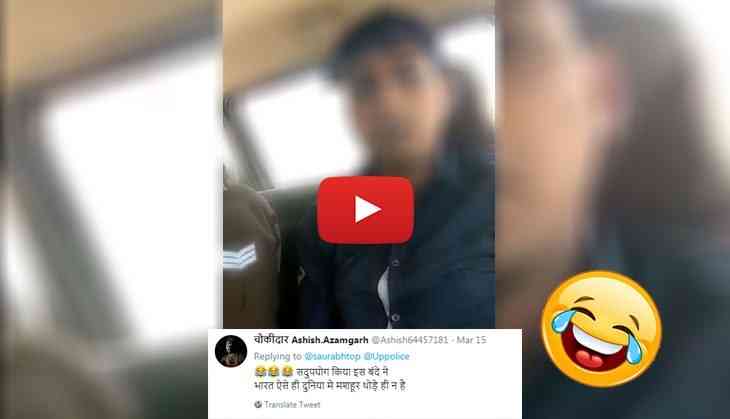 Uttar Pradesh Police have always hit headlines for its valour as a few days back the UP Police constable who came to headline for his presence of mind when his gun got jammed at the situation crisis. He got famous as 'thain thain' UP cop. But, this time UP Police have to deal with a bizarre demand of this crazy man!
A video is doing the round on social media in which a man can be seen in front of UP Police and questioned about why he dialled 100.
What he said to Police will tickle your funny bones! He demanded Police drop him to Gannaur from Ujhaari in UP.
The man dialled 100 and Police arrived immediately to the spot for his help but he asked them to drop him Gunnaur as he had no cash. Police took him into the van and asked him whether he used any narcotics then the man replied boldly that he consumed chillum only since his childhood.
Check out his video:
Hats off to @Uppolice
What all they deal with pic.twitter.com/qBS8qynV6t

— Saurabh Dwivedi (@saurabhtop) March 16, 2019
Well, this guy has won the hearts of Tweeple and they call him a genius and loved his spunk.
Check out some reactions of Twitterati:
I genuinely feel this guy has gut and seems to be innocent. He must be treated well and be educated on law. His language is respectful.

— नीलांजन | Nilanjan (@NilanjanS) March 18, 2019
Areyy yeaarr,😂😂🤣🤣🙏🙏🙏ये से लोग हमारा AP में क्यों नहि मिलेग😝😝but HIs IDEA is great and THANKS FOR THE POLICE FOR HELPING HIM

— RAGHU VARMA🇮🇳 (@PK__Varma) March 16, 2019
I love this guy's spunk

— meetu jain (@meetujain) March 16, 2019
मुँह से धाँय धाँय करने वालों के मज़े लेते हैं up वाले 😂

— क्रांतिवीर (@kraaantiveeer) March 16, 2019
वाह भाई,बंदे की हिम्मत की दाद देनी पड़ेगी,शराब पीता हैं,पर देशी नही,इंग्लिश ।।
😂😂😂😂😂

— MOHD KALEEM [email protected]محمد كليم ساهل (@sahil_kaleem) March 16, 2019
Padha likha hai ye to 😂😂😂😂😂

— Prakash Yadav (@Prakash_sonu) March 16, 2019
What do you think about this man's idea to travel at free of cost?
Also read: Believe it or not! Man tried to pull a magic trick for horse riding; Twitterati called him 'Harry Potter'