We were denied our basic right to pay homage, says Rohith Vemula's brother Raja
Yesterday was a year since Rohith Vemula, a PhD scholar, hung himself at the Hyderabad Central University campus, leaving behind a poignant suicide note.
To Radhika and Raja Vemula, Rohith's mother and brother, the date not only reminds them of the grief of having dealt with the news of Rohith's sudden death, it also commemorates a year of justice being denied.
Being a Dalit family they have been fighting hard to make the university accountable for Rohith's death and bring education campuses within the state to implement the Rohith Law - a law that will ensure students of backward castes gain equal footing in the education system and protect them from caste based atrocities - the very things that plagued Rohith.
So when 17 January arrived, their only wish was to go inside the university campus to pay homage to Rohith, at the Rohith Stupa, housed within the campus.
Almost as if to commemorate an year of justice being denied, Radhika and Raja were denied their right to pay homage and were instead met with abuses, getting roughed up by the police and detainment at Hyderabad's Gachibowli police station.
Paying respects to their departed son and brother by entering the campus, the police said, was against the court orders.
The protest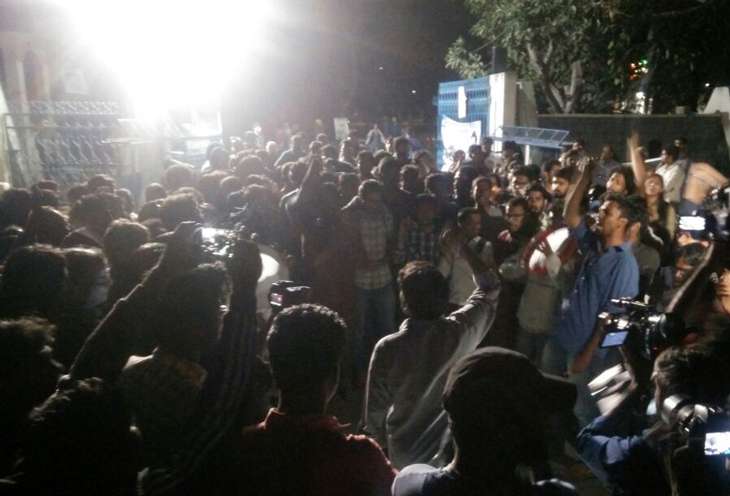 Around 4 PM on 17 January, some 200 students belonging to the Ambedkar Student Association and some others, gathered together to commemorate Rohith's suicide. They shouted slogans against VC Appa Rao and burnt effigies of the Chief Minister of Telangana, Kalvakuntla Chandrashekar Rao (KCR).
"We were invited by the students to come pay homage to Rohith at the Rohith Stupa. But when we reached the gates, we weren't allowed in," says Raja Vemula.
At first the police asked them to simply wait assuring them that they were arranging for permission.
"Around 5:30 PM it became clear that nobody wanted to give permission. They told us that it was against the court orders to let us in," recalls Raja.
The shouting and sloganeering were reaching a crescendo with the students vehemently opposing the police decision. Raja and his mother were forcefully dragged away by the cops.
"They grabbed my neck and ears and I heard the cops abusing us. Bastard! Motherf***r! I heard" says Raja.
When he turned around to see who it was it was TV Rao, the university security supervisor, who was himself a Dalit.
At 7 PM, as if being roughed up wasn't enough, Raja and his mother were forced into a police van along with 15 others, who included family friends, students and a journalist, and taken to the Gachibowli stadium.
The van took all sorts of rounds and even stopped for a while at the stadium. They kept on moving until they finally reached the police station at 9 PM.
"We had been detained for wanting to pay homage to my brother. We expected better of the justice system," says Raja.
At 11:30 PM they were all released from the police station.
"We have nothing further planned. We will have to see what we can do," says Raja.
Being Dalits, Raja and Radhika have had a year filled with many bitter and humiliating lessons on how to exist and what justice they can be entitled to in this lifetime.
But Tuesday, after being denied the right to pay respects to their dead son and brother has taken the injustice to a whole new low.
Edited by Jhinuk Sen