Vijay Diwas 2019: History and timeline of 1971 Indo-Pakistan war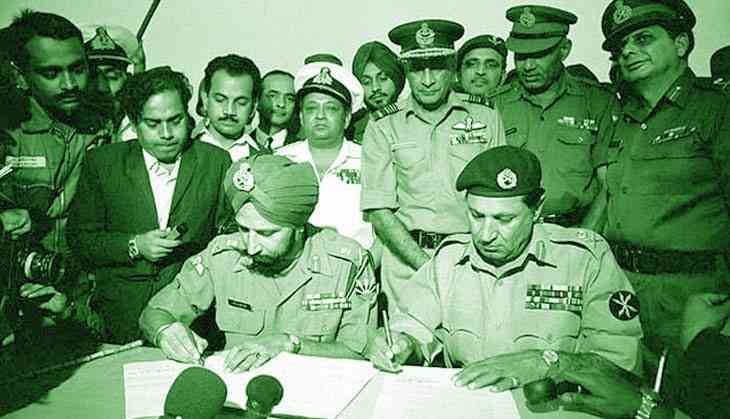 'Vijay Diwas' is being celebrated across the nation today to commemorate India's victory over Pakistan in 1971 war. Tributes are being paid to the martyrs who lost their lives during the war.
Since the partition of British India in 1947, two countries, India and Pakistan have been involved in a number of wars. The 'Indo-Pakistani War of 1971' was a major military conflict between the two countries.
1971 has special significance in Indian history as the Indian Army had broken Pakistan into two pieces with their immense power, resulting in the formation of Bangladesh.
On 16 December 1971, India won Pakistan in the war. For this reason, this day is celebrated as 'Vijay Diwas' or Victory Day.
The 1971 war started when Pakistan launched airstrikes on 11 Indian airbases, in which over 3,800 soldiers of India and Pakistan sacrificed their lives.
The conflict between the two countries was sparked by the Bangladesh Liberation War.
It is believed that the war ignited after the 1970 Pakistani election, in which the East Pakistani Awami League won 167 of 169 seats in East Pakistan.
Awami League leader Sheikh Mujibur Rahman presented Six Points and claimed the right to form a government. After the leader of the Pakistan People's Party, Zulfikar Ali Bhutto, refused to give premiership of Pakistan to Mujibur, President Yahya Khan called in the military, which was made up largely of West Pakistanis.
On March 27, 1971, the then Prime Minister Indira Gandhi expressed full support to the Bangladeshi struggle for freedom.
The governments of West Bengal, Bihar, Assam, Meghalaya, and Tripura established refugee camps along the border.
Timeline:
March 7, 1971: Sheikh Mujibur Rahman in a public meeting held in Dhaka, declares "The current struggle is a struggle for independence".
March 25, 1971: Pakistani forces start a systematic plan to eliminate any resistance. Thousands of people are killed during the operations.
March 26, 1971: Rahman declares independence from a Kalurghat Radio Station. The message is relayed to the world by Indian radio stations.
April 17, 1971: Leaders of Awami League form a provisional government.
December 3, 1971: War between India and Pakistan begins after Pak launches a series of preemptive airstrikes on 11 Indian airbases.
December 16, 1971: Lieutenant-General AAK Niazi, the supreme commander of the Pak Army surrender to the Allied Forces. Bangladesh gains independence.
The war lasted for 13 days and known as one of the shortest wars in history.
The Indian Army brought the Pakistani army to its knees, took 93,000 Pakistani prisoners and gave 75 million people of Bangladesh their independence.
Every year, December 16 is celebrated as the Victory Day of Bangladesh. To commemorate the victory over Pakistan in 1971, India has also decided to celebrate the day as 'Vijay Diwas'.
Also Read: Vijay Diwas: 5 Indian heroes whose unforgettable contribution led to decisive win over Pakistan in 1971
10 facts of 1971 Indo-Pakistan war that every Indian should know