Video: Luxury tourist bus washed away into flooded river in Manali after heavy rainfall in Himachal Pradesh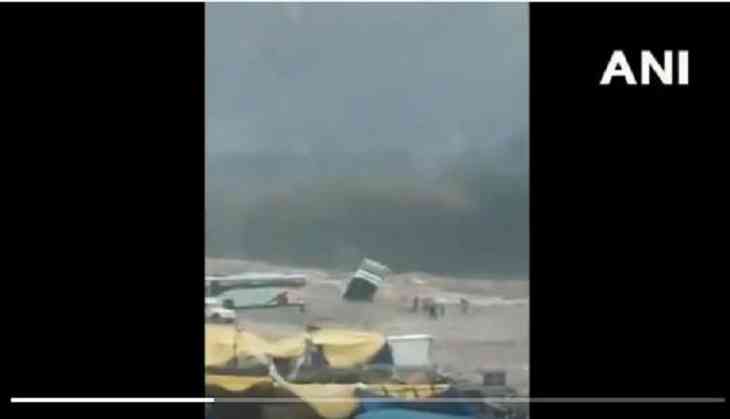 In India's well-known tourist destination Manali, a scene of luxury tourist bus washing away into a flooded river in Himachal Pradesh's Manali was captured on camera. However, the bus has no passenger when it was washed away into the flooded Beas river as new agency ANI reported.
According to the Met department, in 24 hours, Manali, which falls in Kullu district, has witnessed heavy rainfall in the state recording 127.4 mm.
The monsoon caused extremely heavy rains, landslides in some areas and blocking the highways. The water level in the Beas river rose abnormally and touched the Chandigarh-Manali National Highway 21 near the Hanogi temple in Mandi district. Due to water from flooded Beas river entering the highway, Vehicular traffic has been blocked on National Highway 3 near Aut in Mandi district.
ANI has recorded scenes of a truck being washed away from the road into the flooded river near Kullu that is about 200 kms from state capital Shimla. It is not clear whether the bus was empty at the time of the incident.
After, the Met Office has forcast heavy rains and snowfall in the upper hills till Monday, the government ordered to shut down the private schools in Kinnaur, Kullu and Kangra districts.
According to the district officials, several roads in various parts of the state especially in Kinnaur and Chamba districts were blocked due to landslides, heavy rains and snowfall.
About twenty people who were stranded due to heavy rainfall and landslide were rescued from the Rohtang Pass. The area saw about four feet of fresh snowfall on Sunday.
#WATCH: Vacant bus gets washed away into the flooded Beas river in Manali. #HimachalPradesh pic.twitter.com/GMV2nqR2jX

— ANI (@ANI) September 23, 2018