Vacant seats wreak havoc as Delhi University releases 7th cut off list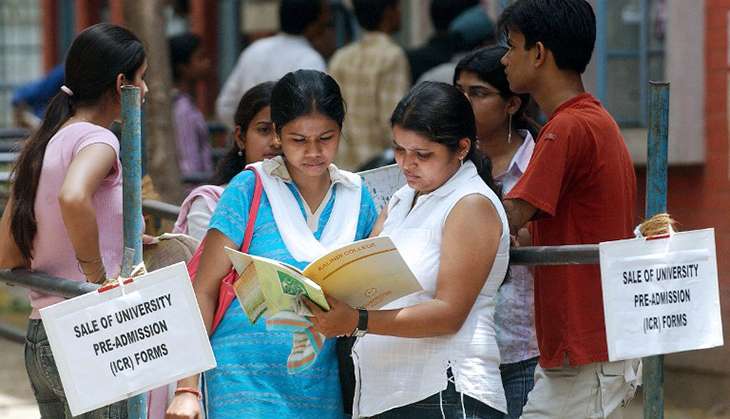 Even as Delhi University (DU) released its seventh cut-off list on 24 August, professors say the extended admissions process this year to fill around 6,500 vacant seats is wreaking havoc inside the classroom.
Last year, there were ten straight cut-off lists. This year, however, DU initially decided to have only five cut-off lists and to fill the remaining seats through the merit-list system.
Since admissions opened in June, the varsity released five cut-off lists, under which admissions ended on 22 July. This was followed by admissions on the basis of the merit list, which closed on 16 August.
Then the University announced it would fill the vacant seats by releasing three more cut-off lists - on 20, 24 and 29 August.
Classes began over a month ago. But there has been a lot of confusion among the students in most because DU allowed already admitted first-year students to reapply for other colleges under the merit list system, and now the three subsequent cut-off lists.
The varsity allowed this owing to the demand by students, because students obviously want to move to more prestigious colleges if they get a chance.
As a result, a large number of admitted students have simply been moving from one college to another, thus seats fill up and then empty out again.
"It is the norm that top colleges fill up before the others settle down. But allowing all newly admitted students to reapply has caused instability inside most classrooms," said a DU professor who's involved in the admissions process at a college.
One of the consequences is that the teacher population is not stabilising either.
"Some ad-hoc teacher appointments have had to be cancelled, at my college and a few others, after the students moved out and the class size reduced drastically. Now, what do we do if the number of students increases again?" the teacher said.
A usual concurrent problem is that of over-admissions in the general category, which the re-application process has made worse.
"If the cut-off for a course is pegged at, say, 92% and 120 eligible students apply, we have to take in all of them, even though we may not have the infrastructure or teachers to support them. Many students do end up leaving if and when they get something better. But with this year's continuing instability and fluctuating numbers, do we appoint more teachers, then cancel appointments and then appoint them again?"
The consequences
But the most obvious problem is the loss of a month's teaching, which is now far more pertinent given the semester system, as students who join late have very little time to cope, says Abha Dev Habib, lecturer at Miranda House and member of the Delhi University Students' Association (DUTA).
"In an annual system, those who join late have the whole year to catch up before examinations. But a semester system is very tight," Habib said.
"Classes have been going on for over a month, and we still have new students coming in and students leaving to join other colleges. It is difficult for students to compensate for a month's loss in such a short duration before the semester-end exams. Teachers also find it hard when they have a new student in the classroom every two days. Do they keep revising or teach further?"
"This loss is one of the many reasons teachers have been opposing the semester system," Habib added.
The professor who did not wish to be named also pointed out that the extended admissions process is not really widening the access to education in DU.
"We are not really opening up the system. The net advantage is not going to students who desperately need to enter the system. It is the reserved seats that usually have the highest number of vacancies. And the cut-offs are usually not greatly reduced with every list. While students who have got admissions and then make the next cut-off list for a better college keep merrily moving."
Before the sixth list, there were 1,100 seats vacant under the general category; 2,900 in the OBC category; 1,000 in the SC category and 1,500 in the ST category.
Admissions under the sixth cut-off list took place till 22 August, while students in the seventh and eighth list will be admitted till 26 and 30 August, respectively. Thus, the admissions process is expected to finally close by the end of this month.