Using BRICS to isolate Pakistan makes no sense. Here's why
Manoj Pant
| Updated on: 10 February 2017, 1:45 IST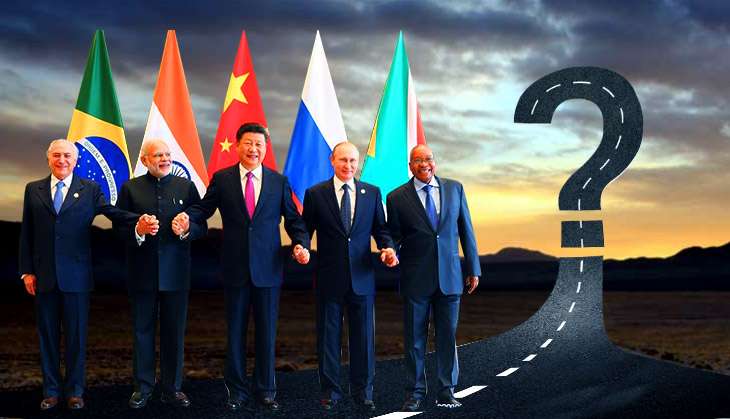 The 8th Summit of BRICS has just concluded in Goa. As expected, India's main agenda was terrorism, a part of its strategy to isolate Pakistan after the the Pathankot and Uri terrorist attacks. Not surprisingly, therefore, bilateral meetings at the summit were with Russia and China.
While Russia recently conducted joint military exercises with Pakistan in the troubled region of Gilgit-Baltistan, China has long been a strong supporter of Pakistan, more so since the China-Pakistan Economic Corridor, which links China to the Gwadar port on the Persian Gulf, was rolled out. The corridor is part of China's One Belt One Road plan for South Asia, under which it has also initiated a $20 billion road infrastructure plan in Bangladesh. There are no indications China will seriously back India in isolating Pakistan. This begs the question: what are the motives of these key members of BRICS, and are they mutually supportive?
Also Read: BRICS economies are in a rut. Is it time for India to go it alone?
First, though, a brief history of BRICS. The acronym was coined in 2001 by the Goldman Sachs economist Jim O'Neil. It was seen as a strong economic bloc that would rival the OECD bloc of developed countries. After the 2008 recession, BRICS assumed increased importance as an international political bloc. As the developing world challenged the hegemony of the developed countries at the IMF and the World Bank, BRICS proposed to set up the BRICS Development Bank as a lending agency for developing countries.
Eventually set up in 2013, the bank's objective was to provide Trade and Export Finance to member countries. China, of course, put up most of the seed capital. Other important institutional mechanisms were also set up, such as a Centre for Agricultural Cooperative Research. So the agenda of BRICS was primarily economic.
But how sustainable is BRICS as an economic grouping? Frankly, not very. In 2001, the economic reality was the phenomenal expansion in trade among emerging countries over the previous decade, and until the recession in 2008. To take but one number, trade among the BRICS members as a share of their trade with the rest of the world increased from about 6% in 1995 to about 14% in 2007.
Intra-BRICS exports rose 4 to 6 times for each of the five countries. But the optimism was short-lived. By 2013 or so, this share of trade had shrunk back to around 10%. The reasons are well known. Intra-BRICS trade was driven entirely by China's appetite for raw materials like iron ore in the build-up to the 2008 Olympics. In fact, detailed commodity-wise trade analysis for the period 1995-2007 indicates that the trade boom was mainly in exports of natural resources like metals, cotton and oils from the rest of the members to China. The technological imbalance showed in that China's exports to the rest were in high and medium tech items. Post Olympics, this artificial build-up of metal trade vanished. India is now stuck with a huge trade deficit of around $50 billion with China, which is clearly not sustainable in the long run.
Also Read: Hindustan Aeronautics to sign deal with Rostec Corporation to manufacture Kamov military choppers
Another feature of trade indicates that BRICS is not a sustainable economic bloc. In general, growing bilateral and multilateral trade is accompanied by growth in Foreign Direct Investment. In fact, it is FDI which normally drives trade on both the export and import side.
Consider the pattern in BRICS even during the heady days from 2000 to 2007. While the emerging BRICS economies were becoming major sources of FDI, their money wasn't going towards fellow members. South Africa's was mainly going to countries in Latin America, Russia's to the CIS and Europe, India's to UK and the US, and China's to Latin America and Africa. The motivations were different. For China, the main motive was resource seeking while for the others it was export promotion. BRICS, in any case, was low on the agenda.
Now, too, the motivation for each is different. For China, the objective is pump-priming a failing economy via infrastructure construction in other countries, which it will attempt to finance through the BRICS bank. For India, the political objective is more critical. For the other members, other trade partners are more important, with the exception of Russia-India trade, which is important but does not need BRICS.
The Goa summit made it clear that the motivations of China and Russia are purely economic: the issue of Chinese FDI into India is neccesitated by the huge trade deficit India runs.
But this is a bilateral issue that does not require a BRICS mandate. Similarly, Russian sale of helicopters and missiles is not much different from the historical purchases by India.
As for India's political motive of isolating Pakistan, it has been only tangentially addressed.
Clearly, BRICS isn't really a viable multi-country economic grouping. Can it then remain a viable political body in the international arena?
Also Read: Senate panel pours cold water on Gwadar port. Is China Pakistan Economic Corridor unravelling?