Uri attack: once laughed at, military strikes on Pak now a real possibility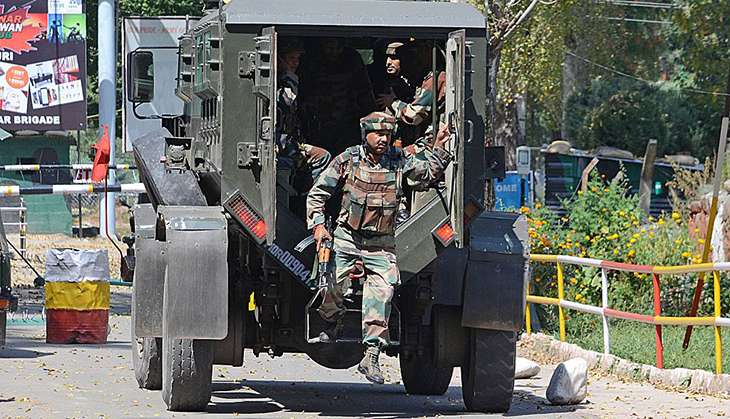 It's been more than 36 hours since the terror attack on Indian Army personnel in Uri, Kashmir Valley, and there's still no report of any military retaliation by India, despite the government's claims of 'proof' that Pakistan was heavily involved in the operation.
The Indian Army's Director General of Military Operations (DGMO) has issued a statement, saying that the army 'has displayed considerable restraint', but adding that it reserves 'the right to respond...at a time and place of our choosing'.
The hints and indications coming out of the Union Ministry of Defence (MoD) point to a well thought-out military retaliation - of the sort that may hurt Pakistan gravely, but not make it to Indian national dailies.
Voices advocating deep strikes within Pakistan are growing increasingly louder. Former military generals and experts are openly talking about carrying out strikes in Pakistan, attributable only to 'non-state' actors. At any other time, such suggestions may have been laughed off, but right now, they don't seem as outrageous.
Political rhetoric cools down
Senior officers at South Block, the headquarters of the MoD, said that a plan was always ready for such situations; that security breaches and operations like the one in Uri that led to loss of 18 armymen's lives were discussed in regular review meetings. They insisted that 'all options' were being discussed.
However, with time passing by and no fresh reports from the border, the Indian defence establishment seems to have ruled out an immediate military response.
Political developments throughout the day also corroborate this theory.
After yesterday's fiery rhetoric by various leaders of the ruling BJP, demanding the "whole jaw for the loss of a tooth", as Ram Madhav put it, BJP and RSS leaders showed marked restraint on Monday.
The party high command clearly seems to have reined its members from making irresponsible statements, and making embarrassing promises of a quick reaction against Pakistan.
The realistic options
Apart from all the diplomatic options, broadly speaking, India has two military options before it:
1. To mount an offensive and capture one or more posts under Pakistan's control at the LoC. And this can be done with minimal losses to the army.
2. Covert strikes.
Military options like limited air raids are out of the question - first, because of the huge escalation in tensions that it could cause, and second, because identifying terror camps along the LoC will be really tough.
This leaves scope for only the two options listed above. But the disadvantage is that India will not be able to publicise the results of a covert strike, while the post capture route runs a higher risk at the moment, because the Pakistan Rangers are on high alert.
Capturing posts
Retired Lieutenant General HS Panag, in a recent article, mentioned how his troops covertly captured a vital peak - Point 5310 - in 2000 from the Pakistanis, right after the Kargil war.
This feat was never recorded or celebrated in India. A repeat of such an operation could be on the cards as there are a lot of Pakistani posts in vulnerable positions on the LoC.
Interestingly, during the last big exchange of fire at the border between August and October last year, Indian forces are known to have fired more rounds of ammunition than the last 10 years put together.
Covert strikes
The other option could be to strike deep inside Pakistani territory. The fact that India has overseen tactical cross-border strikes in retaliation, and possesses such capability, is no secret.
This is what happened after Pakistani soldiers beheaded Lance Naik Hemraj Singh in January 2013. The response of the Indian soldiers is known to have been several times more fierce and ruthless. Indian soldiers are known to have crossed over and brought back the heads of many Pakistan Rangers' men.
Way back in April 1998, the Prankote massacre took place in the Udhampur district of Jammu and Kashmir, in which 26 Hindus were killed in the villages of Prankote and Dakikote.
In alleged retaliation by India, 22 Pakistani are understood to have been killed in Bandala. The Pakistani military later claimed to have recovered an Indian-made watch from the scene of the carnage, along with a hand-written note asking, "How does your own blood feel?"
Both Panag and former Army chief General Shankar Rowchowdhury have suggested carrying out similar operations against Pakistan, which can only be attributed to 'non-state' actors. And the South Block is taking these suggestions seriously.
Two huge factors to consider
Whichever option the Indian defence establishment chooses, it will be weighed down by Narendra Modi's pre-2014 promises of strict action against Pakistani terror, especially with crucial Assembly elections coming up in Uttar Pradesh.
Also, the Uri attack has come as a big setback for the Indian Army. While the loss of 18 lives is deeply tragic, the fact is that such losses, given so many specific intelligence inputs, the history of fidayeen attacks at transit camps, and the proximity of the camp to the LoC - a mere 6 kilometres, could have been easily avoided through increased vigilance. The army now needs to salvage its pride - had such losses had been suffered by the paramilitary forces, their bosses would have been taken severely to task.
Any military action that is being planned against Pakistan will need to take both these factors into account.
Edited by Shreyas Sharma
More in Catch
Uri attack: India wants to diplomatically isolate Pak, but jury's out on it
Was the Uri attack designed to provoke in the run up to UNGA session?
Uri terror attack: what India may do to retaliate