UP chief secy's report blames locals for Gorakhpur deaths. Why not Yogi & Co.?
Catch Team
| Updated on: 23 August 2017, 22:40 IST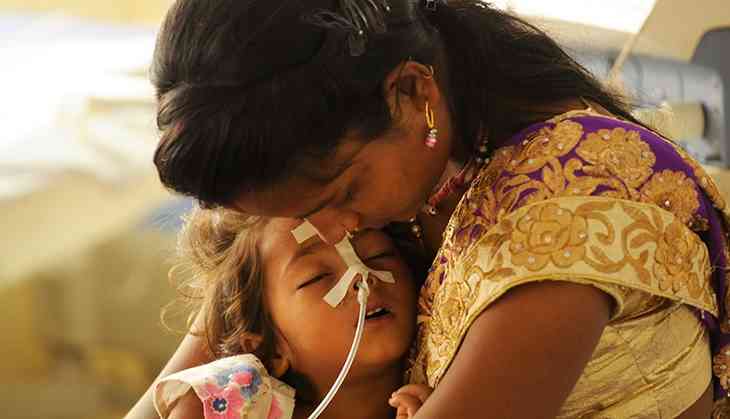 (Deepak Gupta/Hindustan Times/Getty Images)
Why is the Yogi Adityanath government in Uttar Pradesh running away from an independent probe into the deaths at the Baba Raghav Das Medical College in Gorakhpur?
Why is CM Yogi, who claims that nobody has done more when it comes to campaigning against encephalitis deaths in the region, not directing a retired judge or an independent agency like the Central Bureau of Investigation to professionally investigate the 30 deaths, including many newborns and children?
Can one trust the probe by bureaucrats into what seems like, among other things, also an administrative failure?
But there is no answer to any of these questions. In fact, Yogi's government seems to have made up its mind to brazen its way out of the Gorakhpur medical college deaths episode, just like it did with the Dalit-Thakur clashes in Saharanpur as well, through a bureaucratic inquiry.
Chief secy's report blames local officials
Reports say Uttar Pradesh Chief Secretary Rajiv Kumar, who was entrusted by the Chief Minister to head a committee to investigate the deaths, has filed his report. And, expectedly, the report has just named local officials, prompting the Chief Minister to order an FIR against RK Mishra, the then-principal of the BRD Medical College, wife Poornima Shukla, and doctors including Satish Kumar and Kafeel Khan, and supplier Pushpa Sales.
They are likely to face action for culpable homicide, dereliction of duty and for illegal private practice.
An earlier probe by the District Magistrate of Gorakhpur, too, had blamed the local hospital officials.
In another token move in Lucknow, senior bureaucrat Anita Bhatnagar Jain has been removed as Additional Chief Secretary (Medical Education). KK Gupta, the Director General, Medical Education, too, has been moved.
Why should Yogi & Co. escape blame?
All this just begs the question: will the top politicians running the government, including the Chief Minister, and Ashutosh Tandon, the cabinet minister in-charge of medical education, get away, despite serious administrative lapses leading to the deaths?
Just a day before the incident, both Tandon and Adityanath had spent three hours at the BRD Medical College, taking stock of the situation, meeting all the top officials. They not only failed to see that the liquid oxygen tank was running out of supply, but also failed to see that the medical college had just 50 smaller cylinders, which according to some experts, is way below the required 400-500 cylinders such an institution must keep at all times.
On 30 July 2017, Pushpa Sales, the go-between firm between the BRD Medical College and Inox Air Products Limited, from where the liquid oxygen was sourced, sent a four-page legal notice copied to not just principal Mishra, but also to KK Gupta, Jain, and Rajeev Rautela, the DM of Gorakhpur .
A day later, on 1 August, another letter was sent, detailing how the payment has been pending, and it could result in interruption of supply. The company had not been paid since November 2016, and the pending payments came to over Rs 68 lakh.
On 9 August, the day the two ministers were at the medical college, Pushpa Sales had sent Tandon's office a copy of the legal notice, along with letters it had been writing to the officials since April, demanding the pending payment.
So when a whole bunch of officials knew of the issue, why is it that only local officials have to face an FIR? Are the ones sitting in Lucknow, who, by the government's own admission, released the money on 5 August only after multiple reminders and a legal notice, and did not care to check if the supplier had been paid even after that, deserve any less blame?
If the FIRs are registered, does it mean that the state government is accepting that there was an administrative failure and an interruption of supply of oxygen which led to the deaths? It has so far denied that a drop in oxygen pressure led to the deaths.
When the Chief Minister says that he had directed that no emergency supplies be interrupted for want of funds, should he not accept responsibility when a medical college in his backyard, which has been a centre of his attention all these years, had such a huge unpaid bill for a necessity like liquid oxygen?
Shouldn't cabinet minister Tandon be hauled up for his failure to ensure the upkeep of all medical colleges, including BRD, which deal with serious patients of encephalitis?