University students assess drought-hit villages and they don't have good news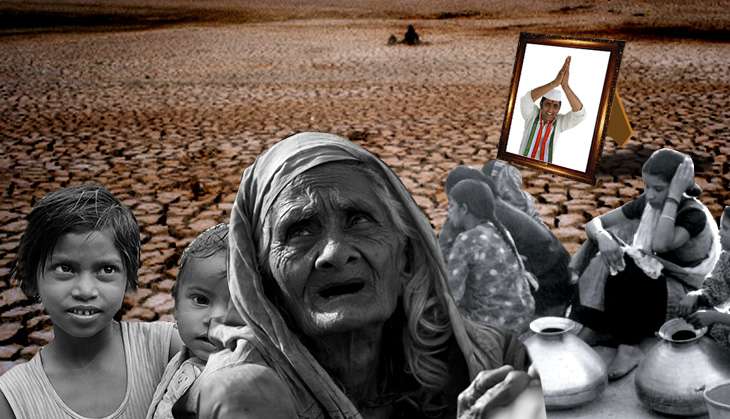 Who sent the students and why?
Yogendra Yadav\'s Swaraj Abhiyan and an NGO called Ekta Parishad sent the students
Students were sent to assess the situation in various drought-hit villages, districts
How did the assessments go?
Students reported bleak situations in the places they visited
Their reports corroborate claims made by a consortium of civil society organisations
More in the story
What did the students report?
What are the issues being faced by these drough-hit areas
On Thursday, activists working from a consortium of civil society organisations accompanied by Swaraj Abhiyan founder Yogendra Yadav released some startling information about the drought situation in India.
According to the activists, state governments and the central government are yet to comply with the Supreme Court (SC) order on providing relief to drought affected areas - and this corroborates their claims.
The reports filed by these activists show that the government is yet to have universalised the PDA system in the drought-hit districts, provide mid-day meals across schools during summer holidays and implement 150 guaranteed work days under Mahatma Gandhi National Rural Employment Guarantee Act.
The apex court also ordered that no household in drought-hit areas should be denied subsidised ration.
"The Supreme Court has clearly said that the buck stops with the central government; it can't remain laid back anymore or evade responsibilities," said Yogendra Yadav of the Swaraj Abhiyan, the organisation which petitioned the apex court.
On drought duty
The consortium of organisations spearheaded by Swaraj Abhiyan - founded by Yogendra Yadav - in collaboration with Ekta Parishad announced its 'Drought Duty' plan of sending students from various universities across the country to assess the situations in drought-hit areas. The students visited a village or a district among the 254 official districts that were declared drought-hit.
Catch spoke with some of the students that went to these villages to get an understanding of what they observed and experienced during their sojourn and if the claims made by Swaraj Abhiyan and others were true.
Student speak
Samhavi Dhingra, who studies Masters in Economics at Jawaharlal Nehru University, visited Jhawar village of Tehsil Talbehat in the drought-hit district of Lalitpur in Uttar Pradesh.

How did the people there cope with drought?

Well, from their daily meals to their quotidian tasks, almost everything has changed. Their meals would comply of half-cooked vegetables, mostly potatoes along with mixed-grain rotis. At times they would eat rotis with just pickle. They would just eat one meal a day and even believed that they wouldn't be able to digest if they ate more than once a day.

What role did women play in these household and how did drought affect them?

I found the women of the household to be more pro-active that the men. Even while all the trouble that drought brought upon them, women were still fighting against the injustices meted out to them. They would occupy the houses of the sub-divisional magistrate and protest. Many of the protest groups were led by women. But within households, they would still be treated differently. While the men would sit on the charpoy, women would sit on the floor.

How efficient were government schemes like the PDS and mid-day meals? Were people able to avail them?

Yes and No. Here, caste played an important role. While the upper castes, like the Thakurs, would get subsidised grain easily, the lower caste would not get access. I saw a woman shouting in front of a school that her kids were not fed through the mid-day meal scheme for a month. There were complaints, again among the lower caste, that their names were cut off from the ration cards.

What was their source of water?

Mostly hand pumps. There were water tankers but those were provided by non-government organisations. There were no instances of the government supplying water.

SaiVishwas who studies at Tata Institute of Social Sciences (TISS) Hyderabad and is pursuing his BA in Social Sciences visited Shankarpur in Madhya Pradesh for a week.What were their daily source of water?

Mostly hand pumps. In the village I visited there were like 60 families and three hand pumps. At around 4 am the women and children of the household would fetch water and on an average they would spend around 3-4 hours of their time to fetch water daily. Of the three hand pumps only two were functional. One would be used to drink water while the other was used for bathing.

What kind of jobs were the people engaged in?

I was informed by the villagers that in the last two months around 50 people had migrated to cities. Others, mostly men, would go to Shivpuri which is the nearest town 25 kilometres from the village, and find various informal jobs involving tedious labor. The women are burdened with the responsibility of ensuring there is adequate water for cooking, cleaning and drinking among other household chores. Some of them locals used to go to a nearby forest and pluck Tendu leaves used to wrap bidi. There was also a high consumption of tobacco.

Were the people in the village able to avail of government schemes like jobs through MNREGA or availing grain through PDS?

There was a complete lack of transparency. Many villagers did not know whom to approach. The Sarpanch would say there are no funds to give them jobs under the schemes. The local administration would keep saying there were no funds for the scheme and hence they couldn't give them jobs.

The villagers were keen on working. Many however stated that the last time they worked was in 2010 and even so, only for around 50 days the entire year. The payments, the people say, would be delayed for 6 months.

Fortunately most families received grains through the PDS but only if they had ration cards. The Supreme Court had stated that all families in drought hit areas should receive subsidies grains regardless of whether they had their ration cards. There was no issue of caste since almost all families of the village belonged to the Saharia Tribe.
More bad news
Others who visited villages across drought-hit states shared similar experiences. Shreela Sen who visited Charokhari Panchayat states in Bihar said that temporary migration is the norm in the village and opinion regarding MNREGA were mixed.
While some agreed with the MNREGA rates others state they get paid better through informal labour elsewhere.
Shreela says a registration drive is needed for the scheme as rate of work through MNREGA is exceptionally low.
Khusnud Shahidi who visited Dabli Village in Sheopur, Madhya Pradhesh said that there is no source of drinking water available in the village and a water tanker is provided by Ekta Parishad, an NGO.
Khushnud says the area has not been declared a drought-hit even after the request of the district collector.
Centre fail
Nikhil Dey who works with the Movement for Right to Information and Employment says the Centre has a pending payment of Rs 5,500 crore in labor wages and materials dues to states and because of which MNREGA has failed to be implemented in many states.
The court in its order to the Centre to frame a national drought policy had made it clear that there should be no wage delays under MNREGA and asked the Centre to compensate workers for the delay in payments if it were delayed by more than 15 days.
The Supreme Court will hear the next case on 1 August and the Centre has time till 25 July to report on the action taken.
Edited by Jhinuk Sen