Understanding Kashmir unrest through Hurriyat's protest calendars
Catch Team
| Updated on: 10 February 2017, 1:37 IST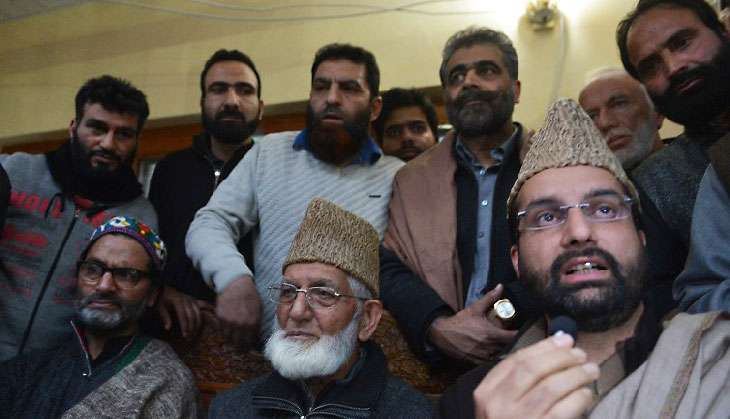 Hurriyat has issued a fresh weekly protest calendar in Kashmir and it is a repeat of the previous one: a break over the weekend and hartal on the remaining days.
In fact, it was only in the last protest roster that the Hurriyat chose to lift hartal on the weekend. On 19 November, the Valley had its first full working day after a record 133 days of shutdown.
The calendar is issued every Wednesday or Thursday for the following week. It has directions for each day: a call for a hartal, a protest march to a place, or a symbolic protest activity, say writing graffiti on the walls.
The instructions
The latest calendar which begins from Friday is as follows:
Friday: complete shutdown
Saturday: full working day
Sunday: full working day
Monday: hartal
Tuesday: hartal
Wednesday: hartal up to 4 pm
Thursday: hartal up to 4 pm.
Then, there are instructions for each day - 'freedom prayers' on Friday at mosques, Tehsil headquarters Azadi roadshows on Monday and freedom marches on Wednesday and so on.
There are general directions too: "Protests be held across Jammu and Kashmir".
It tells people to "block all the routes entering your mohallas, villages and localities by every means during night to protect people in general and youth in particular, from raids and arrests by security forces and Jammu and Kashmir Police".
People are also exhorted to "play Islamic and Azadi Taranas (songs) from Maghrib (evening prayers) to Isha (night prayers) on all days".
People are also asked to paste a poster of the protest roster "on the entrance of every mosque and in market places, mohallas and local chowks".
How the calendar came about
Calendar, as this protest roster is called, is a Hurriyat innovation dating back to summer upsurge of 2010 when patriarch Syed Ali Shah Geelani called for a shutdown for five months with a break or two in a fortnight. While this achieved little politically, the long period of shutdown brought Kashmir to the brink of an economic collapse. It took Kashmir a long time to recover. In fact, many in Kashmir credit the subsequent five years of normalcy to the economically draining hartal of 2010.
But this hardly stopped Hurriyat from going the same way in 2016. Within few days of the killing of popular Hizbul Mujahideen commander Burhan Wani on 8 July, which plunged Kashmir into turmoil, Hurriyat embarked on an uninterrupted formal hartal program with elaborate protest instructions.
It has been nearly 5 months since Wani was killed. The separatist hartal and the crackdown by security forces has taken a heavy toll on life in Kashmir.
Hurriyat continues to issue weekly shutdown calls with a working day or two in between. And people are urged to strictly follow the 'calendar' in the hope of a concrete political concession from New Delhi in the direction of Azadi. This strategy has been dragged on to a point where there is now no connection between the protest and the desired political outcome.
"Sacrifice and protests are now being pursued for their own sake rather than geared to a political end;" says a Kashmir University professor, who didn't want to be named.
"New Delhi didn't resolve Kashmir for 70 years. It didn't do so through 1990s when there was an all out insurgency in Kashmir. How will uninterrupted self-inflicting hartals force it to do so?"
Even though public resentment is simmering against the imposed shutdowns, its expression has been muted - largely because nobody wants to be blamed for sabotaging a five month uprising, whose continuance in its existing form, is expected to lead to Azadi.
Change in strategy needed
However, recently some local newspapers have called for a change in tack.
"Hartals have already quickened the fatigue and forced thousands of people to lose their livelihoods. This situation calls for a way out," reads an editorial in a local English daily Kashmir Observer reads.
"There is a desperate need to exhibit political imagination and innovating the approach to the unfolding situation. But this hasn't happened so far. And delaying it further will only harm rather than help the cause which Hurriyat claims to represent".
But this isn't something the separatists seem to appreciate. They continue to claim the uncritical backing of the people, even those whose livelihood has suffered the most because of the hartals. What is more, separatists have also claimed progress towards their goal.
"We have never been so close to Azadi as we are now," Geelani declared in his 'address to nation' in September while urging people to strictly follow separatist programmes. He also claimed growing international sympathy for Kashmir cause and its potential to translate into freedom for Kashmir, should people continue to revolt.
Similarly Dr Sheikh Showkat, a law professor at Central University, Kashmir, has batted for the continuation of the ongoing "resistance". Writing in a local English daily, Dr Showkat accused the Kashmiri elite of promoting reconciliation and compromise.
"Ordinary masses initiated the present phase of resistance on their own. They continue to sacrifice and remain determined to sustain it. They somehow manage their basic necessities and remain contended with what they have," Dr Showkat wrote.
"Beneficiaries of status quo on the other hand want the leadership to rescue the crumbled system in the garb of articulating the resistance".
Meanwhile, Kashmir continues to be in a limbo with common man haplessly caught between this unremitting ideological divide.