Two major points of contention remain in OROP negotiations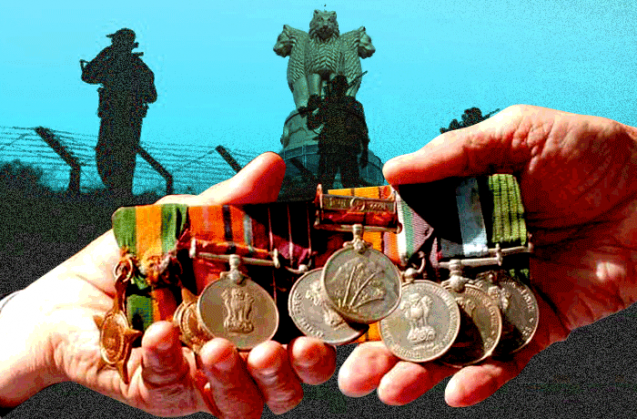 The demands
Ex-servicemen are demanding the implementation of a One Rank, One Pension scheme
They have agreed to pensions being revised every two years, with a base year between 2011-14
The costs
According to official estimates, it will take Rs 8,299 crore per year to implement OROP
Other costs will be involved too, like arrear payments
This expenditure is so high that it may bring the security establishment to a halt within 10 years
Another day has passed and there's still no news of a compromise on One Rank, One Pension. Minor adjustments and compromises have been made on the issue since talks began between protesting ex-servicemen and the government. But two major points of contention remain.
The first is, after how many years will the pensions be revised? And the second, which year is to be considered as the base year on which pensions of all retired servicemen will be computed?
See also: OROP: all-you-need-to-know video explainer as the issue takes centrestage
Scaled-down demands
According to sources, OROP protestors have taken a step back on both the disputes. On the first issue, ex-servicemen have scaled down their demands to pensions being revised every two years, and on the second, they willing to agree to a year between 2011 and 2014.
However, the government understands the costs involved in meeting their demands, and is unlikely to agree to them any time soon.
This is why defence minister Manohar Parrikar said on 28 August that the government will make its announcement on OROP in 'due course'.
Govt wary of costs
The government is quite right to be wary of the costs involved. According to official estimates, it will take nothing less than Rs 8,299 crore per year for implementing OROP for ex-servicemen alone. Some estimates have put the figure at one-and-a-half times that number.
If the government blinks first, it will have to bear huge financial consequences.
If salaries are revised every two years, the additional figure of Rs 8,299 crore will have to also rise based on the level of inflation.
It will take nothing less than Rs 8,299 crore per year for implementing OROP for ex-servicemen alone
Secondly, if 2014 is taken as the base year, according to one estimate, an additional Rs 14,500 crore will have to be paid in arrears.
These bills will have to be added to the existing fixed costs that defence ministry shells out every year to pay salaries of current servicemen.
The ministry pays Rs 93,000 crore every year in salaries. And pensions worth Rs 54,500 crore are already pending.
In less than 10 years, the costs involved in implementing OROP could seriously affect the government's capability to procure new armaments or even maintain its existing stockpile.
Non-servicemen's demands
The other problem that will arise if and when the government cedes to OROP is from the bureaucracy.
While pensions for civilians have increased only two-and-a-half times since the last pay commission in 2006, those of servicemen have already increased by 500%.
Railway unions, who have already made demands for OROP, are expected to be the first to begin their own agitation. Paramilitary forces are likely to join in as well.
Mocking the institution
Ex-servicemen have got themselves a great deal with the government agreeing to most of their demands.
By now stretching their agitation to boycotting the 50th anniversary celebrations of the 1965 war, and asking former heads of service staff to write threatening letters to the government, ex-servicemen have mocked an institution they once contributed towards.
If OROP demands are met as per the wishes of the protestors, ex-servicemen would be responsible for bring the security establishment to a grinding halt in a decade.