Trump's comments on India and Paris Agreement not 'fact': Sushma Swaraj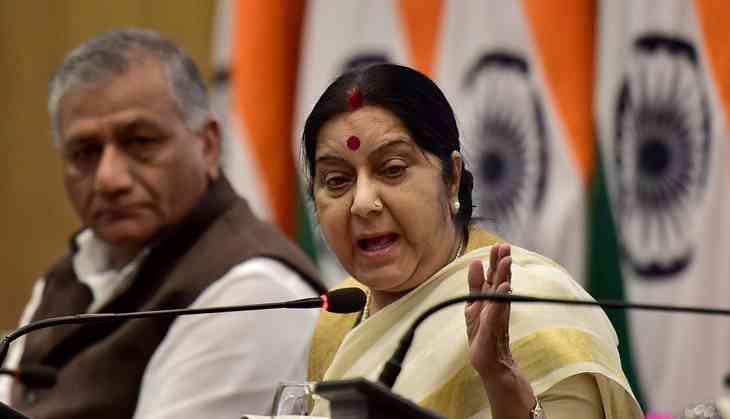 The allegations levelled by US President Donald Trump against India and China while pulling out of the Paris Climate Agreement have no basis in any fact. That's what Sushma Swaraj, India's Minister for External Affairs, told reporters in her annual media interaction.
However, she was brave to maintain that bilateral relations between India and the US have not seen any slowing down since Trump got into the White House earlier this year.
"What Trump said is not the reality. India has not signed the Paris Agreement under duress or any other reason, but solely for the environment," she said.
This comes at a time when the foreign policy watchers expect a strenuous future for Indo-US ties.
Recalling PM Narendra Modi's statement during his recent Paris visit, Swaraj reiterated: "It is a 5,000-year-old tradition for us to protect and worship nature. If someone claims we signed the agreement for monetary benefits, they are wrong. We signed for commitment. Whether the US stays in the agreement or not, India will stay."
Praise for junior ministers
Swaraj was flanked by General (retd) VK Singh and MJ Akbar, the two Ministers of State, were commended for their role in rescuing Indians in trouble – the General for his good work on the field, standing tirelessly and making sure that the citizens get back safely, and the former journalist for his negotiating skills.
She started the interaction by outlining how the government, under Narendra Modi, has so far rescued 80,000 Indians in trouble, including in Saudi Arabia, where many of them were sacked recently. She then moved on to various key issues even, as she reminded the press how it seemed to be wasting too much energy on Indo-Pakistan issues, while the MEA just gave Pakistan the time it would give to any other country.
Five key points
1. Swaraj claimed that Pakistan can't take India to the International Court of Justice (ICJ), and that India taking Pakistan to the ICJ on the Kulbhushan Jadhav matter was because of the violation of the Vienna Convention. She insisted that the Simla and Lahore pacts between the countries guaranteed that Kashmir had to be solved bilaterally. She also outlined how the government has a clear strategy when it comes to India-Pakistan relations, and that terror and talks couldn't go together.
2. On the recent reports of Chinese choppers being spotted in Uttarakhand, Swaraj says it was a rare case of violation of airspace, and that the matter would be taken up with China.
3. She said India's bid for membership of the Nuclear Suppliers Group was a work in progress. "Hum honge kamayab ek din (We shall overcome some day)," is how she put it. She added that India had approached other friendly countries to help convince those states which were creating hurdles in India's membership, and that India had made it clear that after the 2008 exception made in its favour, its NSG bid should be decided on credentials and not the criteria. Swaraj was hopeful about India's bid during her last interaction, as well in 2016. However, China continues to oppose India's bid on 'procedural grounds'.
4. Swaraj explained that there had been no change in the H-1B visa process since Trump came in, and that the caps had existed since 2004. While accepting that there was a genuine "worry", she stressed that not all amendments in the policy could be carried out through an executive order, and that India was in touch with all stakeholders, including US Congressmen.
5. She stressed how India's outreach to West Asia was the most successful example of what the MEA called "Effective Diplomacy, Excellent Delivery", and that contrary to what experts thought, PM Modi had been able to ensure that India had excellent diplomatic ties with all countries in West Asia. Swaraj explained how India has been able to balance it well, without diluting its stand – for example, on Israel-Palestine, or Iran-Saudi Arabia or even Cyprus and Turkey.