'Triple Talaq is inhumane, anti-Quran & anti-Constitution': Arif Mohd Khan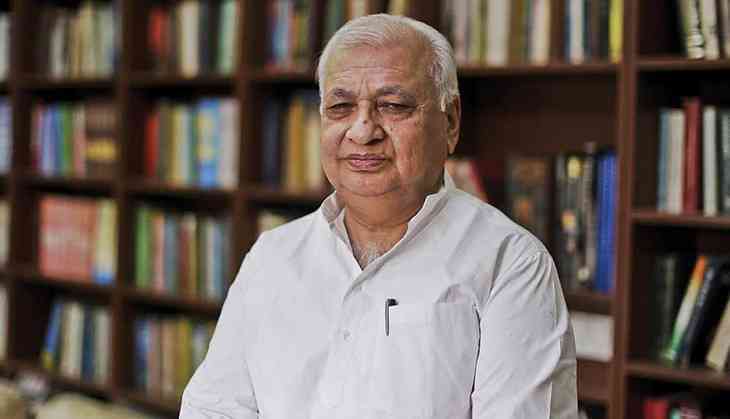 Triple Talaq, the retrograde practice among sections of Muslims, continues to snowball into a major issue. On Sunday, Prime Minister Narendra Modi is learnt to have taken up the issue during his address at the BJP's National Executive meeting in Odisha.
"The PM dwelt on social justice and said our Muslim sisters should be saved from injustice. However, there should be no division in the community and it should be done amicably," highways minister Nitin Gadkari said quoting the PM's address.
On Monday, Uttar Pradesh Chief Minister Yogi Adityanath compared the silence of a section of people on Triple Talaq to the episode in Mahabharata where Draupadi was disrobed and several elders remained silent.
This push by the ruling party seems to have put the All India Personal Law Board in a spot. During its two day meeting at Nadwatul Ulama, while the Board claimed that it has the constitutional validity to implement Muslim personal laws, it issued a code of conduct on the issue and threatened violators with social boycott.
However, it maintained that the practice is valid. A day earlier, Shia clerics had pleaded that the board bans this practice and it is facing opposition from even sections of the Sunni community. "The information pertaining to Triple Talaq is harming the image of Islam," Yasoob Abbas, the leader of the Shia Personal Law Board reportedly said in an appeal to the AIMPLB.
Amidst this raging debate, Catch spoke to Arif Mohammad Khan, former Union Cabinet Minister, who has been an outspoken critic of the retrograde practice and a voice of reason on many issues which face Indian Muslims. It was Khan who spoke in Parliament defending the Supreme Court verdict in the Shah Bano case.
In this interview, Khan pulls no punches as he spoke on Triple Talaq, the role of the Muslim Personal Law Board and the lessons they should have learnt from the Shah Bano case.
Q. How do you see PM Modi's statement on justice for Muslims, especially on the issue of Triple Talaq? He also spoke about how backward Muslims should benefit from affirmative action.
A. The constitutional obligation of the government is to promote the welfare of the people by securing and protecting as effectively as it may a social order in which justice, social, economic and political shall inform all institutions of national life. The fact the Prime Minister is publicly acknowledging his duty to address the backwardness of Indians, which includes Muslims, should be welcomed.
Triple Talaq is an enormity, it cuts short not only the elaborate procedure laid down in Quran but also violates the law of the land by offending the dignity and equality of status of women. Large number of Muslims particularly Muslim women are continuously protesting and writing against it. The Prime Minister has a duty to address the concerns of all citizens regardless of their religious affiliation.
Secondly, the Shariat Application Act under which this nefarious practice is legitimised, is a product of Indian Parliament. Legally speaking this can be delegitimised only either through a new legislation or a law laid down by the Supreme Court. I personally welcome the sensitivity shown by the Prime Minister towards the victims of Triple Talaq. I hope that this old baneful custom to annul the marriage without giving a chance to rethink and revise the decision, shall be legally banned soon as it has happened in almost all the countries where Muslim Personal Laws are in force.
Q. Why is the Muslim leadership so reluctant to engage with this government?
A: You should ask this question to those who you think are reluctant to engage with the government. What I know from newspapers reports is that they keep meeting with officials and during these meetings they must be presenting their viewpoints to the government.
Q. Do you think by just being selective on issues like Triple Talaq, the government has added to the suspicion which exists against it within sections of the minorities?
A: Your question reminds me of a statement of Maulana Azad who while addressing the Muslim League demand for Pakistan had said: "You have your fixations and prejudices which you consider as your well considered thoughts, you have your apprehensions which you consider as your resolves. For Gods' sake tell me what do I do with you"?
Since Maulana's prose has a magical effect on the reader, I would like to quote his own words. (Wasawas hain jinko tum afkaar samajhte ho, khatrat hain jinko tum azaim kehte ho. khudara batlao main tumhare sath kya karoon).
In Urdu there is a proverb that says that if somebody is suspicious then even Hakim Luqman cannot cure him.
The only thing I would say about your question is that it betrays a lack of sensitivity with regard to Triple Talaq. To me real instance of divorces are not important, what I find most obnoxious is that a Muslim girl grows up with the awareness that after marriage she can turned out of her marital home instantly, even without any fault on her part.
The marriage is solemnised only when she gives her consent but divorce can come without any notice. This is inhumane, anti-Quran and anti-Constitution. To abolish this enormity one should welcome help from all sides.
Q. All India Muslim personal law board keeps claiming itself to be a guardian of Muslim interests. Does it have any legal sanction?
A: They are a body of clerics from Madrasas and I have doubt if they are a registered body. MPLB has every right to represent its members but it has no right to claim that it is the sole spokesman of the community or religion.
The Shah Bano case fully illustrates their lack of understanding of any legal or constitutional issues. You read the biography of Ali Mian, the then President of MPLB. In volume 4, he claims that he personally participated in the drafting of the legislation to reverse the judgment of the Supreme Court. He underlines the fact that the Prime Minister gave approval to the Bill only after Ali Mian and his colleagues from MPLB endorsed the provisions of the draft Bill.
But later Supreme Court pointed out that the new law does not confine Muslim man's liability to Iddat period but makes it obligatory on him to make the payment within the period of Iddat and since this payment has to be reasonable and fair therefore it should be adequate enough to meet all her future needs.
After this judgment, Ali Mian said that that the historic movement in the case of Shah Bano judgment proved to be 'Koh kandan kah bar awardan', that is we dug the mountain and found a rat.
They had opposed payment of 174 rupees to Shah Bano but now in a case that was decided in year 2016 by the Supreme Court, the husband was ordered to make a payment of more than Rs 10 lakh. They insisted that section 125 of Criminal Procedure Code will not apply to Muslim husbands and the Supreme Court said that the new law does not bar the Muslim divorced woman from seeking relief under section 125. The MPLB and its leadership deserves credit that even after this miserable performance they still claim to be guardians of community interests.
Q. What is the best way forward for Indian Muslims to deal with issues like Triple Talaq?
A: Abolish this anti-Quran, anti-human and anti-Constitution practice as early as possible.
Q.. Can one leave matters of personal law to the communities which seem to be backward looking and reluctant to reform?
A: No community is totally backward looking but clergy and by clergy I mean those for whom religion is a matter of profession not conviction, have a selfish interest in being backward looking. They want to retain practices which give rise to disputes so that people may seek fatwas from them. You abolish Triple Talaq and you will see the fatwa business will come almost to an end. The clergy dominates over the lives of ordinary people through the instrumentality of fatwa and they fear that if Triple Talaq is done away with then they would lose this instrument.
Q. The debate on the Triple Talaq many say, seems to be a step towards uniform civil code. What is wrong in having a uniform civil code?
A: Again endeavoring to secure for the citizens a uniform civil code is a constitutional obligation of the government, but till the time the government takes a decision and comes forward with a draft it is not possible to comment on that.
However mixing these two issues of abolition of Triple Talaq and Uniform Civil Code is an attempt to muddy the waters and confuse the people. The two issues are different and must not be linked.