There's an agreement being discussed in Auckland and it could spell trouble for Indian healthcare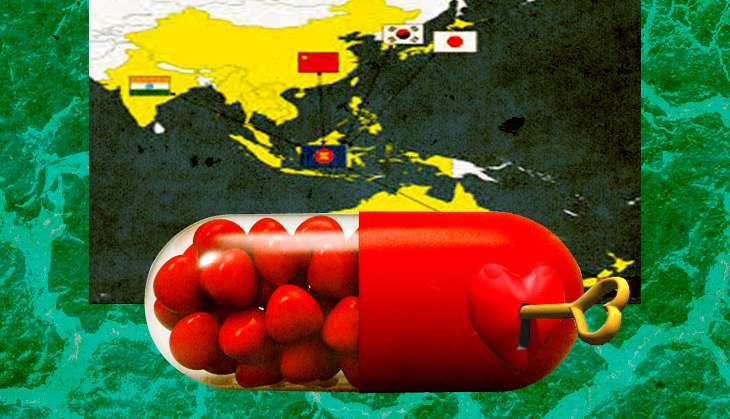 What\'s the RCEP
Regional Comprehensive Economic Partnership involves 16 countries including 10 ASEAN members
It is currently being discussed in Auckland, New Zealand and is on the verge of ratification
What are the issues
Japan, South Korea have proposed to make include intellectual property rules a part of RCEP
These IPs in RCEP would undermine India\'s access to affordable generic medicines
More in the story
How will the RCEP affect other countries
What will that mean for healthcare in least developed countries?
While it has not gained as much traction as the Trans-Pacific Partnership (TPP), the Regional Comprehensive Economic Partnership (RCEP) could change the trade frontiers for countries, including India.
The RCEP involves 16 countries: The 10 members of the Association of Southeast Asian Nations (ASEAN):
Brunei-Darussalam
Cambodia
Indonesia
Laos
Malaysia
Myanmar
the Philippines
Singapore
Thailand
Vietnam
Plus the six countries with which ASEAN has free trade agreements:
Australia
China
India
Japan,
South Korea
New Zealand.
They are negotiating in Auckland in what could be the last but final round of negotiations before RCEP is ratified.
Many civil rights groups and non-government organisations have however raised serious concerns with the present round of negotiations in Auckland.
What are the concerns?
As per a leaked copy of an intellectual property document being discussed at the negotiations, Japan and South Korea have made several alarming proposals to include intellectual property rules and obligations that are far fetched and go way beyond what India has already agreed to under another international trade agreement.
Under the Trade-Related Aspects of Intellectual Property Rights (TRIPS) agreement, India, along with many other countries, has several exemptions from obliging to what is laid down under the agreement.
While the TRIPS agreement also suggests stringent patent regime, the exemptions help India construct its own patent policy.
But if India were to abide by the suggestions under the RCEP as per the leaked document, it would undermine access to affordable generic medicines.
Médecins Sans Frontières (MSF) and other health organisations have been working to remove similarly harmful provisions of the TPP agreement, which would restrict access to medicines for more than 800 million people living in 12 countries.
Of the countries under RCEP, the GDP figure is around 23 trillion and accounts for about 27% of global trade.
In total, around three billion people reside in these countries, nearly half of the world's population, and it includes the most vulnerable and marginalised populations of the world.
What does the leaked text propose?
What the leaked document proposes is for all countries signing the agreed is to adopt certain intellectual property obligation virtually circumventing the law of the land that could potentially increase the prices of essential goods especially generic drugs.
Under Articles 5.7 and 12.1 of the draft IP chapter under RCEP, which was leaked, the 'transition period' for patents that countries are entitled to, is undermined and replaced with stringent provisions that need to be implemented under the agreement.
A 'transition period' allows for a country to delay or reject a pharmaceutical patent.
India is already a signatory of the TRIPS agreement that entitles the state to enjoy "maximum flexibility in the domestic implementation of laws and regulations in order to enable them to create a sound and viable technological base," in view of the economic, financial and administrative constraints.
As per the TRIPS agreement, Least Developed Countries (LDCs), that includes India, are granted a specific pharmaceutical transition period wherein LDCs do not have to enforce TRIPS agreement, specifically to pharmaceutical products, until 2033.
This period could also be extended. Up until then India, along with the other LDCs, is required to come up with a patent filing mechanism for filing patents.
The TRIPS agreement also exempts India from applying all TRIPS standards up to 2021.
As per MSF, the RCEP agreement's current proposals could severely restrict access to affordable medicines for millions of people around the world.
MSF purchases up to two thirds of all the generic drugs to treat HIV, TB and malaria from India.
MSF has urged urges RCEP negotiators to make sure that the trade agreement does not include the clauses that enforce patent obligations.
Negotiations, counter negotiations
In the past, during trade agreements, negotiators representing India have stood firm against the inclusion of extended patent terms and data exclusivity.
Data exclusivity is a concept that gives the original manufacturer of a drug the right to keep all information regarding clinical trials of a drug confidential for anywhere between five to 10 years. It prohibits other manufacturers from registering a more affordable version of a medicine.
If India abides by the RCEP agreement, it would entail amending its Drugs & Cosmetic Act of the Indian Drug Regulatory Authority (DRA).
Take the case of a drug called Colchicine, a treatment for gout. In 2009 the FDA accepted clinical data from a one-week trial of the drug and granted data exclusivity to a pharmaceutical company called URL Pharma.
URL Pharma subsequently sued to force other manufacturers off the market and raised prices from $US0.09 to $US4.85 per pill.
Reactions
"Unless negotiators remove harmful provisions from RCEP, this trade deal is set to follow the dangerous path of the US-led Trans-Pacific Partnership agreement, which is recognised globally as the worst trade deal ever for access to medicines." says Leena Menghaney a lawyer working with MSF Access Campaign, India.
"We appeal to India's intellectual property negotiators in particular to stand by the promise made last week by Health Minister JP Nadda at the UN High Level Meeting on HIV/AIDS that 'India is committed to maintaining TRIPS flexibilities to ensure access to affordable medicines'," she adds.
Health Experts and activists from other countries have also commented on the present IP text of RCEP.
Belinda Townsend of the Public Health Association of Australia says, "The RCEP trade deal threatens to undermine India and China's role as major suppliers of generic medicines for people in the developing world, including both low and middle-income countries such as Cambodia, China, India, Indonesia, Laos, Myanmar, the Philippines and Thailand."
Townsend adds, "Access to affordable generic medicines is vital for these countries to address public health challenges, including HIV, tuberculosis, viral hepatitis and non-communicable diseases, and to ensure that their governments can progressively realise the sustainable development goal of universal access to health care. If RCEP imposes high levels of intellectual property protection, these countries could lose their capacity to increase access to affordable of medicines for their populations."
"If the RCEP trade deal imposes harmful 'TRIPS-plus' provisions, including patent term extensions and data exclusivity, access to affordable medicine will be restricted across the region," says Chalermsak Kittitrakul, AIDS Access, Thailand.
Kittitrakul adds that a 2008 study found that five-year patent term extensions in Thailand would increase medicine costs by nearly six billion dollars over twenty years, severely affecting the national health insurance system that cares for over 48 million people in the country.
Edited by Jhinuk Sen