The Wasteland: Does Delhi have a way out of its garbage crisis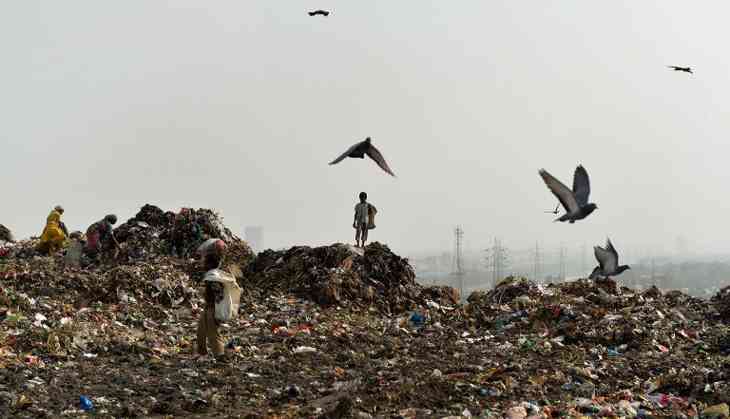 (Credit-AFP PHOTO/Chandan Khanna)
Meticulously designed roads, lined with carefully selected trees and red sandstone and white bungalows – that is how Edwin Lutyens and team meant New Delhi to be. Over the time, India's Capital spilled out of his geometric plan to accommodate refugees, an ever-increasing government machinery and migrant workers. With that increased the city's waste, managing which has now become a herculean task.
The National Green Tribunal (NGT) Thursday restrained the Delhi Development Authority (DDA), Delhi State Industrial and Infrastructure Development Corporation (DSIIDC) and other local authorities from awarding commercial projects until they identify alternative landfill sites for the metropolis. A day earlier the Supreme Court pulled up the Delhi government for the lack of proper waste management and asked Health Minister Satyendra Jain to urgently convene a meeting on the issue. The apex court sought a definite plan of action by 6 February, 2018.
The green panel directed Delhi's chief secretary to hold a meeting with the DDA, DSIIDC, municipal corporations and other authorities within two weeks to identify alternative sites for setting up waste-to-energy plants.
How grim the situation actually is...
The various municipal corporations within Delhi told the Centre for Science and Environment (CSE) that they collect 10,050 tonnes per day (TPD) of solid waste.
The city claims to process 6,100 TPD garbage at three waste-to-energy (WtE) plants:
– Okhla (2,000 tonnes, 16MW)
– Gazipur (1,300 tonnes, 14MW)
– Narela- Bawana (2,000 tonnes, 24MW)
That still leaves 4,900 TPD of waste daily.
Two composting sites process 200 TPD and 1,000 TPD, respectively.
The remaining 4,611 TPD is disposed in the landfills of Ghazipur (70 acres), Okhla (56 acres), Bhlasawa (40 acres) and Bawana (integrated waste management plant in 100 acres). All are oversaturated.
Worst, the three landfill sites are not designed as per specifications mentioned in the Solid Waste Management Rules, 2016.
According to the Master Plan for Delhi, 2021, these landfill sites had exceeded their capacity way back in 2008. Most of these sites reportedly have contaminated the aquifers and groundwater in and around their neighbourhoods.
The permissible height for landfill sites is 20 metres; on the ground they have reached 65 metres. The sites are also being set on fire by methane generation or human intervention.
"Delhi is indeed the worst-managed city in terms of solid waste management. In spite of being the capital of the country, it is struggling to come out of its waste mess," said Swati Singh Sambyal, a programme manager for environmental governance (waste management) at CSE.
Also, the WtE plants may be doing more harm than good.
For instance, the Okhla plant is taking up close to 2,000 TPD of garbage. Waste for this plant is largely collected from South Delhi. While the South Delhi Municipal Corporation (SDMC) sends in 1,800 metric tonnes per day (MTD), about 200 MTD is fed by the New Delhi Municipal Corporation (NDMC).
Only five MW of electricity can be generated by incinerating 450 tonnes of the solid waste in an hour. A total investment of Rs 250 crore has been made in the plant on a land of 5.6 hectares.
However, the residents of Sukhdev Vihar near the plant filed a petition with the tribunal alleging massive air pollution.
"Dependence of waste to energy is not helping as our composition of waste is majorly organic. All studies on waste composition show that 50–60% of Indian municipal solid waste consists of compostable matte. In a recent survey conducted in May 2017 on the basis of samples taken in SDMC area by Shriram Institute for Industrial Research Delhi, it was observed that the biodegradable part of waste was between 55-60%. According to the same report, the mixed waste had calorific value in the range of 1274.25 -1324 kcal/kg," Sambyal told Catch.
It also highlights how the waste composition for the city is not appropriate for incineration based technologies. As per the Solid Waste Management Rules, 2016, minimum waste calorific value for incineration is 1500 kcal/kg. Also, according to Waste to Energy Guidelines, 2017, a calorific value of over 1600 kcal/kg is required to run WtE plants without the use of any auxiliary fuel," Sambyal added.
More land for landfill?
The NGT has repeatedly ordered public authorities to establish new landfill sites. The Central Pollution Control Board and the Delhi Pollution Control Committee has been asked to approach the Delhi government to provide more landfill sites in the city and maintain them strictly in accordance with the Solid Waste Management Rules of 2016 by the NGT.
However, as per the latest draft manual on municipal solid waste management prepared by the Union Ministry of Urban Development, three million tonnes of waste can be accommodated on 40 hectares of land.
The life of a landfill is 20 years. Delhi needs 800 hectares of land, which would cost Rs 80,000 crore. According to an assessment by the Centre for Science and Environment (CSE), municipalities are required to incur recurrent operating expenses on labour and machinery at the landfill, which comes to about Rs 300 per tonne of waste. Expenditure on transportation is nearly Rs 800 per tonne. Hence, every tonne of waste disposed off at a landfill would cost the MCD about Rs 14,500—a sum that is highly unsustainable.
Sambyal told Catch – "Delhi needs to minimise the use of land and ensure treatment and processing happens at the source. Landfills are not the answer."
Segregation of waste or decentralisation – need of the hour
Segregation of waste at the source is one of the main solutions that Delhi needs to look at. At present, mixed waste is usually collected and sent to the dump-sites/WtE plants/compost plants. An effective system of waste segregation is required at appropriate stages i.e. the source of waste generation, collection, transportation, processing and disposal.
As per the Green Tribunal, a WtE plant based on mass incineration, besides having low efficiency of waste to energy conversion, is contrary to the Rules of 2016 which requires segregation at source.
Rule 21(1) of Solid Waste Management (SWM) Rules mandates that 'non-recyclable waste having calorific value of 1500 K/cal/kg or more shall not be disposed of on landfills and shall only be utilised for generating energy either or through refuse-derived fuel or by giving away as feedstock for preparing refuse-derived fuel'.
The above said order of NGT and Rule 21(1) of SWM Rules, 2016 need to be followed by the local authorities while processing mixed waste.
Vimlendu Jha, founder of Swechha, an environmental NGO based out of New Delhi says –
"We need hybrid solutions. We need a landfill, but only for rejects and inerts. We need waste to energy, but then such plants should ensure that they run on segregated waste only. With over 50% biodegradable waste, there is high potential to compost or generate biogas out of the segregated wet waste. And all this cannot work, unless we segregate at source."
"Waste pickers or informal waste collectors form a vital part of solid waste management. But they are not authorised/registered yet. Local Authorities should integrate informal sector in their waste management systems to strengthen their collection systems. Segregation of waste by them while the collection is extremely important in having a proper waste segregation process in place," Sambyal said.
As per the NGT order in 2015, states were directed to adopt a cluster approach for waste management. As more waste gets generated, more land will be required. Many small clusters for waste management are required. It is evident that the cost of transport is a key component of waste management and farther the site, the higher will be the transportation cost.
It is also clear that decentralised solutions like smaller clusters of waste management will cut costs of transport and make households and institutions part of the solution.
Public awareness & behavioural change
There is a clear lack of public awareness about sanitation, cleanliness and waste management in the city. So far, no aggressive campaign has been undertaken by the local authorities to encourage people to keep their city clean. There is an urgent need to start such campaigns.
The general public needs to be made aware of how to segregate waste and the benefits of it in the long run. New and innovative methods of waste management also needs to be inculcated.
Small towns across the country have adopted commendable waste management models that reaped beneficial results. United Nations Environmental Programme has showcased the Alappuzha model waste management by including it among the five best waste management models across the world.
Local authorities in Alappuzha, Kerala, in 2013 set up bio-gas plants and pipe compost units in all households with government subsidy by the Agency for Non-conventional Energy and Rural Technology (Anert) and Integrated Rural Technology Centre (IRTC). For the residents with no land for setting up bio-gas plants and pipe composting units, the municipality constructed aerobic compost units.
The move was quite a success and ignited a major revolution in waste management and energy conservation. Bio-gas plants were allotted to more than 3,500 households and pipe compost units were allotted to 4,000 families. More than 40 aerobic compost units were set up in various wards of the municipality to manage waste.
The civic body had conducted a massive campaign in the municipal area with the help of the Clean Kerala Mission. 'Wat-san clubs' were formed in schools for creating awareness about waste management and water sanitation. Children were given classes for creating awareness about managing waste and keeping the city clean.
In Panjim, Goa, segregation of waste is done starting from households. The municipal corporation not only ensures segregation at source, but also segregates dry waste into 30 different categories.
According to Sambyal, heavy penalties need to be imposed on littering in Delhi.
"Sadly, littering by citizens is still a major cause of concern in the city. Revision of littering fine under the existing DMC Act, 1957 is the need of the hour. At present, fine of Rs 50 is imposed for littering. This needs to be revised to Rs 500 to Rs1,000 per case. The public needs to be aware of the grim status of waste in the city. The mindset needs to change. We need to evolve as citizens otherwise no action by public authorities will be good enough."