The life of Safai Karamcharis: this horror story is very close to you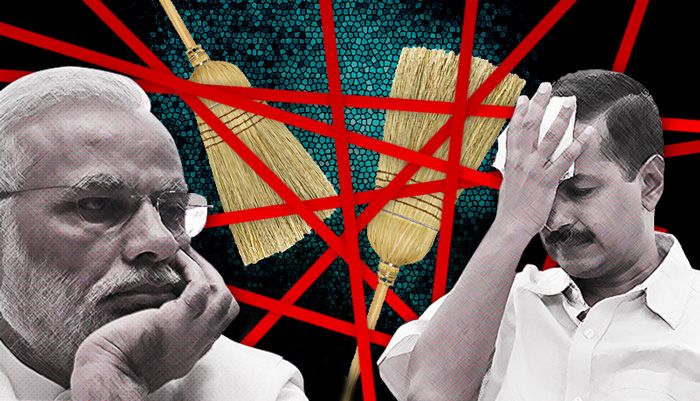 The mess
Delhi\'s Safai Karamcharis (SKs) have gone on strike from 23 October
There are 93,000 SKs in the city
MCD owes 22,000 of them arrears running up to Rs 5-6 lakh each
The corruption
SKs have to pay bribes at every level
\'There isn\'t a single one of us who hasn\'t bought his way up\' claims Pramod, an SK
More in the story
How SKs can\'t even get their salaries or medical insurance without paying bribes
What are the going rates for the bribes?
How Narendra Modi and Arvind Kejriwal\'s promise of removing corruption have achieved nothing
Delhi's Safai Karamcharis (SKs) have gone on strike from 23 October. This is an army of 93,000 sweepers, cleaners, garbage-clearers and drain workers, who ensure we never have to encounter our own dirt.
The media has largely reported this as an inconvenience.
Some politicians have urged the karamcharis to rethink their strike date as it's the festive season and, presumably, festival-revelers should not be inconvenienced.
The irony seems lost on most people. The karamcharis are on strike because though they execute the most thankless job in the city, they have not been paid their salaries for several months.
Read- The Hell Divers: 12 lakh men who die to keep us clean
22,000 workers are owed arrears up to Rs 5-6 lakh. Many have been working for 15-16 years but have still not been regularised. Many don't have basic medical cards.
They cannot afford their children's weddings. They cannot take their relatives to hospital. They find it hard to put food on their plate.
Does this sound like a job?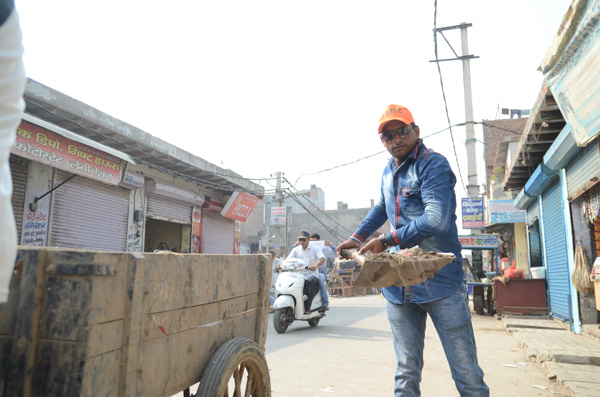 Unpaid salaries is only one aspect of the ignominy.
The other great humiliation karamcharis have to face is corruption.
If there is one question non-Delhiites love asking is this: Has AAP ki sarkaar made Delhi corruption free?
Try putting this to the Safai Karamcharis who work for the Municipal Corporation of Delhi (MCD) and the answer you'll get is a bitter chuckle.
"I bet my life, there isn't a single Safai Karamchari who hasn't bought his way up," says 34-year-old Pramod, who became a temporary Safai Karamchari in 1997 only to become permanent this year, after 18 years of struggle.
"To become a regular I had to pay MCD officials nearly one lakh in bribes," he says.
I met Pramod outside the MCD office at Rohini. "Don't believe me? Show up at Ward number 33, Kirari Jalebi Chowk's ration daftar at 7 am on any day. People will spill all. Just don't say you're a journalist," he challenged.
Ward 33 is not very far from the 150 acre Sultanpur Dabas landfill, a wasteland in itself.
There are supposed to be 240 Safai Karamcharis cleaning the ward. But only 50 people are there to mark their attendance. 190 are missing.
There's a price here for everything: the karamcharis have to bribe the MCD for virtually everything - being regularised, getting their salaries released, jumping to a higher position, for medical reimbursements, loan entitlements against their worker's provident fund, or even for retirement benefits or death benefits.
MCD owes 22,000 workers Rs 5-6 lakh each. Many have worked for 15 years without being regularised
You can also pay a bribe and not come to work and still be listed as a karamchari. Like the 190 who hadn't come to work that day.
What Catch found in this north-west Delhi ward is symptomatic of the MCD as a whole.
The BJP has ruled the MCD for the past 13 years. Yet payment of salaries comes from the Delhi Government. In a complex tussle over funds concerning the running of the MCD (the Delhi Government claims that the Centre owes it 600 crores in MCD Advertisement revenue) the issues of pending salaries is tossed between the Centre and the State amidst ugly verbal exchanges.
Clearly, neither Delhi Chief Minister Arvind Kejriwal nor Prime Minister Narendra Modi's promises of a clean government has made the slightest dent on one of the largest employers in the Capital.
Life begins and ends with an MCD stamp
The MCD's office in Lajpat Nagar has an urgent bustle. Phones are ringing every minute; complaints are pouring in from all corners of south Delhi.
A dead dog is rotting on the road. A water pipe has broken, flooding a slum cluster. The old decorations and mess of a public festival organised a day before, is waiting to be cleaned up. A person just died and the family is burdened with the added anguish of procuring a death certificate.
If the MCD decides not to work for a day, Delhi would be a broken chaotic mess. From birth, to death and life in between, if you live in Delhi, you are dependent on the benevolence of the MCD and its safai karamcharis.
The woman on the front desk answers the phone. It's a water complaint. The caller says it has been two days since he saw a drop of water in his taps. He complains that there's been no response.
"Don't say the MCD doesn't respond. I've taken your complaint 4 times. I've done my part. If nobody shows up, how can I be blamed?" she shouts with authority.
That seems to be the larger truth about the MCD: It is being run by hundreds and thousands of individuals, each solely responsible for their tiny role, without anybody concerned about how the actions will add up and make the MCD accountable.
This void is ripe ground for corruption and exploitation.
The life-cycle of a Safai Karamchari
An SK enters the field first as a substitute. A substitute is someone who gets a cleaning job when the SK doesn't show up.
The pay is fixed at Rs 300 a day. A substitute gets 10 work-days a month. 15, if he's lucky.
He could be a substitute for up to five years before he gets officially employed by the MCD as a daily wager for a starting salary of Rs 8,000 - 9,000 a month.
As a daily wager, he is still allotted the same work as a regular or permanent SK. The standard is three to four gallis - or roughly two kilometres of road where the SK works in a team of three or four people.
The shift begins by 7 am and ends by 3 pm with a lunch break in between.
People could be daily wagers for 10 to 20 years of their life. Some, all their lives. Becoming a regular is not an automatic transition. It is seen as a cream posting which requires influence.
As a regular, for the same job, the SK's salary is doubled to a starting Rs 16,000 a month. A senior SK could get up to Rs 32,000 a month for the same task.
"I bet my life, there isn't a single Safai Karamchari who hasn't bought his way up," says Pramod
Regulars also get the added benefits of medical insurance, a cycle loan, provident fund, loans against gratuity and a host of other benefits.
Since there is a dearth in regular postings and no clear policy by the MCD on how long an SK must serve as a daily wager before being absorbed as a regular, the grey area serves as an opportunity for seniors to play favourites.
The chain of authority is long and bureaucratic. The SK reports to a sanitary guide who reports to an assistant sanitary inspector (ASI) who reports to a Sanitary Inspector (SI) who reports to a Chief Sanitation Inspector (CSI) who reports to a Sanitation Superintendent (SS).
Above these are the Executive Engineer, Assistant Commissioner, Deputy Commissioner and, finally, the Commissioner of the MCD, who reports to the Delhi Government's Ministry of Urban Development.
Any corruption in the food chain has to happen with the complete knowledge of every single member of the chain.
The going rates
Pramod has just become a regular SK. Being just a 4th grade pass, an honest assessment of his career options told him that becoming an SK was going to be his best bet.
"Who would give a 4th pass illiterate guy a permanent job?" he says.
So as an 18 year old, on 1 January 1998, Pramod began the new year by lifting the broom for the first time to sweep the streets of Ram Pua, Ward 62.
It took 6 years of hard work to become a daily wager in 2004 and earn a salary of Rs 3,600 a month.
By 2011, Pramod was wielding the broom for Rs 6,400 a month.
The first time he was asked to pay a bribe was a couple of years ago. An ASI who went by the name Hujda asked him to cough up Rs 20,000 if he wanted to become a regular.
He took a loan immediately and paid it. After some months when he went to get his documents, the present record holder at the Rohini North MCD office, Rajesh, demanded a sum of Rs 25,000 to get his papers in order.
"The record holder controls marking our documents with our first date of joining without which it is impossible to show how long you've been working for. Since I had already paid 20,000 to initiate the process of my regularisation, I had to pay the 25,000 to formalise it," says Pramod.
His Sanitation Inspector then, Naresh Kumar, sent word asking Pramod to pay up Rs 5,000 if he wanted to "fix his posting" which translates to getting the position of a senior SK. He decided to pay again.
The first time he was asked for a bribe, he was almost waiting for the chance to pay. As a child he saw his parents do it. Today his father, 59 year old Kartan Singh and his mother, 55 year old wife Jennu are both SKs on the verge of retirement.
The family used to take loans to pay the SIs the amounts they asked for. Pramod learnt early that keeping his superiors happy was important to safeguarding one's own career.
240 Karamcharis are supposed to clean ward number 33. Only 50 mark their attendance. 190 are missing
In the last five years, Pramod has paid about six MCD officials a total sum of nearly one lakh. That meant borrowing from a local moneylender at the rate of interest of 5% per month. That's Rs 60,000 per annum in interest alone!
Today Pramod's own three school going children watch him do the same, steeped in debt.
According to Pramod and others it is a fair bargain. He watched his salary gradually grow from Rs 9,000 in 2012 to Rs 16,000 this year.
If he gives Rs 5,000 more in bribes his SI would ensure he jumps to a higher salary bracket of Rs 22,000 a month.
The boys at the daftar, most of whom are too afraid to reveal their identities for fear of losing the positions they have vied to buy, have a rate card they are willing to reveal with some cajoling:
To make an SK regularised: Rs 25,000 to Rs 50,000.
To get placed on a higher pay scale: Rs 5000 to Rs 10,000
To get a medical insurance card: 15,000 (A medical card is the entitlement of a regular worker where the MCD pays for 80% of hospitalisation expenses)
To get medical reimbursements: 20% of lump sum reimbursed
To claim arrears: 20% of your pending arrears (arrears are what the MCD owes to the SK once it makes its salary regular backdating it to some years before. This pending difference is calculated by totalling the difference in the higher regular salaries that was to be paid versus the daily wager salary the SK was actually paid).
To get a loan based on your Provident Fund: 15-20% of approved loan amount.
To claim retirement benefits: 20-30% of lump sum.
To claim death benefits: 20% of the lump sum.
To stay at home and earn a regular's salary without once showing up at work: 50-60% of your salary to be paid directly to the SI each month.
Are the rates negotiable?
"Not at all. I've burnt my fingers trying to negotiate once. I'll never do it again," says Pramod.
When his SI had asked him for Rs 5,000 to fix his pay at a salary bracket of Rs 22,000 a month, Pramod could only manage to furnish Rs 3,000. The SI took the money and when Pramod got his documents, he saw that his salary was pegged at Rs 16,000. He will have to pay him Rs 5,000 again to push that jump.
To appease him, Pramod has become his personal chauffeur. These days Pramod can be found around Ward 33, driving the SI around in his white Maruti Xing whenever he pleases.
He is happy to be paid the salary of an SK for a job that is so dignified in comparison to lifting rotten trash with his bare hands.
Some, unlike Pramod, don't wish to resort to such appeasement. They take the help of the Unions.
Two faces of the same pain
30 year old Amit has been doing daily rounds at the Jal Vihar South MCD Office for almost a year, hanging around at the claims office.
It isn't easy to squeeze time out from his daily SK routine. But each day he rushes home and cleans himself up to look presentable to the MCD officers.
His father, Prem Singh was an SK who was suffering from lung cancer. When the disease was detected in April last year, it was already at an advanced stage. On 12 November 2014, Singh died at a hospital leaving his family shattered and wiped clean of all their savings. He was just 49.
Singh had served the MCD as an SK for 20 years. He was only made regular some years ago. Yet, Singh's family didn't get any pension, gratuity, provident fund or insurance. No family member was given a job on compassionate grounds. The family wasn't even reimbursed the Rs 2 lakh that they spent on his cancer treatment.
The first time Amit went to the MCD office late last year, claiming medical reimbursement and death benefit, the dealing assistants, Rajveer Chalia and Rajender Yadav asked for Rs 80,000 to process his file.
Pramod now drives his supervisor's car to appease him, after failing to pay a bribe of Rs 5,000
Amit made a quick calculation. He was supposed to get back at least Rs 4 lakh on behalf of his father. He took a quick loan and gave the assistants Rs 40,000 in cash, promising to pay the rest later.
The money was taken promptly. But the file was never found.
After waiting for 10 months, Amit in absolute desperation, approached the Akhil Bharatiya Safai Karamchari Sangh's General Secretary, Sant Lal Chawariya who represents a joint front of 14 MCD unions.
Chawariya used his might to threaten the assistants. After an exchange of ugly verbal abuse, Amit was given Rs 15,000 of the Rs 40,000 back. But his father's file never moved.
Amit is stuck in a hopeless situation. The doors of corruption have permanently closed. He will no longer be able to buy his reimbursements or earn the trust of the MCD clerks that he still is willing to pay.
His only route is Chawariya's might. And being at the mercy of any one person for a right so fundamental is demeaning.
Closet sweepers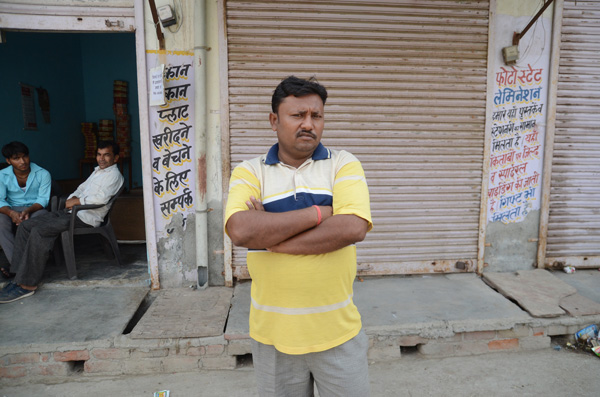 Kishore (name changed) is a 37 year old father of two children.
He had joined as an SK in 1997 as a temp, during the infamous dengue outbreak in Delhi. The MCD had then gone on a hiring spree, nearly doubling its workforce to curb dengue and keep its city clean.
He was transferred recently to ward 33 from RK Puram where he lives with his family. Today he has to travel a good 22 kilometres to reach his workplace.
Kishore was regularised as an MCD permanent SK in 2011. Today he gets Rs 25,000 a month. "I won't tell you how much I had to pay, but you can take the scale of Rs 25,000 to Rs 50,000 as true for me too. We all have to pay to become regulars," he says carefully.
Kishore is the silent, good natured type who doesn't talk back. His SI knows this and never hesitates to give him the largest share of the workload each day.
Kishore and one other colleague of his are together responsible for the cleanliness of 35 lanes.
That's more than five times the workload of a normal SK. He works from 6:30 AM to 3:30 PM but says that its impossible to keep all the lanes cleaned each day. So some lanes are cleaned only once in ten days. That's the most 2 people can do.
The people who are responsible for those lanes never show up although the attendance register shows them as present each day. Instead of hiring substitutes to do the task, we are made to do their task."
Jagdish Sood, a 42 year old SK is filing a Right to Information query for a similar problem he faces every day - being made to do another SKs work all through the day, apart from his own and yet not being regularised.
"Once I get the response to the RTI, I will have hard evidence that this is happening all around us," he says.
67 year old Sumera, at the MCD Rohini office is waiting to meet an Upper Division Clerk to ask for his pension.
He has been visiting the office every week for the past seven years, but to no avail.
"Come to where I live and I'll show you how entrenched our Valmiki community is in the caste system.
The Brahmins in our area, secretly hold positions of SKs and never wield a broom once in their life. All the work is done by our Valmiki boys and girls who have to work doubly hard for the same amount of money," he says angrily.
A Karamchari starts as a substitute at Rs 300 a day. He gets 10 work days a month, 15 if he's lucky
Sumera claims that everybody in his area knows that the Sanitation Inspector RP Sharma's two brothers, who belong to the Bharadwaj Brahmin caste, hold senior SK positions in their ward.
Once Sumera openly challenged them to take their brooms and sweep the streets if they had the guts to be honest and stop making other people do their work. They soon got a transfer and left the vicinity, following opposition against them.
"These are the same people who give us water to drink from the taps and mugs in their toilet. Just because we are SKs they think we're unclean and can be treated like animals," says Bhagwan Das, another SK sitting at the Daftar.
Searching for the file
If you go down at the basement of the Rohini Sector 5 MCD office, you might be misled thinking its the spiral down of a parking lot.
It is actually is the records room where the files of thousands of SKs are kept and where their lives and work entitlements lie in limbo waiting for release.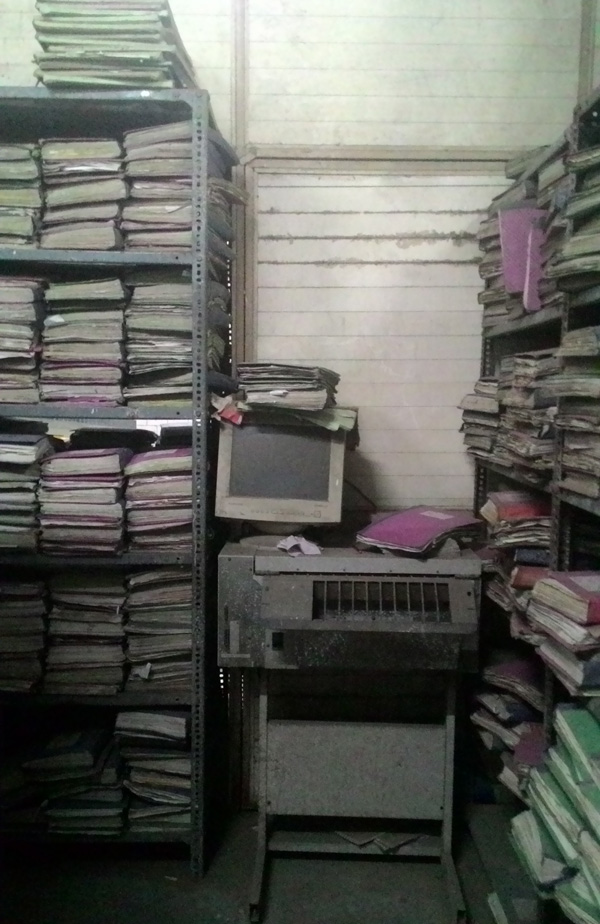 The room is dimly lit and the stacks of old registers and browning paper give you the sense that the registers perhaps date back to Independence.
It looks like a heritage site, with mountains of books thrown together in a heap, with decades of dust and cobwebs piled on it.
There is a very old Macintosh PC that is coated in a thick veil of dust. A smart person's initiative at computerising the records, dropped listlessly mid way. There is very little order and finding any particular person's file seems impossible.
It is here that the lives of thousands of Safai Karamcharis are stuck in a time warp of sorts with the record keeper claiming they can't find the files, with the SI claiming he'll get them regularised if they pay up, with the union leaders claiming to move their files and fight their battles.
It seems like a dedicated tech savvy team can computerise all their data in a matter of weeks. But the MCD officials are busy making money.
Jagdish Sood goes through the records room for the umpteenth time this year, pulling out random registers, mindlessly searching.
The list of regular employees released his year had his name on it. After working for 22 years as a daily wager he was finally given the MCDs approval to be made permanent.
He carries his records neatly in a file. There is just one box that needs to be filled, that is his date of joining. That can only be found in his record book kept somewhere in this dungeon. It isn't just his date of joining but a voucher number that records the date that needs to be filled in by the record keeper.
Amit was asked to pay Rs 80,000 just to get medical reimbursements for his father who died of cancer
Since Sood is a part of the Akhil Bharatiya Safai Karamchari Mazdoor Sangh, the people in the record room won't ask him for a bribe. This also means they won't put in any effort to find his file.
"Search all you want here. We can't find it," Rajesh, the record keeper said to him flatly.
He got his daughter married soon after the MCD list released earlier this year. He had taken a loan of Rs 5 lakh for his daughter's wedding, thinking his salary dues would be released and he would pay back in no time.
Suddenly his life seems stuck endlessly. His current salary of Rs 9,000 gets exhausted in no time, especially on the education of his 3 sons. His wife is a housewife, so he is the sole earner.
"If only I could find my register, my life would turn around," he says, furiously opening the drawers of the room's decrepit shelves, hoping against hope that one day he'll find it.
But his search is likely to be futile.
And yet, even with these SKs on strike, it is quite likely that no one will pay any heed to the injustice and despair that dogs the life of those who keep our world clean.