The cruel mile: the horror of being on death row in India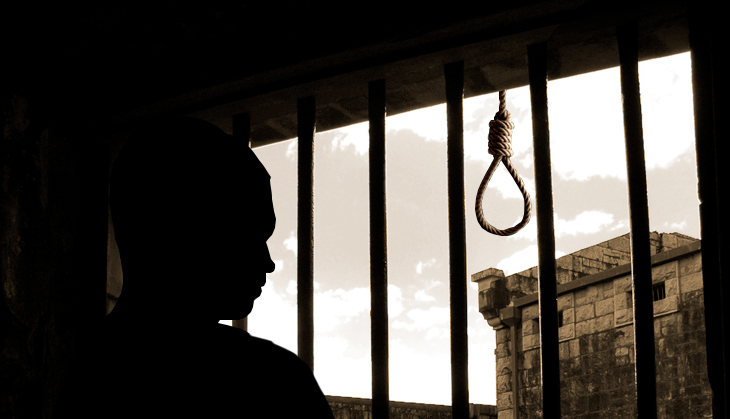 "There is no life in waiting for a death sentence," Hanif, a convict on death row is quoted in The Death Penalty Report in India, released recently by the National Law University, Delhi.
Hanif's words are an indictment of the Indian state and society, which have condemned those on death row to live out their last days - in practice, years and decades - in conditions of sheer inhumanity. More important, they raise this crucial question: when a person is condemned to death and locked up in a prison cell from inside which he sees the gallows every day, what happens to the principles of justice?
And, before that, what about the "justice" delivery system which fails to distinguish between crime and criminality, often sending innocents to the gallows?
Also read: Death row convicts: why we need to break our collective silence
Is it any wonder then that nearly all prisoners on death row interviewed for the National Law University's report had horror tales to tell?
Here's Pranseh: "Jail is a living morgue with all the prisoners as alive dead bodies."
Ramrang rued: "Be it the governemt, police or the judge, no one heard our pleas." Throughout his trial, Ramrang, a father of eight, never got to speak with his lawyer, hiring whom had sunk him into penury. He was, in effect, sentenced to death "in silence".
Such inhumanity, even injustice, in fact starts much before a person is put on trial. Take the case of the accused in the Akshardham temple attack. They had been tortured in custody, but when they were taken to record their statements, the magistrate blithely ignored their plight despite the fact that marks of their torture were apparent. Indeed, the Supreme Court, while acquitting them in 2014, noted the magistrate's failure to carry out his judicial duty.
The apex court has emphaisised, as far back as 1951, the importance of a magistrate questioning an accused "properly" before admitting his testimony as evidence. The "whole object" of Section 313 of the Code of Criminal Procedure, the court had observed in Tara Singh v State "is to afford the accused a fair and proper opportunity of explaining circumstances which appear against him".
Also read: Convicts on death row mostly poor and uneducated, reveals NLU report
Still, all too often, magistrates discharge this most crucial of their duties in the most lackadaisical manner.
Inhuman treatment
In Franz Kafka's The Trial, the protagonist doesn't even know how and why he has been arrested, incarcerated and condemned. It evokes a dystopia, but in today's India, it's closer to reality.
Consider this: according to NLU's report, 44 % of the death row convicts did not know the name of the lawyer representing them in the Supreme Court, the final arbiter of the matters of life and death; 54.5% could not comprehend the proceedings in which they had been sentenced to death; 78.3% had confessed "under brutal torture" and were convicted and sentenced on that basis; 97% didn't have a lawyer with them when they were being interrogated in police custody, rendering them vulnerable to the police's intimidatory and coercive tactics.
Such problems aren't limited to lower rungs of the justice delivery system either. NLU's report takes exception to how the Supreme Court repeatedly dismisses death penalty reviews outright without allowing proper hearing. It compels one to wonder if this maxium indeed holds true: Law is not justice, and justice is not law.
Then, there are the lawyers. Janardhan, who is on death row, kept blinking while he was being interviewed for NLU's report. Asked about it, he said he could not bear the sunlight; he had been thrown into solitary confinement for trying to escape, twice. But why did he try to escape? Because the lawyer representing him was sexually harassing his wife and minor daughter, and Janardhan wanted to go and keep them safe.
Not just Janardhan, many death row convicts are incarcerated in inhuman conditions. The stories some of the convicts narrated of their lives on death row were so horrifying, a few of their NLU interviewers had to undergo psychological counselling.
India doesn't have a concrete and fixed sentencing policy, which essentially reduces the administration of the death penalty to what criminal law scholar Bikram Jeet called a "lethal lottery".
Also read: Death row: why the state is impatient to hang Yakub Memon
Solitary confinement, although legal in India under Sections 73 and 74 of the IPC, is abhorrent to a civilised scoiety, even a violation of fundamental rights if enforced for the flimsiest of reasons. More so when prisoners in solitary confiement face rampant discrimination - jail doctors refuse to treat them, they are denied access to educational opportunities - despite the Supreme Court outlawing such practices in Sunil Batra v Delhi Administration case, 1978.
Unfair process
One of the most macabre ironies, the report notes, lies in the very process by which people are sentenced to death, and at the centre of which are the public prosecutors.
Tarun was convicted due to the wily machinations of the public prosecutor: he goaded a co-accused into falsely testifying against Tarun. Tarun insisted that he was sentenced on the basis of "contrived evidence". Now, he's staring at the gallows.
In 2003, the American Bar Association released a set of binding Guidelines on Death Penalty Representation. It mandated the presence during the trial of a qualified mitigation specialist, who can cogently analyse, present and argue the socio-economic and psychosocial reasons behind the convict committing the offence in question. In India, such a system is urgently required.
NLU's death penalty report leaves one with a haunting thought: that there's no compliance and fidelity to non-derogable constitutional principles when the state and the legal system snuffs out a person's life. Are we, as a nation, going to do anything about it, and soon?
The names of the convicts have been changed to protect identity.
Edited by Mehraj D. Lone
Also read: Death penalty report: why the 3 dissenting voices aren't convincing