Surya Pratap Singh: the IAS officer who could be UP's Arvind Kejriwal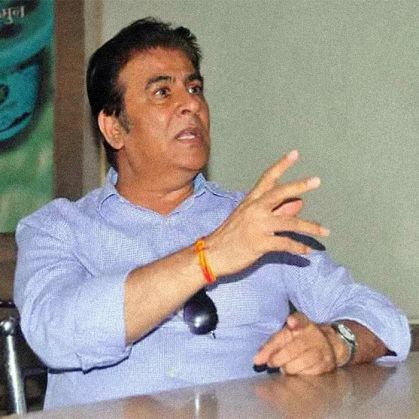 The official
Surya Pratap Singh is a 1982 batch IAS officer from the Uttar Pradesh cadre
He was on deputation to the US for nine years, and returned to UP in 2013
The transfers
Over the next few months, Singh was transferred between departments seven times
Since then, he has been a critic of the Akhilesh Yadav government, making many indirect attacks
He recently launched a campaign, called Uttar Pradesh bachao, Uttar Pradesh banao
More in the story
What Singh\'s colleagues and observers think about his recent tactics
What makes him the potential Kejriwal of UP
Does Uttar Pradesh's senior IAS officer Surya Pratap Singh intend to become the Arvind Kejriwal of Uttar Pradesh?
Singh, of course, categorically denies this. But those who have known the bureaucrat for long will not find it unusual if he floats a new political party.
Transfers and reaction
Singh became an administrative officer in 1982, and is due to retire in December. He has served in Uttar Pradesh, his home cadre, for almost 23 years.
He was on deputation in the US for nine years. But upon his return to UP in July 2013, he was transferred between departments seven times.
After seeking retirement in July this year, Singh started questioning and attacking the state government. He became active on social media sites and started organising small meetings in towns and villages.
One of the early issues he raised was when the proposed route of the Lucknow-Agra Expressway was changed.
Since his return from deputation to the US in July 2013, Singh has been transferred seven times
Singh alleged that the route was changed by the Samajwadi Party government to benefit 'some high-profile families' in Etawah and Kannauj.
Etawah is the home of SP patriarch Mulayam Singh Yadav, while UP Chief Minister Akhilesh Yadav's wife Dimple represents Kannauj in Parliament. There are no prizes for guessing who Singh was hinting at.
Soon after, he alleged that he had started getting threatening calls. He posted on social media, "Suno sirji, maar dalo par darao mat (Listen, sir, kill me but don't threaten me)."
The statement went viral, and it was assumed 'sirji' referred to Akhilesh. But Singh denied this, and said 'sirji' was fictitious and that his statement was not directed against the CM.
Small victory against UPPSC chief
Soon, though, Singh publicly questioned the functioning of Anil Yadav as the chariman of the Uttar Pradesh Public Service Commission (UPPSC). It was during his tenure that among the 86 candidates who made the UP civil service, 56 were Yadavs.
Back then, Singh had said, "Doesn't it smack of nepotism?"
The Allahabad High Court recently asked the state government to remove Anil Yadav from the UPPSC, much to Singh's glee.
Singh also attacked the state's education system. He alleged that an education mafia was active in the state, selling certificates and degrees. "Every year, the education mafia makes deals worth Rs 1,000 crore," Singh told Catch.
Setting the stage
On Wednesday, 28 October, Singh launched a campaign called 'Uttar Pradesh bachao, Uttar Pradesh banao' (Save Uttar Pradesh, develop Uttar Pradesh) in Lucknow.
It was expected that he would announce the launch of a political party. He didn't, but the issues he raised were political - ending nepotism, corruption and communalism in the state.
Singh also said his campaign would work for the improvement of the education system, for creating more job opportunities and making environment pollution free.
Rebel or part of the system?
Veteran journalist Brijesh Shukla does not find anything unusual in Singh launching a campaign. "It can be a stepping stone to a new political party," he said. "After all, Uttar Pradesh has a long history of bureaucrats joining politics after retirement."
Singh has rebelled against the state government from time to time. "Irrespective of the party in power, he has raised his voice against all governments. I would not find it unusual if he forms a political party," said Shukla.
Singh strongly denies he wants to contest the 2017 assembly elections.
"I don't want to become the Arvind Kejriwal of Uttar Pradesh. I want to do social work. I want to help people. I have raised and will continue to raise my voice against issues which affect the poor. Education, health and environment are big issues," Singh told Catch.
But a senior IAS officer, on the condition of anonymity, said: "Why didn't Surya Pratap Singh raise the issues he is talking about now when he was in the prime of his career? Why is he vehemently raising issues when he is about to retire?
"Arvind Kejriwal left his job when he was quite young and took up social work, and later entered politics. If Singh was not happy with the way government functioned in Uttar Pradesh, he should have quit the job earlier and taken up social work. Now that he is about to retire, he is criticising the government. He must not forget that he was also part of that same system."
The official added, "It is generally believed that the job of an IAS officer is quite cushy. Singh has enjoyed his job and is now criticising the government."
(We apologise that this story was initially published with an incorrect image. It has now been rectified.)