Superpower India: BTech, PhD degree holders queue up to be sweepers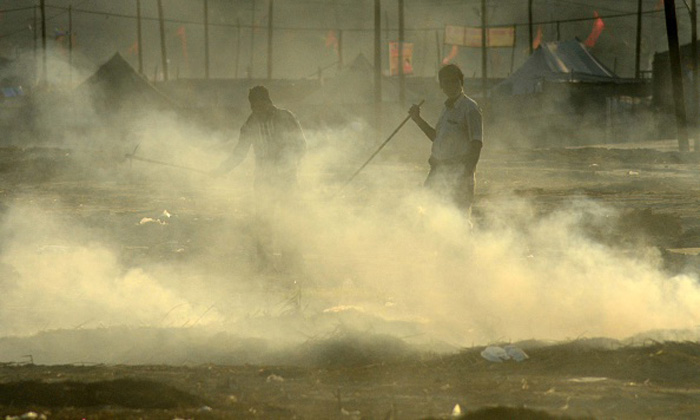 The shocker
The UP govt wanted to hire 35,774 cleaning staff on contract
Applicants included thousands of highly educated candidates
Not a lone incident
This has become a trend across states
PhD, BTech degree holders now want to take up menial jobs
More in the story
What does this trend tell us about the job scene?
What about the candidates less qualified?
Prabal Shukla lies at a nursing home in Lucknow with a broken leg. He was among thousands of youngsters who turned up at Deoria Post Office last week to apply for the post of Safai Karmis (sanitation workers).
Shukla, who completed his PhD in organic chemistry in 2012, was waiting for his turn in a long queue when some candidates started a ruckus. This spurred a police lathicharge and in the ensuing commotion, Shukla slipped and fractured his leg.
Read- Uttar Pradesh: Unemployment forces 255 doctorate holders to apply for peons' post
But Shukla has a bigger worry: how to make ends meet. He has appeared in over a dozen competitive exams in the past four years, but in vain.
Abhishek Yadav has a similar story: A BTech in computer science, Yadav has been moving from pillar to post in search of employment since 2011.
Apart from awaiting an interview call for a peon's job at the secretariat, Yadav doesn't have much to look forward to. Naturally, when the Lucknow Municipal Corporation postponed the process to recruit sanitation workers, he was disappointed.
Would a sweeper's job do justice to his qualifications? "There is no shame in cleaning gutters and roads. At least, the job would guarantee me a monthly salary. And it will save me from being ridiculed for being jobless," Yadav said.
"This is not only my story. Thousands of youth share the same sentiment," he added.
Dreams betrayed by politics
On 21 December, the UP government issued an order for appointing 35,774 cleaning staff on contract for municipal bodies. It promised to complete the process in 50 days.
Millions of unemployed youth across the state applied for the jobs, including those highly educated and holding PhDs, MBAs, and B Techs.
The government, however, paused the process suddenly, without offering any explanation. It is believed to have buckled under pressure from the Valmiki community, whose representatives reportedly want only Dalits, especially from the Methar caste, be appointed.
'Everybody talks about self-employment. But there are dozens of impediments'
The community has been traditionally involved with sanitation jobs. The Uttar Pradesh Safai Mazdoor Sanyukta Morcha, a front for sanitation workers, held demonstrations outside the state Assembly and at district headquarters to press for their demand.
No political party can afford to alienate the community in the state, especially with Assembly elections due next year.
Shyam Lal Valmiki, the general secretary of the Morcha and its co-convener Sanjay Lal Valmiki have confirmed the move. According to them, the government assured them of considering candidates only from their community.
PhD scholars eager to be peons
Earlier, the government said it would recruit 368 peons - the first time in a decade - at a pay scale of Rs 5,200-20,200 per month. The announcement attracted a whopping 23 lakh applications within 33 days, including those from 255 PhD scholars and 2.22 lakh BTech, BSc, BCom, MSc, MCom and MA degree holders. Ironically, the minimum qualification required was clearing the 8th grade.
Also read- Skill India: Is Rs 1,500 crore enough to train 40 crore Indians?
The candidates were to be selected through interviews, but a hapless administration realised it would take more than four years to interview 23 lakh candidates.
The process was postponed and the impasse hasn't been resolved in more than six months as experts are at a loss to suggest a method to evaluate such a large contingent of applicants.
Different states, same story
Uttar Pradesh is not alone. In state after state, an army of highly qualified unemployed youth are ready to take up menial jobs.
Remember the VYAPAM scam in Madhya Pradesh: More than four lakh candidates took the test for 1,333 Grade-IV vacancies a year ago. Of them, 62,000 were graduates, more than 15,000 were post-graduates and 1,400 held B Tech degrees. The minimum qualification required, again, was to pass Class 8.
It may not be easy for highly qualified candidates to discharge the duties of a peon or a sweeper
In UP itself, more than 27 lakh candidates applied for 1,400 vacancies for Lekhpals (accountants). About 75,000 applied for 30 posts for peons in Chhattisgarh. In Kerala, more than 2.5 lakh were in line for 450 clerical jobs. Thousands applied to become sanitation workers in Rajasthan's Kota.
At the central level, more than a crore appear every year for the six main examinations conducted by the Staff Selection Committee.
Is qualification a restriction?
It may not be easy for highly qualified candidates to discharge the duties of a peon or a sweeper. Eminent sociologist Shivmurti said a candidate with a PhD or an engineering degree finds it difficult to clean drains or bring tea.
Read more: Achhe din for Modi? Survey shows rising satisfaction, but concerns remain
Circumstances may force such candidates to take up such jobs, but they get frustrated soon. Those in superior positions also find it awkward to assign work to a peon who is equally qualified, if not more. Also, those less educated are deprived of opportunities.
Modi's start-up campaign an illusion
Prime Minsiter Narendra Modi sold the dream of a 'superpower' India to the youth. He flaunted the success of young Indian entrepreneurs in the United States. Persons of Indian origin head around a third of the country's start-ups, which has egged Modi on to pepper every speech with 'Start-up India', 'Skill India' and 'Digital India'.
"Everybody talks about self-employment. But someone thinks of standing on his own feet, there are dozens of impediments," said Jeet Pal, who runs a placement agency in Lucknow.
More than 27 lakh candidates applied for 1,400 vacancies for Lekhpals in UP
Mudra Bank is a case in point: the initiative was launched a year ago with much pomp, but has no presence in a large number of districts. Neither does loans come easy nor guidance.
Kalraj Mishra, the Minister for Small Scale Industries, organised employment fair in many districts under Skill India Mission. But they yielded little results.
According to the National Sample Survey Organisation, more than 1.32 crore are unemployed in UP alone.
Edited by Joyjeet Das
More in Catch:
#NFHS4 says India still has a nutrition problem
In ancient India, there was nothing wrong with being an atheist: Amish Tripathi
Modi's honeymoon with NITI Aayog is over: Is an overhaul on the cards?