State vigilantism: Haryana wants Gau Rakshaks to become informers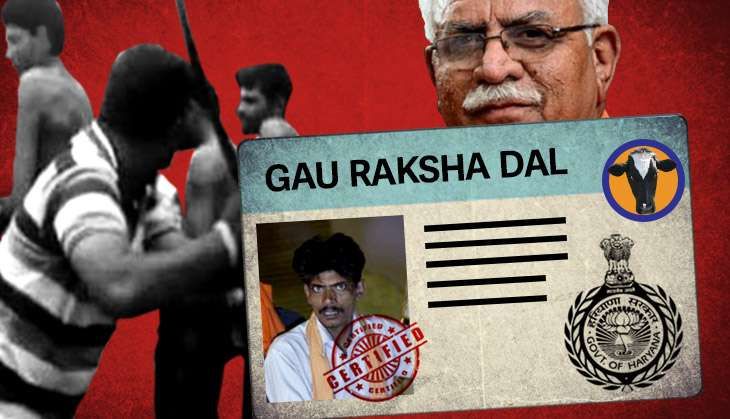 There are many ways in which state governments can respond to Prime Minister Narendra Modi's hollow exhortations against cow vigilantes. They can prepare dossiers, as the PM has urged them to. They can then look at the their record and get them arrested. They can also ensure that this menace doesn't raise its head again, by banning all hooliganism in the name of the cow. Haryana, it turns out, has decided to validate them.
The BJP-governed state has a commission exclusively for the cow, called the Gau Sewa Aayog, which has decided to issue identity cards to cow protectors.
The commission's chief, Baani Ram Mangla, who is also an RSS leader, has declared that it is not the job of cow protectors to enforce the state's cow-protection laws. Pray, what is their job then? "Just to inform the cow protection task force of police to stop any cow smuggling or cow slaughter," Mangla says.
A cow-protection force to verify 'gau-rakshaks'
Yes, you read that right. Haryana has a task force that, just like the commission, is exclusively for the cow. It reportedly consists of 300 jawans, has presence in each of the state's 21 districts and is headed by an IPS officer of DIG rank, Bharti Arora. The job of the government-certified cow protectors will be to act as mere informers for this special force that will then move to stop incidents of cow-slaughter and 'cow-smuggling'.
ALSO READ: Achhe Din for cows. Haryana finds a new beast of burden: the taxpayer
So, how will the state government or the cow commission select these informers to give them government identity cards? Mangla informed that the commission has received a list of 100-odd such 'cow-protectors' from an outfit called the Haryana Gau Raksha Dal. The police will verify this list and then ID cards will be issued.
Vigilante outfit provides names to govt panel
Spare a moment for this outfit. This is the same organisation whose members chased down some alleged 'beef-transporters' in Haryana's Mewat in June and forced them to eat a concoction made of cow-dung and cow-urine.
On its website, it openly calls for vigilante action for protecting the cow, falsely quoting Hindu religious scriptures.
It claims that the Vedas ordain people to "shoot" those who kill cows. The statement not just confuses Vedas with law but also completely ignores the gap of at least 2000 years of history between when the Vedas are believed to have appeared in ancient India and when guns are believed to have appeared in medieval China.
Chief of vigilante outfit on govt panel
Interestingly, the chief of this outfit, who goes by the name of Acharya Yogendra Arya, is also a member of the state's cow commission. So, the head of a vigilante outfit sits on a government panel that will officially recognise several vigilantes whose names have been provided by the same outfit. What an incredibly convenient position the Haryana government is in.
This is not the first brain-wave that this bovine commission has come up with. It has already proposed some other mind-boggling ideas, including a 5% 'cow-cess' on movie tickets in the state and 'cow-sanctuaries' spread over at least a total of 350 acres at four different locations. This latest move to give ID cards to so-called cow-protectors is one more proof that this madness running in the country in the name of the cow is only going to continue.
And don't be surprised if you do not hear loud protests from the opposition against this - the Commission, after all, was set up by the Congress, way back in 2010.
Also read: Gujarat's cow vigilantes don't love their Gau Mata, they just hate Dalits
Also read: Home Ministry asks states to take prompt action against cow vigilantes