#StandUpIndia: wage reform is a fig leaf, it won't benefit workers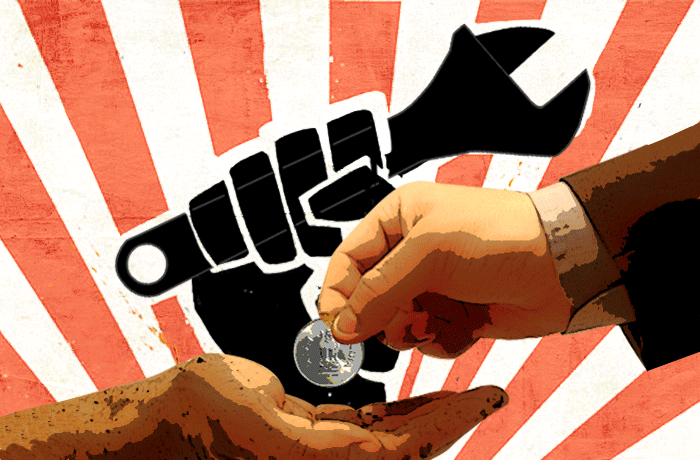 The reform
A staggering 42% of Indian workers are paid less than the minimum wage
The Modi government is mulling a national minimum wage of up to Rs 20,000 a month
The immediate aim: to take the steam out of the 2 September labour union strike
The flaws
It won\'t benefit 90% of the workers employed in the unorganised sector
The wage will vary among states based on their level of development
It will increase migration towards developed states with higher wage rates
Jitendra measures out cloth at a garment factory in Udyog Vihar Industrial Area in Gurgaon. After 10 years of working, he now earns Rs 8,500 a month. Rs 4,000 goes to his family in Patna, Bihar, nearly half of it to pay for his two sons' private schooling. Of what he keeps, little is left after paying rent and buying groceries.
Jitendra is a victim of the arbitrariness of the minimum wage law in India. His salary is well above Haryana's minimum wage - Rs 5,812 for unskilled work and Rs 6,462 for skilled jobs - but much lower than the wage in Delhi.
Also read - #StandUpIndia: Modi's amendment will be a disaster for India's workers
Udyog Vihar is barely a 10-minute walk from Delhi's border, yet the workers are paid as per the wage rules of Haryana, a largely agrarian state with a lower aggregate cost of living than Delhi.
Jitendra only wishes he could find work in Okhla Industrial Area in Delhi. There, the minimum wage is Rs 10,000 for semi-skilled work such as his.
For him, the labour reforms proposed by the Narendra Modi government are little comfort.
No standard wage
In India, the main issue with the minimum wage is that it's decided by states. Yet, the government's draft bill to revamp labour wage legislation is quiet on state-wise discrepancies in wages, as also on how the wage rules are to be implemented. Both of these are critical issues to workers.
Looking for a carrot to offer labour unions ahead of their 2 September nation-wide strike, the government has zeroed in on the minimum wage. It has floated the idea of a compulsory national minimum wage of up to Rs 20,000 per month for skilled labour.
7.3 crore of India's 17.3 crore workers, or a shocking 42%, are paid less than the national minimum wage
But this too will vary among states based on the level of development. So an unskilled labourer in an under-developed state like Bihar would be paid as low as Rs 7,100 but would earn Rs 8,500 in a developing state like West Bengal and Rs 10,000 in a developed state like Delhi.
Several experts fear this would only increase migration towards developed states, defeating the reform's stated goal of kick-starting labour markets and fostering industry growth in the under-developed ones.
Too much work, too little pay
Jitendra is quite lucky, actually. He is a permanent worker and earns more than the state minimum wage.
He may want to work in Okhla, but the situation there isn't any better. Contract workers are regularly paid lower than the minimum wage. Sometimes, when they are paid the minimum wage, they have to work more than the stipulated 8 hours without being paid adequately for overtime.
Indeed, almost nobody in Okhla's industrial units works for only 8 hours; 10-12 hour shifts are common.
It's the same story in Udyog Vihar. Ashok Kumar is a security guard at a factory here. He works 12-hour night shifts every day of the month without break. He does not get any paid leave.
The company deducts Rs 700 from his salary towards provident fund every month, but he does not know his fund account number. He does not have the mandatory ESI card to avail free healthcare. Often, he is called back on double shifts - he has to put in a 12-hour day shift and then stay back for the regular night shift.
According to NSSO Survey, 43.7 crore of India's 46.5 crore workers are employed in the unorganised sector
For all this, he is paid just Rs 9,000 a month. This is above Haryana's minimum wage, but barely sufficient for the time he clocks.
Such arrangements are common in the National Capital Region's factories and are not limited to security guards, says Sher Singh, who has been editing Faridabad Mazdoor Samachar since 1982. Indeed, the Samachar, which reports on the working conditions in factories, is replete with such instances of labour exploitation.
According to Singh, any discussion on a minimum wage law is irrelevant. In his experience, contractual labourers are rarely paid the sum. As per his calculations, Ashok's salary, taking into account the time he puts in, works out to about Rs 25,000. But such a rightful compensation would be laughed at by the employers.
Majority on the margins
The International Labour Organization substantiates Singh's claim. It estimates that 7.3 crore of India's 17.3 crore workers - a shocking 42% - are paid less than the national minimum wage.
And most of these wage earners are employed in the unorganised sector. According to the NSSO Survey's data for 2009-10, as many as 43.7 crore of India's 46.5 crore workforce is in the unorganised sector. That is more than 9 out of 10 workers.
"Not paying minimum wage should be made a criminal offense in this country. Unless violations are severely punished, employers will not stop exploiting their workers," says Gautam Mody, General Secretary of the New Trade Union Initiative.
Some employers do pay the minimum wage. But only once they have extracted more than their money's worth.
In the Samachar's latest issue, an embroidery company in Okhla was accused of making machine operators work 12-hour shifts for a month, without a single day off, for a salary of Rs 10,000. It's the minimum wage, but doesn't justify the work.
The rot within
It's not always the factories fault, though most never miss an opportunity to exploit the worker. There are stories of labour unions that turned corrupt and hurt those they claimed to represent.
A manager from an auto parts factory in Udyog Vihar claims his company began with only permanent workers. They formed a union but the leader soon began brokering deals with the management.
There was a strike to raise wages. When the management approached the leader for negotiations, he offered to make everyone a casual worker for a slightly higher wage -- but just for a few months.
"He convinced the workers with the promise of higher wages. But soon, the wages stagnated. He is now their thekedar (contractor) and pockets a commission on their wages," the official says. "It turns out the union wasn't even registered."
All said, there is little hope the 2 September strike would change anything. Since most workers are employed on a casual basis, they are not members of unions and many are unaware of the strike.
The Workers Solidarity Centre of Gurgaon-Bawal has been trying to gather support by distributing pamphlets at industrial areas such as Udyog Vihar.
"The Gurgaon-Manesar-Dharuhera-Bawal industrial belt is facing labour law violations, but the central trade unions have not started a campaign or discussion among the workers on the proposed labour law reforms and to make the strike successful," complains Amit, a coordinator at the centre, in an e-mailed note soliciting support for the strike.
Why are workers angry?
Catch spoke to Gautam Mody, General Secretary, New Trade Union Initiative and Usha Ramanathan, independent law scholar.
This article is part of an ongoing five-part series on labour reforms proposed by the Modi government.