Smita Sabharwal: the stellar IAS officer who got called 'eye candy'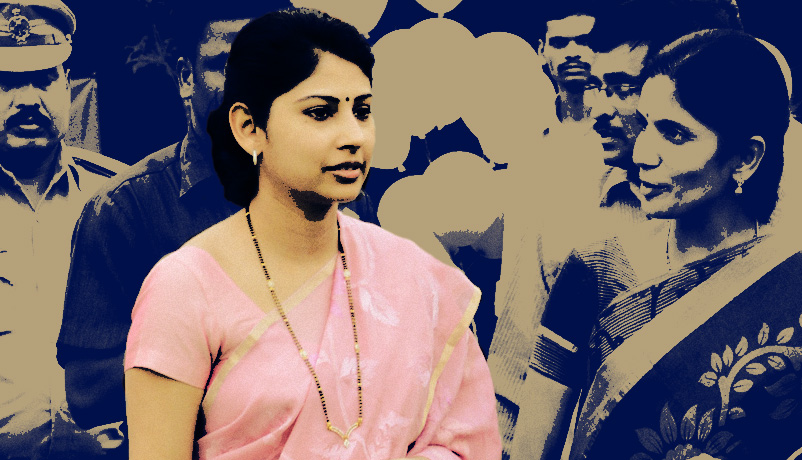 The article
Titled \'No Boring Babu\', an article was published in Outlook magazine\'s gossip column Deep Throat.
It calls Smita Sabharwal \'eye candy\'. It says her portfolio at the Telangana CM\'s office is a mystery.
The piece fixates on her appearance and makes several insinuations about her closeness to the CM.
The response
Sabharwal has sent a legal notice to the magazine, calling it \'yellow journalism\'.
The reality
Sabharwal has a stellar record as an administrator, and is a cult figure in Telangana.
Programmes introduced by her at district level went on to be adopted by the undivided Andhra Pradesh.
Smita Sabharwal is an IAS officer of good repute, currently an Additional Secretary to Telangana Chief Minister K Chandrashekar Rao.
This is how she ought to be introduced, rather than the way she will no doubt come to be identified: as the subject of media controversy.
On 1 July, multiple reports surfaced that Sabharwal had sent a legal notice to Outlook magazine over a blind item about her published in the magazine's regular gossip column Deep Throat, in the issue dated 6 July 2015.
Titled 'No Boring Babu', the item speaks of a 'junior bureaucrat' posted in the Telangana CM's office, whose 'portfolio is a mystery' and who 'serves as "eye candy" at meetings'.
The piece fixates on the bureaucrat's appearance and makes several nudge-wink insinuations about her closeness to the chief minister. Its punchline appears to be her recent appearance at a fashion show in 'a trendy trouser and frilly top'.
Along with the item, the magazine carried a caricature of a woman on a catwalk in jeans and a tank top, while politicians in white kurtas leer and shine spotlights on her.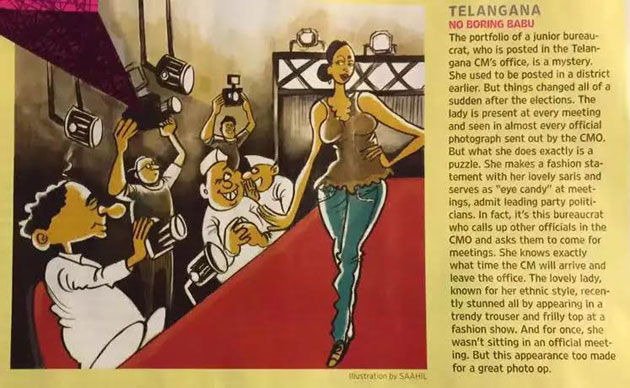 Many expressed surprise at the item, saying it was in poor taste. "Outlook is a good magazine," said former home secretary K Padmanabhaiah. "I don't know why they wrote like this. It looks like yellow journalism."
Sabharwal's legal notice, sent by her lawyer Rachna Reddy, also used the term "yellow journalism".
It called the article disturbing, disrespectful, demeaning, distasteful and "extremely misogynistic and sexist in nature", and accused the magazine of "deliberately and intentionally [trying] to belittle and destroy [Sabharwal's] work and project her in a manner which is nothing but dastardly".
"I don't think it should impact her career," said Padmanabhaiah. "IAS officers are made of sterner stuff. It would not and should not affect her work."
Speaking to NDTV, Sabharwal said it was a matter of "professional pride. It's been 14 long years for me in this service with many milestones".
Sabharwal does seem to have a stellar record. When she qualified for the IAS in 2001, she was among the youngest candidates ever to clear the Union Public Service Commission exam, and ranked fourth in the country.
She is said to be the youngest-ever officer appointed to the chief minister's office. Before that appointment, she served in the Indian Administrative Service for 14 years, won awards for her service and appears to have something of a hero's reputation in Telangana.
Last year, The Hindu reported that the president of the Babu Jagjivan Ram Association for Nalgonda district had written to the chief minister's office, requesting that Sabharwal be transferred to Nalgonda as district collector to resolve the district's persistent problem with high levels of fluoride in their water.
This request was based on her glowing record as collector and district magistrate in Karimnagar and Medak districts (from 2011-13 and 2013-14 respectively), where she is known to have pioneered a number of successful initiatives.
The bureaucrat has won awards for her service and appears to have a hero's reputation in Telangana
One such was Amma Lalana, a programme Sabharwal started in Karimnagar district in June 2011 to encourage women to deliver their babies in government hospitals. This programme was so successful, then State Family Welfare Commissioner Praveen Prakash instructed all districts to adopt it.
In 2012, she started a grievance redressal drive called Prajavani, and in 2014, she held a festival to boost voter turnout in Medak district.
By all accounts, Sabharwal appears to be above average in ability and committment. Seen in this light, Outlook's pot-shot at her seems particularly tasteless and uninformed.
In her notice, Sabharwal has demanded that Outlook issue a "detailed apology". She specifies that this cannot be a small correction in an innocuous corner of the magazine, but "visible and of the same dimensions and verbiage as the frivolous and vexatious article that you seem to think is satirical".
If the magazine does not act within 15 days, Sabharwal will file a defamation suit against it.
Outlook editor-in-chief Krishna Prasad responded to Catch's request for a comment via text message saying, "We haven't received any notice so far." Nevertheless, the caricature has been taken down from Outlook's website. But the item, 'No Boring Babu', still stands.
The babu may not be boring, but the item certainly is. It's not hard to see why it's sexist, but it is quite hard to see why it's interesting. The pitch appears to be: 'There's a good looking woman bureaucrat in the Telengana Secretariat, and she was recently seen wearing something other than a sari on her own time'.
So what?
As Sabharwal has herself said, what she wears and who she goes out with - it was her husband, by the way - is nobody's business but her own.
Undermining a woman's professional credentials based on her appearance is the stalest trick in the book, and in this case, it seems to have struck a chord with people.
Perhaps even too much of one, considering that a lot of the criticism levelled at the magazine for its sexism has been directed at contributor Madhavi Tata and is itself expressed in highly sexist language.
Tata, who is mentioned in Sabharwal's notice and is thought to be the item's author, has been subject to a hail of Twitter abuse after news of Sabharwal's action against Outlook broke.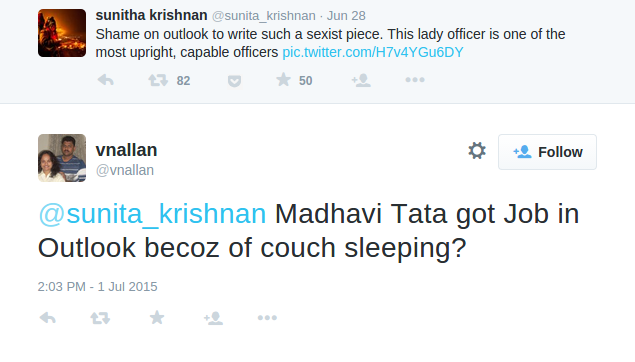 Some even took to sharing Tata's personal details, such as her address, phone number and photograph.
A source close to Tata says she is not speaking to the press under legal advice, but is also taking cover from the abuse and threats of violence levelled at her through social media.
This is the worst possible result of Sabharwal's decision to take action against Outlook: one instance of sexism leading to another.