Small mercy: Kerala sets up India's first justice board for transgenders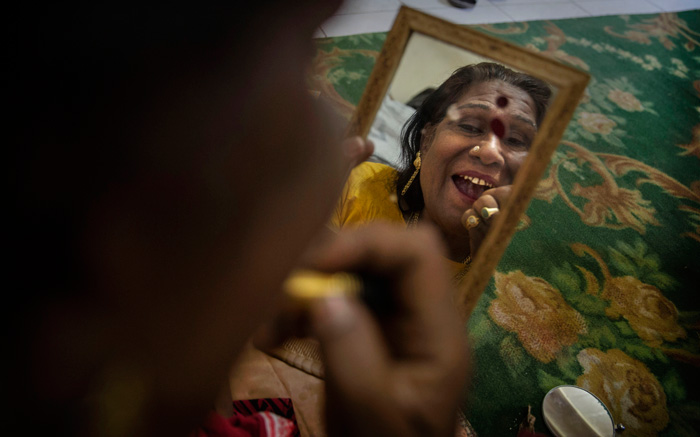 Kerala is hailed as one of India's most socially developed states, deservedly so. Where it lagged was in recognising the third gender and their rights. Not anymore.
On 10 January, Kerala set up the country's first justice board for transgenders. It's also the first state to have announced, in mid-November, a transgender policy.
The board will hear cases of transgender people, provide free legal aid and work to curb discrimination against them.
Transgender activists are as elated as they are surprised by Kerala's move. "When I visited the state in 2010 for a conclave on transgender rights, no less than 17 hotels refused to take me because I was a transwoman," says Abhina Aher, chairperson of the Asia Pacific Transgender Network. "This move was unexpected."
In 2010, 17 Kerala hotels rejected me because I was a transwoman. This was unexpected: Abhina Aher
"From property rights to equal job opportunities for transgenders and even basic fundamental rights, which are often violated, I believe this board will help us stop discrimination," Aher adds.
Transgenders have waged a long fight to stop social discrimination against them. In 2014, the Supreme Court recognised the third gender and asked the state to acknowledge them and their rights. It also asked the state to ensure government-aided programmes reach them.
Also read: India to soon have its first transgender modelling agency and here is how you can help
Kerala's justice board is another milestone in the transgenders' struggle for dignity.
What's the board for?
It will help issue government ID cards to transgenders, ensure that state records acknowledge their gender, and run a helpline. The board will also "ensure homestay facilities and see to it that educational institutions have infrastructure to accommodate them".
The head of Kerala's social justice department VN Jithendran said the board "will help ensure the departments of health, education, home and revenue in the state work towards transgender rights and help the invisible community be visible".
It was past time such a board was set up. According to a recent survey conducted by Kerala's social welfare board, nearly 60% transgenders had attempted suicide and 58% had dropped out of school due to harassment.
The survey also revealed that though the literacy rate of transgenders in the state is 93%, only 12% have regular jobs.
Also read: Win for LGBT community: Karnataka govt awards transgender activist second highest civilian honour
Indeed, such is the social stigma they face that, according to the survey, only 10% transgenders reveal their true gender to their families and relatives while 80% are forced to marry, their sexual inclination notwithstanding.
Although the findings of the survey appear alarming - for one, data released by the National Crime Records Bureau shows only 16 transgender suicides in India in 2013 - most activists assert that it's closer to the reality.
Nearly 80% transgenders in Kerala, mostly transwoman, 'are forced into marriages, says survey
"The reason why the survey is close to the reality of transgender people is because NGOs and activist groups were involved in the process," says Rajesh Umadevi, the director of Sangama, a non-profit that works for the rights of sexual minorities.
Rajesh played a crucial role in framing the state's transgender policy. So, what's in it? Rajesh says the policy talks of political participation, "which is unprecedented as most states fail to implement and involve politicians in the process of implementation of a policy".
Also read: Protecting the third gender: did South India just get transgender-friendly?
Rajesh says the policy's success will depend on whether it's implemented "in its entirety". This would involve establishing one-stop crisis centers and taxis for transgenders, among other measures.
A unique challenge
Kerala faces a unique challenge in framing policies for transgenders, no least because most transgenders in the state are married. The activists say that most transgenders in the state are transwoman, and they "are forced into marriages and discriminated against by the society as well as the state machinery".
While this happens across the country, the situation is especially dire in Kerala.
Also read: Tamil Nadu to get India's first transgender Sub-Inspector
"I remember my first conversation, in 2010, with a senior state official on transgender rights. I was told, 'there are no transgender people in Kerala'. This belief was widely reflected among the officials of the state," says Rajesh.
"The developments we see now are a result of consistent efforts made by transgender activists in the last five years," Rajesh adds. Abhina concurs.
Indeed, the activists agree that access to basic education facilities and government services for transgenders has improved in the last five years. Wide social acceptance though is yet to be achieved.
"In 2010, I could get only 31 transgender people under one roof for a conference. But only a year later, more than 2,000 transgenders attended a rally. The situation improved so drastically in just one year," says Simran Sheikh, a transgender activist. "It has only improved since."
As for the latest measures, their success will depend to a large extent on "political will across party lines", as Rajesh puts it. But given that both the Left Front and the Congress supported the transgenders' right to seek legal recourse through the justice board, the future looks promising.
Also read:Gay rights took centre stage worldwide in 2015. What stopped India?