Siddaramaiah in a soup: controversy after doctor son's firm gets govt contract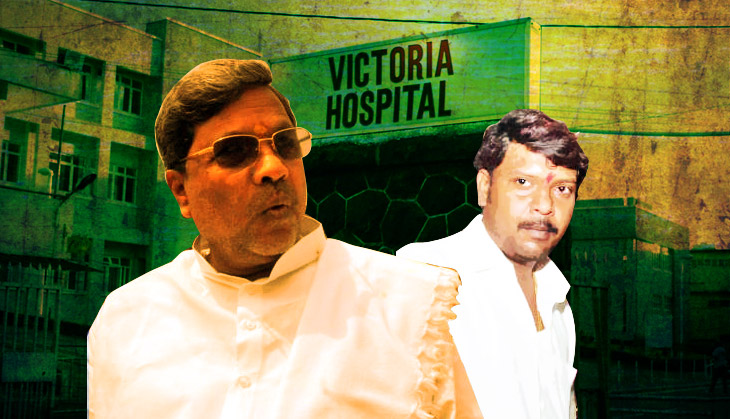 The contract
Karnataka CM Siddaramaiah\'s second son Yathindra is a doctor, and is director of Matrix Imaging Solutions
Matrix was awarded a govt contract to set up a pathological lab at the PMSSY hospital in Bengaluru
The controversy
Opposition says this goes against Home Ministry code that bars ministers\' kin from doing business with that particular govt
However, a footnote says \'family\' includes only spouse, minor children and others wholly dependent on the minister
More in the story
The hospital\'s defence - did it know Yathindra was director of the company
What Siddaramaiah and son have to say on the matter
Karnataka Chief Minister Siddaramaiah is already under attack for sporting expensive watches received as gifts, and plotting to kill the anti-corruption body, the Lokayukta.
And now, he has got embroiled in a new controversy involving his second son, a doctor by profession.
Gold medal-winning pathologist Dr Yathindra Siddaramaiah is so shy and introverted that he is hardly seen in public. Though Siddaramaiah has been in public life for over three decades, and been the CM for three years, Yathindra has kept himself so scrupulously away from the common glare, that there is not even a photograph of him with his father in public domain.
Yet, this reticent doctor, now in his mid-30s, has perhaps unwittingly landed his father in troubled waters, and put him on the defensive on a question of 'morality' and code of conduct a CM should follow.
How the company got the contract
The Opposition has raised a stink over Matrix Imaging Solutions, a private company in which Yathindra is a director, being given a contract to set up a diagnostics lab at a government hospital in Bengaluru.
According to Dr P Girish, special officer at the Pradhan Mantri Swasthya Suraksha Yojana (PMSSY) super speciality hospital, set up in 2012 within the Victoria Hospital complex, Matrix had won the contract for setting up the lab through competitive bidding, which followed the rules of the Karnataka Transparency in Public Procurements Act.
He said there were several companies, including Siemens, Phillips, Medall, Clumax, HLL and Matrix Solutions which had expressed interest, but finally there were only two bidders, of which Matrix won after quoting the lowest bid and offering its lab services at 20% less cost than the government hospitals.
Dr Girish said, the tender was awarded in the name of Dr CM Rajesh Gowda, a company partner, and "we didn't even know that the CM's son was a director".
The five-year contract was awarded in October and, after making an investment of about Rs 10 crore on diagnostic equipment, the company was getting ready to begin its services later this month when the controversy broke.
The code of ethics
Questions are being raised about the 'propriety' of a Chief Minister's son being given a government contract, and whether it violated the code of conduct for ministers, which has been issued by the Union Home Ministry as a general circular.
The code states that "after taking office, and so long as he remains in office, the minister (including the Chief Minister) shall ensure that the members of the family do not start or participate in business concerns, engage in supplying goods and services to that government or receive licences, permits, quotas or leases from that government."
While the Opposition is harping on this code and calling on the CM to cancel the contract, Siddaramaiah's supporters are pointing to the 'footnote' which clearly defines the minister's family as far as violation is concerned.
The 'explanation' says: "In this code, the minister's family shall include his wife (or husband, as the case may be) not legally separated from him, minor children and other persons related by blood or marriage to, and wholly dependent on the minister."
CM and son on the defensive
Claiming that he had no knowledge until a few days ago that his son's company had won a contract, Siddaramaiah said that in any case, "it has been done in a transparent manner" and there was "nothing wrong with it".
Dr Yathindra also said there had been 'no wrongdoing' on his part and there were several cases where the Supreme Court had upheld the participation of elected representatives or their kin in tenders and contracts. He said he would resign from the company if his father advised him to do so.
Doctors disappointed
Doctors at the super speciality hospital say they had been looking forward to the opening of a modern diagnostic centre as so far, they depended on the Infosys lab at Victoria Hospital, which did not function round-the-clock.
"When we need a CT scan, we can't take a seriously ill patient from one building to another. The medical education minister accepted our suggestion to set up a lab in our premises in private partnership, as we wanted to offer the best of services at minimum cost," says a doctor.
Dr Rajesh Gowda of Matrix Solutions says that since there were two big hospitals, Victoria and Vani Vilas, at the same premises, his lab hoped to offer various tests and scans at cheaper cost to the poor patients.
"We are not here only with the profit motive. We have spoken to the equipment suppliers and hope to get good discounts. Since the volume of patients will be more, we want to pass on the benefits to the patients," he says.
Edited by Shreyas Sharma