Should movie halls in Kashmir be reopened after 3 decades? Film festival stirs a debate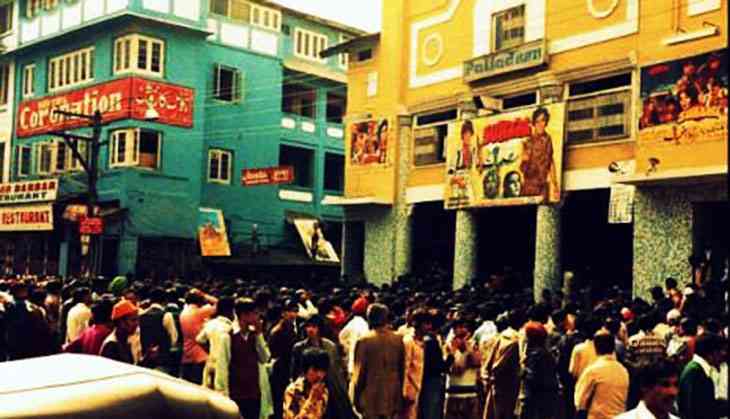 Old Palladium cinema in Srinagar (Facebook)
The second edition of Kashmir World Film Festival (KWFF), which commenced here at Srinagar's Tagore Hall on 1 November, has stirred a fresh debate whether it is about time to reopen movie halls in the Kashmir Valley after a gap of 28 years.
During this five-day long film festival at least 19 documentaries and feature films are scheduled to be screened in English, Persian, Italian, Japanese, Polish, Urdu, Malayalam, Kashmiri, Dogri and Ladakhi languages.
Mushtaaque Ali Khan, director of KWFF, says that the aim is to revive an almost lost culture of watching good movies in Kashmir.
"I want our people to watch good movies. And also provide a genuine platform to local up-and-coming filmmakers and enthusiasts to find inspiration by meeting top film personalities and watching world-class films," Khan told Catch.
He said that he is content with the response he has witnessed from movie buffs thus far.
"Touch wood, the response from the people has been overwhelming. Much better than the previous year," he says, adding that – "We have to connect to a wider world by opening our minds to various cultures through quality cinema."
Jammu and Kashmir Government's spokesperson and Minister for Public Works Naeem Akhtar, who inaugurated the much-talked-about film festival, says that in the absence of any functional movie halls in Kashmir for nearly three decades now people are being denied a right to a social outing with their families.
"Today every room is a movie hall, every pocket a cinema. But people have a right to social outings and recreation, too. They want to go out to watch movies in cinema halls and multiplexes and also visit malls for shopping," Akhtar told Catch.
Past perfect
He nostalgically recalls the pre-militancy days and says that "Srinagar's Residency Road was our Piccadilly."
Mir Khalid, author of Jaffna Street, while remembering his school days talks about a vibrant culture of watching movies in Srinagar city, told Catch –
"(At least) five cinema halls (in Srinagar) would screen twin shows of Hollywood films on a daily basis. Srinagar city had the choicest blend of movies catering to its movie aficionados. Al Pacino, De Niro, Jack Nicholson, Brooke Shields, Bo Derek, Sylvester Stallone and later Tom Cruise starrers formed the bulk of conversations in school and college grounds."
Also, the author has written about Rod Steward's Downtown Train which released in March 1990 in his book.
Khalid describes Srinagar's downtown of his imagination and draws parallels between Steward's downtown with his own childhood sketch of Srinagar, replete with its own version of 'Brooklyn' girls.
"There were many 'Brooklyn' girls, whose affections were actively sought or passively fancied. Some were part of the somewhat class-conscious crowd, belonging to upmarket areas and schools, many of whom adored Tom Cruise – whose Top Gun was making waves – to the extent of pasting his photos in their notebooks," he writes in a chapter titled Downtown Train.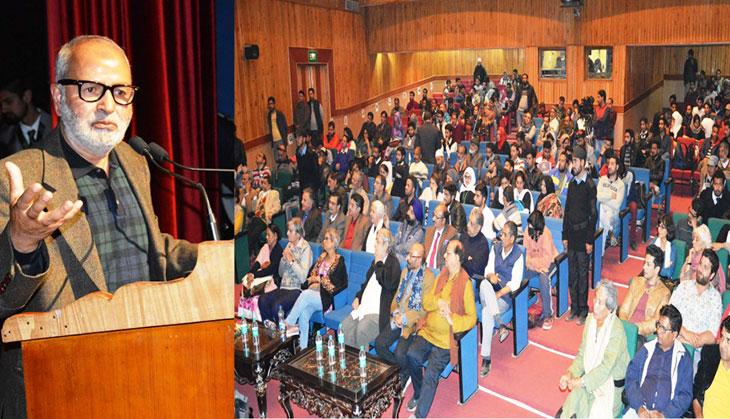 Naeem Akhtar inaugurating the film festival (J&K Govt's Information Department)
End of an era
In the pre-militancy era, there were more than a dozen movie halls screening Bollywood and Hollywood movies in the Himalayan Valley, nine of them in Srinagar alone. Srinagar city had cinema halls by the names Firdous, Shiraz, Khayam, Shah, Regal, Palladium, Neelam, Broadway, and Naaz.
But on 18 August 1989, the armed rebel outfit called the Allah Tigers enforced a blanket ban on cinema halls, bars and liquor shops in Kashmir through its chief commander 'Air Marshal' Noor Khan.
A statement to this effect was also published in all the major local newspapers published from Srinagar then.
As a matter of fact, cinema has always attracted some controversy or the other in Kashmir.
Eight years before the eruption of a popular armed resistance, the Anthony Quinn-starrer Lion of the Desert was screened at Regal in Srinagar. It was an action film based on the life of the Libyan revolutionary Omar Mukhtar. Mukhtar was a Bedouin leader who fought the colonial Italian army in the years leading up to World War-II. The screening of this movie in the mid-1980s had instigated anti-India protests in Kashmir. As a result, the screening of this movie was banned.
In 1999, exactly a decade after the eruption of militancy in Kashmir, the government did attempt to revive the cinema-viewing scene but failed to attract people to the movie halls because of security concerns.
In fact, the armed rebels attacked a cinema hall in city centre Lal Chowk where the Sunny Deol-starrer Pyar Koyi Khel Nahi was being screened.
Since 1989, most cinema halls in Kashmir have turned into government forces' camps or bunkers. Others are in ruins while a few have been converted into shopping centres. Obviously, in a hotly contested place like Kashmir, there are arguments either way.
Those opposing the reopening of cinema halls are not necessarily religious extremists or radicals.
Critics are of the view that the coalition government, comprising the Hindu nationalist Bharatiya Janata Party (BJP) and the Peoples Democratic Party (PDP), is trying to sell every single activity in Kashmir as a "symbol of normalcy" to deflect attention from the raging political conflict and humanitarian crisis.
Javeed Bin Nabi, a student of International Relations, Peace and Conflict Studies, took to Facebook:
"With due respect Mr Naeem Akhtar Sahib, recently you talk(ed) about re-opening of Cinema halls in Kashmir - Good. Jaha tak mujhe pata hai Neelam and Shiraz Cinemas located at different places in Srinagar city are under the boots of Central Reserve Police Force (CRPF). I don't think present government will free them… Thank You."
Akhtar responded to his post in these words: "Valid point but opening cinema is having a social space that our children and families have been deprived off. Vacating security from existing cinemas will follow."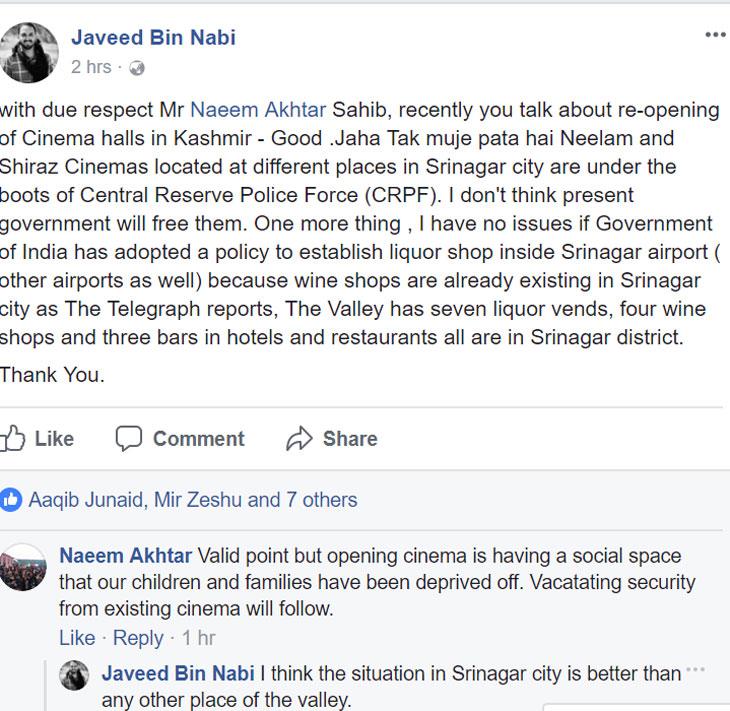 The debate about whether cinema halls in Srinagar should be reopened or not has also seen some adverse reactions from the people. And some of them took to Facebook to express their issues -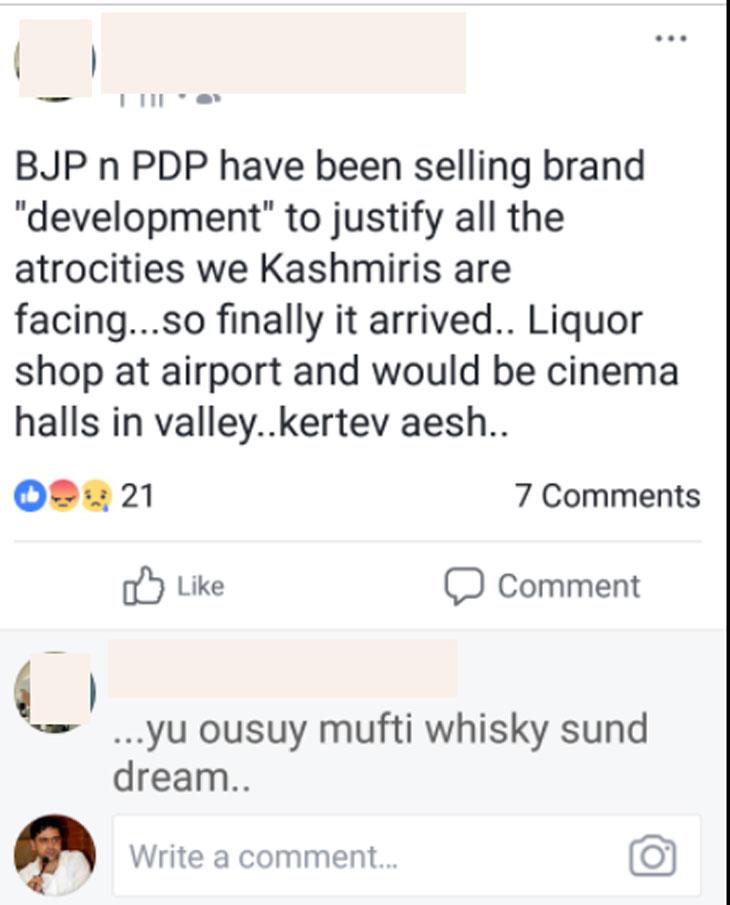 Meanwhile, the first film screened in the second edition of KWFF was a Kashmiri feature film Mainz Raat (The night of Henna, a night before the wedding day). It was first released way back in 1964.
Known faces of Bollywood and filmmakers like Saeed Mirza, Anwar Jamal, Rahat Kazmi, Anuraj Patil, Gowhar Raza and Govind Nihalani and actor Rajat Kapoor were present during the inauguration of the grand film festival.
Scores of Bollywood movies including Aarzoo, Kashmir Ki Kali, Jab Jab Phool Khile, Bobby, Silsila, 3 Idiots, Shaurya, Mission Kashmir, Rockstar, Haider etc have been shot in Jammu and Kashmir, but the Valley is also a land of mass graves, custodial disappearances and fake encounters! And that is where the dichotomy lies.