Shot with bow and arrow over water dispute, teenaged girl dies in MP
Anup Dutta
| Updated on: 10 February 2017, 1:50 IST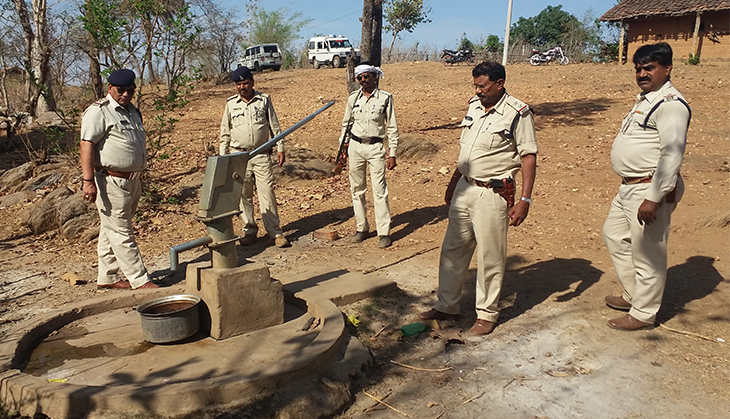 The drought
About 40 of Madhya Pradesh\'s 51 districts are reeling under water scarcity
Villagers are being forced to walk for many kilometres to fetch water, since their own wells have dried up
The incident
A teenaged girl in Alirajpur district was shot in the eye with a bow and arrow, and lost her life
She was drawing water from a private hand pump, whose owner and his son reportedly shot her
More in the story
How did the alleged perpetrators have a weapon handy?
The larger problem of water scarcity in MP - what is the government doing to solve it?
If you think Maharashtra is the only state reeling under a drought at present, this may change your mind. While the debate rages on about whether Indian Premier League matches should or should not be shifted out of Maharashtra, a 13-year-old girl was shot with a bow and arrow in Madhya Pradesh's Alirajpur district - over a water dispute.
The girl, Surmada, was trying to fetch water from a private hand pump, and was shot in the eye; she bled to death from the wound. According to the police, the death was probably the first in the tribal district related to a water dispute.
"Surmada, daughter of Vasir, resident of village Chhota Bhawta, was the victim in the Sunday night incident," SPS Chouhan, station incharge, Azad Nagar Police Station, Alirajpur district, told this correspondent over the telephone.
According to the police, on Sunday evening, a function was organised at Vasir's house. However, the trouble began when a more-than-expected number of guests showed up, and soon, the water arranged ran out. Vasir then directed his daughter Surmada, his son Nirmal (20) and his own brother Suresh (35) to fetch water from a nearby hand pump.
At around 10 pm, Suresh drove his motorcycle to a hand pump 'belonging to' Inder Singh, another villager from Chhota Bhawta.
When Surmada and Nirmal assembled in front of the hand pump, Inder and his son Mesta came out of their house and asked with whose permission they were drawing water from their 'private' hand pump.
The dispute got heated, and soon, Inder and Mesta, who had armed themselves with a bow and arrow, shot an arrow that pierced Surmada's left eye. Witnesses said Surmada stumbled for some time, before collapsing with the arrow still stuck in her eye. She was pronounced dead at the district hospital, the police said.
Inder and his son are absconding, and a case has been lodged against them, the police added.
Tribal practices
In the Alirajpur district, Bhil tribals often use home-made bows, arrow shafts made of bamboo, and arrowheads made of tapered and sharpened iron, with no poison paste applied.
These bows and arrows are commonly used for show purposes during the festive season, but any dispute over money, land or women often leads to these being used on other people. However, no one has reportedly died of it over a water dispute.
Acute water shortage
Several districts in Madhya Pradesh's Malwa and Bundelkhand regions are facing an acute water shortage.
Last year, the state government had declared 35 of its 51 districts as water-scarce. According to a rough estimate, more than 40 districts have reported water shortage this time, with hand pumps and underground water sources drying up even before the onset of summer.
The state's public health engineering minister, Kusum Mahdele, admits that various districts have indicated depleting groundwater resources, following which, her department has chalked out a detailed plan for water supply.
According to a government official, every day, hundreds of villagers are forced to travel on foot and use motorcycles to fetch water from other villages in the district. Water sources is their villages are reportedly so crowded that the walk and wait can take hours.
There have been several instances of verbal duels over drinking water. However, so far, no bloody clashes had been reported.
NHRC seeks report
Earlier this month, the National Human Rights Commission (NHRC) sought reports from the governments of Madhya Pradesh and Uttar Pradesh, over the deplorable plight of people living in Bundelkhand.
The NHRC has taken suo motu cognisance of media reports on the condition of the inhabitants of the parched region, spread over 13 districts of UP and MP, where people are living in distress.
According to the Madhya Pradesh agriculture department, the drought in the state has so far affected 48 lakh farmers in 228 tehsils, as an area of 44 lakh hectares has been hit by the arid conditions.
State agriculture minister Gauri Shankar Bisen said apart from the Rs 2,400 crore compensation to be extended to the farmers for crop damage, the state has also sought an additional Rs 300 crore from the Centre for drinking water supply in various districts.
"The state has identified the worst-hit areas and is making arrangements on war footing," Bisen said.