Shady deal: how a bunch of eminent people let RK Pachauri get away, again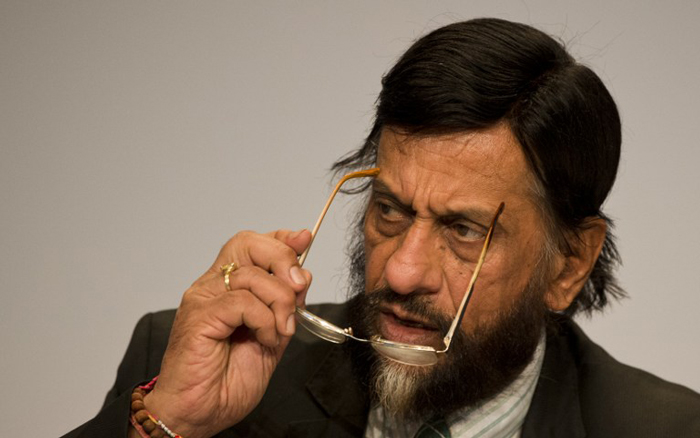 Here's a trivia question: What's common among HDFC chairman Deepak Parekh, former HSBC India head Naina Lal Kidwai, former environment minister of Japan Wakako Hironaka and Danish trader Henrik Madsen?
They let RK Pachauri go, again.
Joining them in this act were retired professor BV Sreekantan, ex-bureaucrat Shailesh Nayak, DSP BlackRock chairman Hemendra Kothari, TERI's senior staffer Leena Srivastava, and the institute's new director general Ajay Mathur.
Also read - RK Pachauri goes on leave from TERI yet again; Ashok Chawla new Chairman
All these people are members of TERI's Governing Council, its highest decision making body. Sreekantan quit as the council's chair on 12 February, and was replaced by Ashok Chawla, former finance secretary and chairman of the Competition Commission of India.
These people have the power to remove RK Pachauri from both TERI, where he is executive vice chairman, and TERI University, where he is chancellor.
Not once, but five times has TERI's General Council failed to act against RK Pachauri in a year
On 12 February, they met amidst a growing demand, including from protesters outside the TERI headquarters in Delhi, that they exercise this power. What did they do? The council allowed Pachauri to go on leave.
There have been demands for over a year for Pachauri to resign in the wake of allegations of sexually harassing a colleague. But the climate scientist has stayed put, helped in no small part by these eminences.
Here's a lowdown on the whole sordid affair.
Serious charges
A case was filed against Pachauri for sexually harassing a young colleague last February.

He resigned from the chairmanship of the Intergovernmental Panel on Climate Change, a UN body, but stayed put at TERI.

However, demands for his removal have intensified after another woman accused him of sexual harassment - both verbal abuse and inappropriate physical contact - on 10 February.
Repeated failure
Members of TERI's General Council are people of repute in corporate and policy circles. They each have experience of running big organisations with thousands of employees.
But they have repeatedly shown extraordinarily weak knees in front of Pachauri.
First time: Amid calls to remove Pachauri after the sexual harassment case was filed against him last February, the council let him go on leave.

Second time: An internal complaints committee of TERI, formed under the Sexual Harassment Act, found Pachauri guilty. Ten days later, he got his indictment stayed by an industrial tribunal.

The council did not remove him in the intervening period. Nor did they suspend him as is required by the Act. This matter has been raised by senior lawyer Indira Jaising in a Delhi High Court case against TERI.

Third time: In July 2015, the council named Ajay Mathur as Pachauri's replacement. But in a surprise twist, it asked Pachauri to return as the director general while Mathur completed the formalities of leaving his previous employer, the power ministry's Bureau of Energy Efficiency.

This "interim" arrangement lasted almost eight months, from July 2015 until February 2016.

Fourth time: Following days of speculation that Mathur was not keen on joining TERI because Pachauri did not want to give up his executive powers, he finally took over on 7 February. But the General Council also officially appointed Pachauri the executive vice chairman.

So, 12 February's action is the fifth time they have failed to act against Pachauri.
What now?
Pachauri's going on leave has been met with a mix of exasperation and disdain. Most people believe that he'll eventually return to the organisation, just as he did last July. Although executive powers have been conferred on Ajay Mathur, failing once again to remove Pachauri reflects poorly on the General Council.
"The council is shameless. They're showing the thumb to the law. Do they think the law doesn't apply to them? They are a shame on corporate India," said senior lawyer Vrinda Grover.
"They are doing this despite the outrage. This is absolutely shameful," the complainant against Pachauri said.
There is also concern that Pachauri will continue to go for foreign assignments. During his last leave, he had expressed a desire to travel to Athens, Greece, for a conference. Although the request was initially denied by the Delhi High Court, he was subsequently allowed to travel abroad.
In July, GC named Ajay Mathur as DG but asked Pachauri to fill in till he joined. He stayed 8 months
TERI University's alumni are also upset with the decision. "We condemn TERI GC's spineless verdict," a group of alumni tweeted after the decision was made public.
On 11 February, Pachauri took leave as TERI University chancellor after several alumni wrote to the administration that they won't receive degrees from him at the upcoming convocation.
Nearly a year after the case against him was filed, the police hasn't filed a chargesheet in the case. On 11 February, the high court asked the police to file the chargesheet within a fortnight.
The police have repeatedly claimed that Pachauri isn't cooperating with the probe and have demanded his custody. But Pachauri is out on anticipatory bail since March. On 11 February, the high court reserved its order on an appeal to cancel the bail.
More in Catch - Petitioner as well as respondent: the curious case of RK Pachauri
RK Pachauri expected a smooth return to TERI, until hell broke loose
Open letter by sexually harassed woman angry at Pachauri's TERI return