Seventh witness attacked: why Asaram is not just another rape undertrial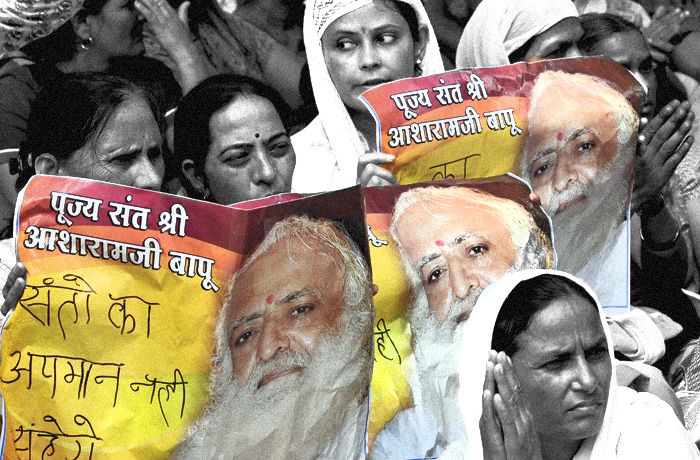 The attack
Kripal Singh, a key witness in a case against Asaram Bapu, has been killed in Shahjahanpur in Uttar Pradesh.
He was shot at on Friday night when he was on his way back from the market. He is the third witness against Asaram to have been killed
Singh was a witness in a case in which Asaram is accused of raping a minor girl in August 2013 at his ashram in Jodhpur.
Asaram Bapu and his son Narayan Sai are in jail. Two sisters have accused them of rape. This is called the Surat rape case.
Shocking facts
Singh is the seventh eyewitness to have been attacked. All of them were close associates of Asaram Bapu.
One of two former aides was gunned down. The other was knifed but survived. Three others were shot at, two fatally. One was knifed. One doused with acid.
The background
Two sisters accused Asaram Bapu and his son of rape in October 2013.
The younger sister accused Narayan Sai of raping her from \'02-\'05. The elder accused Asaram of raping her from \'97-\'06.
Other accusations
Two 10-year old boys - Dipesh and Abhishek Vaghela - found dead 1.5 km from Asaram\'s Motera Ashram. Had joined the ashram barely a month earlier.
The body of one boy found slit from throat to waist; internal organs missing.
The other boy was missing an arm. The father says men were sent to intimidate him.
Asaram calls a 16 year-old girl to his room alone. On the pretext of driving evil spirits from her body, he sexually assaults her repeatedly.
Asaram is also accused of land grabbing in different states.In February 2009, Gujarat Assembly admits his ashram encroached on 16 acres of prime estate.
The fear
A senior journalist says everyone who spoke against Asaram or his son is being attacked.
One aide was shot dead two days after speaking to the journalist.
Kripal Singh, the seventh witness against Asaram Bapu and his son Narayan Sai to be attacked, has died. He is the third witness in the case to have been killed.
On 10 July, Singh was shot at from close range by motorcycle-borne gunmen in Shahjahanpur in Uttar Pradesh. Singh succumbed to his injuries at a Bareilly hospital at around 11:25 pm on 11 July.
Now, two women cops investigating the case have reportedly received threats, taking the brazen intimidation tactics to a another level.
According to one of the best known criminal lawyers Majid Memon, all these attacks against witnesses testifying against Asaram Bapu don't seem to be coincidental. He says the probe will now have to be handled to a central investigating agency like the NIA.
"All these facts, about witnesses testifying against Asaram or his son being targeted, cannot be coincidental. Since the cases against Asaram are going on in various states, local police should now ask NIA to intervene and provide protection to people who're staying outside the courts where he's being tried," Memon said.
"It is the duty of prosecuting agency to take cognizance of this pattern of killings and probe the consistency, the design and conspiracy behind them. It can be done easily. They should not only investigate this angle but should help court, for purposes of protecting witnesses, by collecting all evidence and helping the court drawing their own inferences."
Who was Kripal Singh?
Singh was an employee of a transport firm whose owner's daughter, then 16 years old, was allegedly raped by Asaram Bapu in his ashram. Singh had become a key witness against Asaram in the case when his statement was recorded around three months ago.
According to the Uttar Pradesh police, Singh was shot at in Shahjahanpur's Puwayan area on Friday night when he was on the way back from the market. The bullet pierced Singh's spinal cord near his waist.
The father of the rape victim said Singh had confided in him that he had been receiving threats, apparently from people close to the godman.
"He was coming back from the market when two men shot him from the back. He is a witness in the Asaram case. They warned him that if he deposed against him, they wouldn't leave him," the father of the victim told reporters at the hospital where Singh was admitted.
The background
There was a time, eyewitnesses recall, when busy streets in Gujarat were deserted as channels began telecasting the sermons of Asaram Bapu. One report estimated two crore people to be following the spiritual guru, and his empire to be worth Rs 5,000 crore.
There was a time when he got away with spraying millions of gallons of water on his followers during Holi in drought-hit Maharashtra, with blaming the victim of the infamous 16 December gang rape for her fate, and running hundreds of ashrams spread over thousands of acres of encroached public land.
Senior politicians like LK Advani and Digvijaya Singh were photographed in his vicinity and many more were reported to be ardent followers. But that was then.
Asaram and his son Narayan Sai are behind bars these days. They've got almost no ashrams left. Asaram's leftover following seems to be the 21,000 people that have liked his Facebook page. What remains is a web page - ashramnews.org - last updated two years ago, devoted to proving him innocent.
The 74-year-old guru has been in a Jodhpur jail since August 2013 for allegedly raping a 16-year-old schoolgirl at his ashram earlier that year.
Two months later he, along with his son Narayan, were booked for the alleged rape of two sisters at their ashram in Surat, Gujarat.
The horror
Asaram's spiritual career began in the 1960s. Ostensibly, the trouble only began in 2008 after the deaths of two 10-year-old cousins, Abhishek and Dipesh Vaghela, at his Motera ashram in Gujarat.
Praful Vaghela, father of Dipesh, still remembers the sight of his son's body. "From the throat down, there was a slit till his waist and all the internal organs were missing. There were burn marks on both the children and their clothes were missing." Dipesh was his only child.
Praful had entrusted him to Asaram on 1 June 2008 - exactly a month before the bodies of his son and nephew were found 1.5 kilometres from the Motera ashram - because he thought the gurukul system was the best model of education for children.
"I never thought of Asaram as a god and was never infatuated by him. It was only the education of my child that I was concerned about. Some time in between I went to the ashram and met the kids. There heads were tonsured and there was a tilak on their foreheads, I didn't like it but I was told that's how things were run there," Praful says.
While Asaram Bapu is in jail with his son for rape, someone's trying to kill all the witnesses
While Asaram Bapu is in jail with his son for rape, someone's trying to kill all the witnesses
According to Praful, who works as a labourer near Motera, immediately after the bodies were found, several armed men approached him to intimidate him into submission.
"They told me not to even think about lodging an FIR in the case. Even mentioning the death of my son would have dire consequences, I was told. Asaram Bapu, those days, was India's uncrowned king. For a long time, despite my appeals, the police did not register the FIR," says Praful.
The Gujarat Criminal Investigation Department finally filed a chargesheet against seven office-bearers at Asaram's ashram in September 2012. But Asaram managed to stay out of jail in this case.
Praful still doesn't know the reason for the brutal murder of his only son but, in his fight for justice, he has come across several other people whose allegations against Asaram range from sexual misdemeanours, macabre tantric rituals, murder and intimidation.
The accusations
The most concrete allegation against Asaram Bapu, however, was made in August 2013 by a 16-year-old inmate of his Chhindwara ashram in Madhya Pradesh. The teenager accused him of sexually assaulting her at a farmhouse in Jodhpur on the pretext of treating her.
Asaram had reportedly demanded a private interview with the girl, who studied at Asaram's ashram and stayed in a girls' hostel there, to drive evil spirits from her body and sexually assaulted her repeatedly.
He was booked by the Delhi and Jodhpur police and arrested in September. The case drove fervent followers to scepticism if not outright hostility.
Asaram's lawyer, leading advocate Ram Jethmalani, defended his client by claiming that the girl was suffering from a disease which made her want to meet men alone.
More reports of sexual violence, this time also against the godman's son, were made a couple of months later.
In October 2013, two sisters, also inmates of his ashram, alleged that the father-son duo had raped them at their Gujarat ashram.
The younger sister alleged Narayan Sai had raped her repeatedly between 2002 and 2005 at Asaram's ashram in Surat, and the elder sister leveled allegations against Asaram Bapu for raping her between 1997 and 2006 while she was living at his ashram on the outskirts of Ahmedabad.
Asaram's lawyer Ram Jethmalani argued that the accuser had a disease that made her want to meet men alone
Asaram's lawyer Ram Jethmalani argued that the accuser had a disease that made her want to meet men alone
Based on this, both Asaram Bapu and Narayan Sai were booked in October 2013. This case, commonly referred to as the Surat rape case, has proved to be the most damning indictment for the two supposed spiritual guides.
Asaram's defence counsel, BM Gupta, claims the case is an attempt to frame his clients falsely. "Both Asaram Bapuji and his son have been deliberately framed in these cases. It is notable that FIR was lodged against Bapuji 12 years after the offence was committed and against Narayan Sai 11 years later. Charges of rape and unnatural offences have been filed against my clients. We are challenging the allegation of unnatural offence at the admission stage itself."
The fear
Ever since the case was reported nearly two years ago, it has been trapped in an atmosphere of intense fear.
Nobody related to the case speaks or reveals their identity anymore for the fear of being taken out, as is generally believed by those close to the godman. A senior journalist, who covered the case when it was the focus of the nation, explained the intense pressure he went through.
"There was a climate of fear around the case from the beginning - a sense that anyone who spoke to the media against Asaram or his son was taken out. I had this personal experience of speaking to Amrut Prajapati, one of his personal physicians who had turned against him as a witness, and quoting him in a story. Two days later, he was shot at from close range and a fortnight later, he succumbed to his wounds," said the journalist, not willing to be named.
The killings
Friday's attack on Kripal Singh is only the latest incident in which a witness against Asaram has been attacked.
Less than two months ago in May, Mahendra Chawla, who was Asaram's personal assistant from 2001 to 2005 in Panipat, was attacked similarly. Chawla had made startling revelations about the spiritual guru in an interview to a television channel.
According to him, Asaram used to select girls by throwing fruits or prasad at them or even by pointing torch light at them. Chawla also said that Asaram was addicted to opium and an NRI used to supply opium to him. Chawla survived the murder attempt and is currently recovering in a hospital.
Earlier this year, on 13 January, Akhil Gupta, a dairy owner who used to serve as Asaram's cook, was was shot dead in Muzaffarnagar, the second witness to have been killed. He is believed to have given the police some incriminating evidence against Asaram Bapu.
The first witness to be murdered was Vaid Amrut Prajapati, Asaram's former aide and an Ayurveda expert. He was shot dead in Ahmedabad in May 2014.
He had worked with Asaram for about 15 years till August 2005. In an interview before his death, he claimed he had been developing Ayurvedic medicines for the ashram, which were often adulterated on Asaram's directions.
In the same interview, Prajapati claimed to have walked in on one of Asaram's intimate sessions with a woman, following which he was scared out of the ashram.
Three years later, he deposed as a witness in the case of the mysterious death of two boys in 2008, and shed light on alleged tantric practices at the ashram.
In the case of Dinesh Balchandani, a textile trader, two men on a motorcycle had tried to douse him in acid in Surat in March 2014.
Rakesh Patel was the first victim in this series of apparently closely coordinated attacks on witnesses. One of the key prosecution witnesses and husband of one of the two women who had alleged rape against the godman and his son, he was almost knifed to death on 28 February 2014 by motorcycle-borne assailants.
As the trend later emerged, Patel was retrospectively seen to be the first victim for speaking against the influential guru. The common thread binding the five victims after him is that they shared evidence and openly denounced Asaram in connection with the Surat rape case.
Asaram was one of the first spiritual television phenomenons in India. He doesn't seem to have lost his capacity for on-camera performance.
"Duniyan mein sabhi hamle main hi karwata hoon (I am responsible for all the attacks in this world)," he sarcastically remarked while being taken to court in Rajasthan's Jodhpur.
Both Asaram and his son are lodged in a prison in Rajasthan. The witness deaths should pose hard new questions for them.