Proposal to derecognise madrasas in Maharashtra raises hackles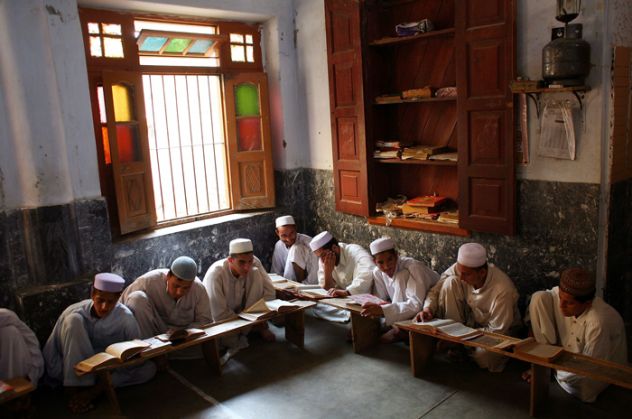 In a controversial move, the BJP-led government in Maharashtra has proposed to declare madrasas that do not teach non-religious subjects 'non-schools' and their students 'out of school' children.
"If a Hindu or a Christian child wants to study in a madrasa, they won't be allowed. Thus, a madrasa is not a school but a source of religious education," Minority Affairs Minister Eknath Khadse said in a statement. "We have asked them to teach other subjects as well. Otherwise, the madrasas will be considered non-schools."
As the proposal drew criticism, Education Minister Vinod Tawde clarified that madrasas that follow a proper academic curriculum will not be derecognised. "Our only aim is to ensure every child of the minority community gets a chance to learn and come into the mainstream, get well paying jobs and have a prosperous future."
Maharashtra has some 1,889 madrasas teaching nearly 1.5 lakh students and 550 of them, Tawde claimed, are ready to come on board. The education department now plans to do a survey on 4 July to identify madrasas that do not follow the state-approved curriculum.
Maharashtra has 1,889 madrasas teaching 1.5 lakh students. Minister says 550 are fine with the proposal
The government has warned it would stop annual grants it gives to madrasas that do not include Maths, Science, English and Social Sciences in their curriculum. The central government, fulfilling an election promise, had allocated Rs 100 crore to madrasas last year.
Muslim opposition leaders and activists, however, took issue with the proposal.
Asaduddin Owaisi, President of the All India Majlis-E-Ittehadul Muslimeen, questioned the government's motive and asked whether students getting Vedic education would also be considered "out of school" children.
Pointing out that the Devendra Fadnavis government had promised to "modernise" Islamic-education schools, Owaisi said the latest decision was a "deliberate contradiction". "There are many madrasas that are teaching Maths, English and Science. Many madrasa students have gone ahead and cracked civil services exams," he said.
Jamiat Ulema-e-Hind General Secretary Maulana Mahmood Madani termed the move as "unacceptable".
The Congress too protested the proposal, with spokesperson Sanjay Nirupam calling it unconstitutional. "No child should be discriminated along religious lines. We are going to take up the issue in the Assembly," he added.
"Will students getting Vedic education also be considered 'out of school'?" asks Asaduddin Owaisi
Senior journalist Smruti Koppikar was more cautions in her opinion. She said it was a layered issue that should not be seen in black and white. "There is a strong case for the madrasas to be reformed," she said. "But if the government deregulates them overnight, it jeopardises the learning of 1.5 lakh students."
Zakia Soman, co-founder of the Bharatiya Muslim Mahila Andolan, said, "If the government is planning to denotify the education of five lakh children, are there are any alternative provisions in place to rehabilitate them and to ensure there are no lapses once they are admitted to 'modern schools'?''
Criticising the manner in which the Fadnavis government had gone about the proposal, catching the madrasas off-guard, Soman asked, "Did they issue any warning to the madrasas? Penalty is justified if a prior warning is issued."
Soman said that a study done by BMMA in Gujarat and Maharashtra found that nine out of 10 parents sent their children to madrasas because it was a more affordable option. "This is a point the government is missing," Soman added. "If the denotification needs to happen, then implementation of the Right to Education should be a priority."
Indeed, the fate of the madrasa students is at the heart of this issue. If the idea is to improve the prospects of their employability, will a switch to more traditional school curricula be enough? Also, if the aim of the government is to ensure uniform education, does it have a reform roadmap for the state-run schools, whose standards aren't much better?