If there is a drought, food security is a must: SC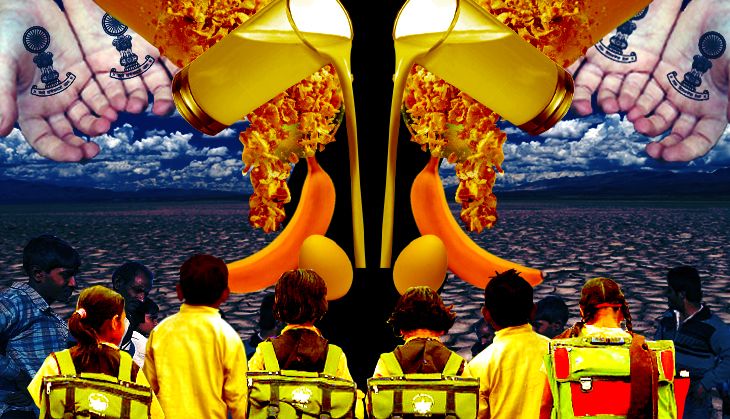 The judgement
The Supreme Court has directed the govt to ensure food security to India\'s 33 crore drought-hit people
Every person in drought-hit areas can now buy 5kg of foodgrains each month at subsidised rates
The rap
The SC criticised the Centre for bringing in the National Food Security Act without the machinery to implement it
The court has pulled up the government for delaying payments to workers under MGNREGA
More in the story
Why the government can\'t plead \'lack of funds\' anymore
What the court said on other matters, like crop compensation and restructuring loans
Every single person living in a drought-hit area of the country can now buy five kilograms of foodgrains each month at subsidised rates. This is among the many significant orders passed by the Supreme Court on 13 May, concluding its four-part judgement on a petition filed by political organisation Swaraj Abhiyan.
The petition asked the Court to intervene on a wide range of issues related to the ongoing drought - from defining the 'drought' so that it is fairly declared, to relief measures such as food security, employment guarantee, crop compensation, fodder, and restructuring of agricultural loans.
The case led to revelations such as the fact that 33 crore persons are affected by drought, as also sharp comments by the court on states like Gujarat, which aren't implementing the food security law.
The judgement - passed by a bench of Justice Madan B Lokur and Justice NV Ramana - places the most emphasis on food security. It extends the National Food Security Act (NFSA) to all persons living in drought-hit areas - bringing universal public distribution to more than 10 states in the country.
The judgement adds that a ration card is not compulsory to avail the cheap grain, and the state government can define a list of other identity proofs that can be used.
It has also asked all drought-affected states to serve mid-day meals throughout the summer vacations, and to ensure that egg, milk or an equivalent item is served at least three times a week, preferably five.
Significantly, it has told the government that not having enough money is not a reason to not provide these.
"We reject the contention on behalf of the Union of India that fiscal constraints or an increase in the food subsidy Bill can be a reason for denying relief to persons in drought-affected areas. Our constitutional jurisprudence has travelled an enormous distance over the years to even think of attempting a roll-back," the judgement said.
"Keeping in mind the children of this country, financial constraints shall not be an excuse for not complying with this direction. It is a sad commentary that we should have to say this, but we need to in the interest of the children of our country."
Campaigners for a universal right to food were elated. "The Supreme Court has justified our demand for universalising the public distribution system. Universal access to cheap foodgrain is a part of the Right to Life. While civil society has been saying this for over a decade, the Supreme Court has now established it," said Sachin Jain of the Right to Food Campaign.
He said the order is significant because few states have provided eggs or similar protein-rich items in mid-day meal menus.
"Though I am not very hopeful that the state governments will be able to implement the order, as they don't have systems in place for a universal foodgrains supply, they should use this opportunity to build a long-term system," Jain added.
Here are the other takeaways from the Supreme Court's judgement.
On food security measures
Immediate measures:
States to appoint district grievance redressal officer within one month to deal with complaints on non-supply of foodgrains
Each state to establish State Food Commission within two months for monitoring and reviewing NFSA
Comments:
In "grave and emergent" situations like drought, ration cards can be substituted with a valid ID card or any proof the state government deems fit, but the conditions need to be made "open-handedly and without being tight fisted".
Not having funds cannot be a reason to not supply foodgrain. Providing food is a statutory obligation, and even a constitutional obligation.
Court criticises Union government for bringing NFSA into force, but without the machinery needed to implement it. "This is completely inexplicable". This "tardiness in execution perhaps enables states to take it easy".
On MGNREGA
The court was convinced that there is a genuine problem in not funding MGNREGA properly. It was distressed that wage payments were delayed beyond 15 days, calling it a "constitutional breach". The court was incensed that even the statutory compensation of 0.05% per day for this delay is not being paid.
Directions:
Central government directed to release funds in a timely manner, so that the workforce is paid wages in time.
Compensation to be paid for delay beyond 15 days.
Central and state governments to make all efforts to encourage people to avail the scheme, success rate of under 50% "nothing to be proud of".
Central Employment Guarantee Council - which is supposed to be set up under law but wasn't - should be set up within 60 days. Centre to request states to constitute state equivalent councils within 45 days.
Comments:
Weeks of delay in paying wages to lakhs or persons is "unfortunate" and a "constitutional breach", committed by whichever government is responsible.
Compensation for delay has not been provisioned for by the government, which is "unfortunate".
First tranche of funds is not released at once, but in two parts - one after vote on account and the other after the Budget is passed by Parliament. Master Circular does not take this into account, and so, implementation of the scheme is affected - this is "unfortunate".
State governments to make realistic budgets to avoid controversy between them and Central government about release of funds. (The judgement spoke of a "chicken and egg situation", where Central government releases funds based on the performance of a state, but the performance of a state is affected by how much funding is made available).
On other matters
The Supreme Court stayed away from passing any substantial orders on other matters of crop compensation, restructuring loans and providing fodder. It said these are policy questions to be decided by experts, which the SC should not venture into, unless the policy decisions are unconstitutional or malafide.
"There cannot be any judicially-manageable standards for determining issues of policy, and it would be hazardous if not dangerous for us to venture into such areas when we lack the expertise to do so," the court said.
It said that to ensure that policies are implemented, law has provided for ombudsmen, and the court has ensured that these are functional, such as the employment guarantee councils for MGNREGA and grievance redressal officers for food security.