Sartaj Aziz is coming for Heart of Asia meet despite border tension. What's the play?
Catch Team
| Updated on: 10 February 2017, 1:37 IST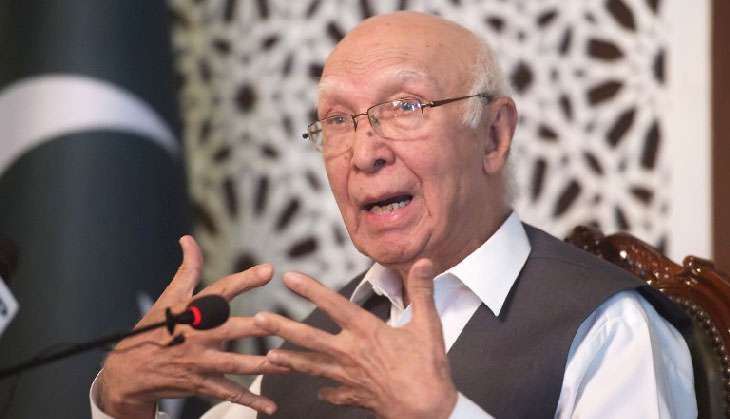 Amid escalation of tension on the Line of Control, Pakistan has confirmed the participation of Sartaj Aziz, advisor to Prime Minister Nawaz Sharif and de facto foreign minister, in the Heart of Asia conference in Amritsar early next month.
The visit, experts say, could defuse the hostilities. Aziz, in fact, has indicated as much.
Also Read: Pakistan confirms Sartaj Aziz's participation in Heart of Asia Conference in Amritsar
India's external affairs ministry, however, is silent on the possibility of a bilateral meeting with Pakistan on the sidelines of the conference. External Affairs Minister Sushma Swaraj, who will miss the conference due to health reasons, had travelled to Islamabad for the 5th Heart of Asia conference in December 2015, and met Aziz. The engagement led to the announcement of Comprehensive Bilateral Dialogue, which was soon derailed by the terrorist attacks in Pathankot and later Uri.
For the past several weeks, the situation on the LoC has deteriorated with multiple instances of heavy mortar shelling, which has essentially rendered the 2003 ceasefire agreement dysfunctional.
In a demarche issued to the Pakistani deputy high commissioner on Wednesday, the fourth this month, the MEA said that despite calls for restraint "Pakistani forces committed 27 ceasefire violations between 16 November and 21 November by resorting to calibre escalation and employing artillery and 120 mm heavy mortars against Indian posts".
On 22 November, three Indian soldiers were killed - one body was mutilated - in Machhal sector of Kashmir. The incident sparked heavy shelling from the Indian troops, which led to the killing of several Pakistani soldiers and nine civilians.
The response forced a hotline contact between the Director Generals of Military Operations on Wednesday. India's DGMO warned his Pakistani counterpart that infiltration attempts and ceasefire violations will invite an appropriate response. The Pakistani DGMO, according to a statement issued by the Indian army, was also asked to exercise control over his troops.
Also Read: Surgical strike aftermath: India, Pak DGMOs talk to ease border tension
Meanwhile, the Indian government also protested the "deliberate targeting by the Pakistani army of 18 villages along the Line of Control during the period from 16 November and 21 November."
Foreign Secretary S Jaishankar had also pointed out on Wednesday how Pakistan was blocking regional connectivity initiatives, which could lead to BIMSTEC becoming a more important regional grouping than SAARC.
Interestingly, Pakistan recently alleged that India had violated the 1991 agreement on air space violations when it rejected overflight clearance to Pakistani military aircraft. The MEA rejected the allegations, claiming that Pakistan had not provided essential information required for such a clearance.
"Despite several reminders, including in a meeting between Pakistani deputy high commissioner and MEA's joint secretary on 9 November, Pakistan did not provide the information," MEA spokesperson Vikas Swarup said, adding that a Pakistan Air Force aircraft carrying a VIP delegation between Lahore and Colombo had been permitted to fly over India recently.
Meanwhile, experts say Pakistan's decision to send Aziz for the conference in Amritsar, which will focus on Afghanistan, may have been informed by more than one factor - Islamabad not wanting to be seen as avoiding the meet after being cornered by India and Afghanistan on the issue of terror; the country's desire to show that it's flexible and willing to engage with its neighbours; the uncertainty over incoming US president Donald Trump's foreign policy; the mounting casualties along the LoC.
Moreover, experts also point to external pressure on both India and Pakistan to not let tensions escalate further.
Also Read: Theatre of the Absurd: why the NSA talks were bound to fail