#RTE at 6: Our focus should be on learning how to learn - Madhav Chavan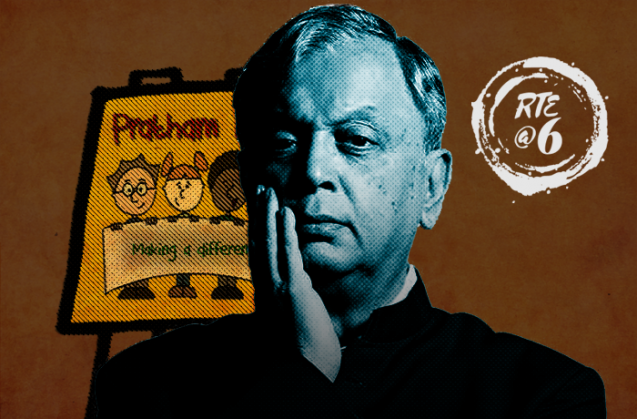 The anniversary
Right to Education completes 6 years on 1 April
Pratham founder Madhav Chavan evaluates what has been achieved and what hasn\'t
Number of schools have increased, infrastructure has improved. Learning hasn\'t.
More in the story
What ails the education system?
Is amending the Act a solution?
Why the problem lies in the curriculum
Did you know that half of India's fifth graders cannot read a second grade textbook?
This and other abysmal figures appear in Pratham's Annual Status of Education report (ASER) released year after year, which shows little improvement in the quality of learning outcomes across states.
Dr. Madhav Chavan is the co-founder and president of Pratham, one of India's most reputed NGOs working on reforming education.
Read- Political manifestos must focus on women in Assam: activist Sheetal Sharma
Catch asked Chavan what the impact of 6 years of the Right to Education (RTE) has been and where our main challenge lies in educating our masses.
Edited excerpts:
You've been trying to reform education in India for several years. What's been the impact of six years of the Right to Education?
It's hard to say. We haven't seen any great impact except that facilities within schools have improved in terms of civil infrastructure. Also there are more schools now than before. But that has not led to more children going to government schools. Over the last decade the proportion of children going to private schools has increased from 18% to about 35%. The RTE Act's impact is simply not felt.
The Pratham ASER survey that you conduct annually is repeatedly telling us that half of fifth graders can't read a second grade textbook. Where are we going wrong with our education system today?
Several things are going wrong. We are not building a foundation the way it should be done. We have to focus on what we want children to learn. Education is impossible without reading, writing and solving basic arithmetic, the fundamentals of which are not built strong enough in our kids. So it has problems later on. And it's not that private schools are doing much better.
Various things are going wrong. For example, we have a curriculum that is pitched much higher than what children are capable of at their level. And then one of the conditions of the RTE is that teachers should complete the syllabus in the given time. So the teacher keeps running without bothering to check if she's taken the whole class along.
Over the last decade the proportion of children going to private schools increased from 18% to 35%
Another fall out of the RTE is the increase in the number of schools, which is a good thing. But in some cases this has created more schools than necessary.
In Maharasthra, for instance, there are thousands of schools with less than 20 or 10 children. That means in every grade there are no more than 4 or 5 children. This has led to multi-grade teaching. So third to fifth graders are clubbed together and taught different things via different textbooks by the same teacher. So it's a multi-grade, multi-level situation that creates chaos where teachers don't know what they're doing.
What do you think about states like Rajasthan wanting to amend the Act in order to be able to fail students?
If children are learning the basics in each grade there is nothing wrong in promoting the child to the next grade. But if your objective is just to complete syllabus in the first, second and third grade and then your child doesn't know what he learnt in second grade when he's in fifth grade, then we have a problem.
But you can change that by saying the child doesn't have to know a set syllabus in each grade but between say first and third grade the child has to know some basics.
If you remove the age grade condition that the RTE is all about, and instead say, by third or fifth standard we want children to learn these basics, then children would learn better.
Would you say there's a lack of quality in teaching today? Are teachers not keeping themselves updated and renewing their skills?
Suppose I teach you to drive on a four lane express way and then give you a car to drive in a bumpy village road. Would you be able to drive?
Also read- 700 schoolgirls. 4 teachers: this is one fight club you want to know about
So its not that you're poorly or badly trained. The conditions that you've created are bad.
You are sending a teacher to teach a syllabus in a class, with the assumption that the children know everything from the previous grade. Then when you throw a teacher in, it's a multi-grade, multi-level teaching she's actually being asked to do. And the syllabus of all the subjects has to be completed on time. How is the teacher supposed to do that?
The way a classroom is run is all wrong. The heavy burden of what a child is supposed to learn, all we're doing is giving them knowledge and asking them to learn it by heart. The system is making everybody run. The teacher is just teaching to the front of the class.
If the curriculum today is more complex than necessary, should education be only what an individual can use in day to day life? Where do you draw the line?
It's a long debate - do you have to learn all the science or do you have to learn how to learn science? Constructivist philosophy which has shaped our national curriculum framework actually tells that education should be teaching you how to learn something because then one can learn anything.
But now you're telling kids to read 6 textbooks and that all this is important. That may not be necessarily right. You have to ask certain basic questions: Can you read this? Can you read it and enjoy it? Can you then say something about it?
We haven't seen any great impact except facilities and infrastructure within schools have improved
That's why if you see the PISA (Programme for international student assessment) results conducted by OEC countries, India dropped out in 2009. In those tests we had entered Tamil Nadu and Himachal Pradesh, our best performing states. We ranked 72 and 73 out of 74 participants. We performed the lowest. The tests were not asking what you've mastered through your textbooks. The tests simply gave paragraphs and asked students questions about it. Our students could not negotiate that.
NCERT recently found that only 60% of students, when asked, could locate information within textbooks. Four in ten couldn't even do that. The whole business of learning as we understand it today is completely wrong. We have to put the focus back on learning how to learn.
Edited by Aditya Menon
More in Catch:
Indian bowlers lost the plot against WI. But 193 wasn't enough at dewy Wankhede