In their face: is RSS using Muslims to beef up its agenda?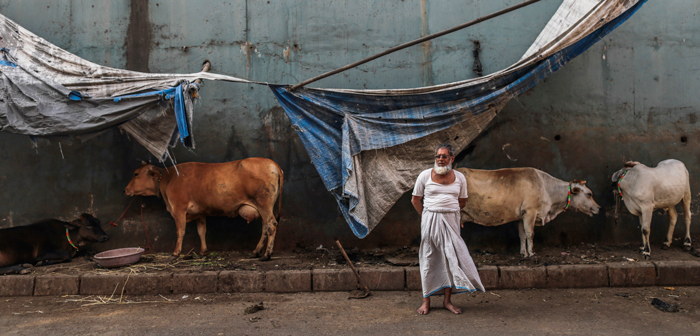 The meet
RSS holds a Cow Protection Conclave in Muslim-majority Mewat
Haryana CM Manohar Lal Khattar, RSS and Muslim leaders attend
The objective: to persuade Muslims to curb cow slaughter
The message
Clerics cite \'religious edicts\' to claim beef is prohibited in Islam
Indresh Kumar: Muslims shouldn\'t eat beef for sake of communal harmony
5,000 Muslims vow not to sacrifice cows during upcoming Eid
The slew of meat bans in BJP-ruled states seems to have energised the Sangh Parivar's campaign against cow slaughter, particularly in Muslim-dominated areas.
On 13 September, the RSS frontal outfit Rashtriya Muslim Manch organised an 'All India Cow Protection Conclave' in Firozpur in Haryana's Mewat region.
The objective: to persuade Muslim farmers and political and religious leaders to curb cow slaughter.
According to the organisers, it was only the first of many such events to be held in Muslim areas across the country.
Mewat is Haryana's only Muslim-majority region, with the community making up nearly 80% of the population. In the past, it has witnessed communal clashes sparked by rumours of cow slaughter.
The event was called Muslim Gopalak Sammelan; the word 'Goraksha', an RSS trademark, was deliberately omitted. "Goraksha has been an aggressive campaign of the Sangh. Muslims are generally vexed by this term," explained one of the organisers who happens to be Muslim.
This doesn't mean the event was any less significant for the Sangh. Indeed, its importance could be gauged from the presence of Chief Minister Manohar Lal Khattar. Also present was senior RSS leader Indresh Kumar, the head of the Manch, as well as several local and national Muslim clerics who were seated prominently on the stage.
Matter of faith
Cleric after cleric stood up to advocate against eating beef, citing purported Quranic verses and prophetic traditions in support. Maulana Kokab Mujtaba, for example, quoted verses from the chapter Sura al Bakr to proclaim that consuming beef was prohibited in Islam.
In his speech, Indresh blamed the media and "secularists" for the controversy over the ban on cow slaughter. Quoting a purported saying of the prophet, he said, "Your namaaz in not accepted if it pains your neighbour. Likewise, one should not eat beef if it hurts the religious sentiments of others as it annoys the Nabi."
"Muslims should refrain from eating beef for the sake of communal harmony. All people opposing a ban on cow-slaughter are satanic, fundamentalists and pseudo-secular," he added.
So, in the same spirit, would the Sangh appeal Hindus, Sikhs, Jains to follow Islamic practices? The Manch's Haryana convenor Khurshid Razaka ducked the question. "You should ask Indreshji, I can't speak on his behalf," he said.
Mewat won't give up on beef anytime soon - it's cheap food option, cops facilitate cow smuggling
Some Manch activists, however, said it wasn't right to hold Muslims responsible for cow slaughter.
"India is the world's largest exporter of beef. That's because of multinational companies," said the convenor of the outfit's Madhya Pradesh unit Sharik Khan. "We should make Muslims aware about this."
If that's the case, why doesn't the BJP government just legislate against beef export? "No, our priority is spreading awareness among the Muslims," Sharik replied.
In the end, the Manch did manage to get 5,000 people to take a vow against sacrificing cows during the Bakr Eid festival later this month.
But is it enough to check cow slaughter in Mewat, where cow smuggling and sale of beef is allegedly rampant? Local leaders are sceptical.
"This practice can't be stopped as long as this region remains poor," said Pankaj Kharbanda, a sarpanch from Punhana. "Beef is a cheap option of food for many people here."
"As far the trafficking, it happens due to the complicity of the administration. It is the police that facilitates cow smuggling."