Rohingya refugees in a bind after India lays out deportation plan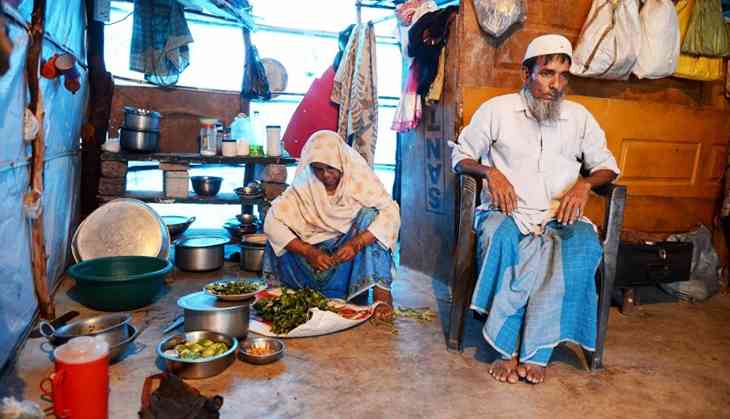 In this photograph taken on June 24, 2016, Rohingya Muslim Mohammed Noor (R) sits as his wife prepares food in their tent in a refugee camp in the old city of Hyderabad. (AFP PHOTO / NOAH SEELAM)
With the Union Home Ministry making it official that it plans to deport Rohingya refugees, the fate of thousands of the persecuted people hangs in balance. The Rohingyas crossed over to India with the hope of a better life, but their struggles just seem to be mounting.
Soon all of them may end up in detention camps, like those in Assam who are alleged to be Bangladeshis, if Myanmar refuses to take them back, according to reports. The United Nations and several rights groups have expressed concern over reports of the planned deportation.
The reports have come at a time when Prime Minister Narendra Modi is days away from his maiden bilateral visit to Myanmar, scheduled for the first week of September.
Neighbouring Bangladesh, which is estimated to have more than four lakh Rohingya refugees, too, has been demanding that Myanmar take them back. And this is despite the fact that news from the ground suggest that the inflow of Rohingyas continues amid reports of growing repression by the Myanmar Army after last year's attack on a border post. This attack was traced to a Rohingya militant outfit
More than 70,000 refugees crossed over to Cox's Bazar in Bangladesh from Myanmar's Rakhine State since October, according to reports.
A state of denial
As Myanmar continues to brazenly deny any crackdown against Rohingyas in Rakhine State, calling it a Western propaganda, thousands of refugees narrate the targeted violence that forced them to flee.
The continued exodus from Rakhine State and an unwelcoming Bangladesh has put India under pressure. The government has claimed that India has seen an abrupt rise in the number of Rohingya refugees in the last two years with numbers jumping from 10,000 to 40,000.
Security agencies have been worried about the possible radicalisation or these poor famished refugees becoming easy conduits for the Pakistan-based terror outfits. The Muslim Rohingyas have been a target of the right-wing Hindu groups, including the Vishwa Hindu Parishad, which has been demanding their deportation.
There were also concerns about how Bangladeshis may be entering India claiming to be Rohingyas. While most of the Rohingyas enter India, after Bangladesh, mainly in Tripura, some also take the Mizoram route, through Chin state in Myanmar.
While government pegs the number of refugees at around 40,000, around 16,500 of these refugees are registered with the United Nations High Commissioner for Refugees (UNHCR), which has given them identity cards to facilitate their stay in India.
The Rohingyas are spread all over the country, including Delhi, Mewat in Haryana, Hyderabad and Chennai. There is also a sizeable population in Jammu, where they have come under tremendous pressure recently and have become a casualty of local politics.
After reservations from Kashmiri political parties over issuing of identity cards to refugees from West Pakistan, the Rohingyas became the target of some influential local pressure groups. These groups include the Jammu Chamber of Business and Commerce which threatened them with an 'identify and kill' campaign and others who termed their settlements as big conspiracies.
First official confirmation
Even as UNHCR continues with its registration and says that it is yet to get any directive or clarity from the government on the issue according to reports, Minister of State for Home Affairs Kiren Rijiju said that the registration is irrelevant.
"They are doing it, we can't stop them from registering. But we are not signatory to the accord on refugees," he told Reuters in an interview.
"As far as we are concerned they are all illegal immigrants They have no basis to live here. Anybody who is illegal migrant will be deported," he said.
Rijiju earlier told the Parliament that the government has asked the state and district administration to constitute task forces to identify Rohingyas and deport them. Spokesperson of the Ministry of Home Affairs had said that the Indian government is in touch with Bangladesh and Myanmar authorities.
However, the government is yet to come out with how it plans to deport thousands of such refugees, some of whom have intermarried with the locals, and deal with a reluctant Myanmar.
Security concerns
Indian security agencies have been reportedly been consistent in relaying concerns to the Myanmarese security establishment on how this crisis could take a serious turn if it is not resolved.
While India has largely remained quiet on the issue, owing to its growing proximity to Myanmar, lest it upset the Generals or State Counsellor Aung San Suu Kyi. The security apparatus has reportedly told the neighbour how the radicalised Rohingyas are easy prey for outfits like the Lashkar-e-Taiba.
India suspected that Lashkar had carried out the 2015 Bodh Gaya attack through Rohingyas. It is the Pakistan connection which is perhaps a reason for the unease of the Indian security establishment.
A report by the International Crisis Group (ICG) after the October attack paints a scary scenario both for the security establishment and the refugees.
The report, which goes into the genesis of the October attack on a border post in Myanmar by suspected Rohingya militants, talks of a new group – the Harakah al-Yaqin (Movement of Certainty) or the Arakan Rohingya Salvation Army (ARSA) – locally referred to in Myanmar as the Aqa Mul Mujahidin.
The ICG report, based on interviews of some of the members of the group, states that the outfit, with 20 people at the top, is run from Saudi Arabia and that "all are Rohingya émigrés or have Rohingya heritage. They are well connected in Bangladesh, Pakistan, and possibly India". And that to gain legitimacy for the attack, the groups used fatwas or religious decree, some of which may have come from India.
"Fatwas (religious rulings) to this effect were apparently obtained shortly after 9 October in several countries with a significant Rohingya diaspora, including Saudi Arabia, Dubai, Pakistan, India and Bangladesh," the report reads.
Since the October attack, ARSA is said to have become active in Rakhine. A post on its Twitter account on 16 August has its head Abu Ammar Junoni making an appeal to the Rohingya diaspora. In video Junoni, where he is seen with some armed operatives, warns the Burmese military to either demilitarise Rakhine or face retaliation.
ARSA Commander demands #Myanmar Gov't to demilitarize #Arakan state & warns of retalitions if they fail to fulfillhttps://t.co/xH0n8iLK96

— ARSA_The Army (@ARSA_Official) August 16, 2017
Rohingya militant groups would add to the woes of the Indian security establishment in the Northeast, where it has to battle with multiple armed outfits, some of which, like the ULFA(I) and NSCN(K), operate from Myanmar.
Interestingly, while concerns persist, apart from one Rohingya – Sheikh Mohammad who was arrested for his alleged involvement in the Burdwan blast of 2014 – there has been no major incident where their involvement has been found.
Even the UNHCR had told Catch earlier how the Indian government had not relayed any concerns about their possible radicalisation or involvement in subversive activities. Even though a few hundreds of them had been detained but under the Foreigners Act.
This situation is different from Bangladesh where there are allegations that many of the refugees, with little to survive, have got themselves involved in drug trafficking networks. The growth of Yaba consumption, which is smuggled from Myanmar, has become a big headache for Bangladeshis, who suspect that a lot of Rohingyas are acting as couriers for drug syndicates for easy money.
Rights groups come out against planned deportation
While the UNHCR reportedly says how deportation would be against the customary international norms, which bar any country from deporting refugees to a country where they may be in danger, other groups too have demanded that India not deport these vulnerable people. UN Secretary General Antonio Guterres, too, had expressed concern over the move.
Others like the Amnesty International and The Human Rights Watch have been taken by surprise.
Meenakshi Ganguly, South Asia Director of Human Rights Watch said – "India has a long record of helping vulnerable populations fleeing from neighbouring countries, including Sri Lankans, Afghans and Tibetans." And under these circumstances, she added, that the authorities should abide by international legal obligations and not forcibly return any Rohingya to Burma.
Edited by Jhinuk Sen