Robber takes 900 cops to catch, Bhopal elders fix 'blessing fee' for priests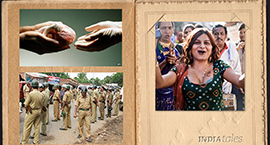 900 cops from 2 sates went after a robbers' gang. Guess what happened?
Sheru Mev, the kingpin of a notorious gang of robbers, is finally in jail. He was arrested from Utawad village in Palwal, Haryana, on 15 November.
It would have been just another arrest of a crook, only it took at least 900 policemen from Rajasthan and Haryana.
Sheru, 22, was wanted in at least a dozens robberies across Rajasthan, Haryana and Uttar Pradesh. In the past two months alone, according to the police, his gang carried out nine robberies on the Delhi-Jaipur highway.
IGP, Jaipur, DC Jain said the Rajasthan police had, a few months ago, formed five teams to curb the growing incidents of robbery along the highway. They managed to arrest several robbers, but not Sheru Mev, or any member of his gang.
Then, recently, the police were tipped off that Sheru was hiding in Utawad along with his gang.
The Rajasthan police informed their Haryana counterparts, but they were reportedly reluctant to go into Utawad "as it is known as a hub of criminals".
"It was only after high-level deliberations between the two police forces that an operation was launched," said a police officer from Rajasthan.
The raiding party comprised 600 Haryana police personnel, while the rest came from Rajasthan.
The police "surprisingly encountered little resistance" as they laid a siege to the village and arrested Sheru. His 15 gang members, however, managed to escape.
The police claimed to have seized a Scorpio SUV and Rs 92,000 in cash from Sheru. "His arrest is likely to solve many criminal cases in the area," a police officer said.
No excess: Bhopal panchayat fixes fees for eunuchs, priests' blessings
Taking blessings from priests and eunuchs on auspicious occasions is a tradition in many parts of India.
Often, the blessing doesn't come cheap as they demand exorbitant sums of money -- in the name of tradition, of course.
Priests won't get more than Rs 500 for birth ceremonies, Rs 3,500 for conducting marriage rituals
The panchayat of Sindhi Central, Bhopal, has now decided to curb this tendency by fixing the amount to be given to eunuchs and priests. Eunuchs will get no more than Rs 500-1,100 to bless a newborn and Rs 500-2,100 for a marriage. The fees for priests has been fixed at Rs 500 for birth ceremonies and Rs 3,500 for conducting marriage rituals.
Anyone demanding more than the prescribed amount would have to answer the panchayat.
"We were getting complaints that transgenders and priests are charging undue amounts on family functions. It's a problem, especially for families that are economically weaker. Hence, this decision," said Jai Kishan Lalchandani, the panchayat president.
This is not the first time the panchayat has sought to regulate family ceremonies.
Three months ago, it barred women from dancing alongside a baraat. They could dance only at the start of a marriage procession.
Not only that, the panchayat also announced a Rs 5,000 fines for brides and grooms who are late at their receptions.
Spirit of charity: body donations on the rise in Madhya Pradesh
Prof SC Saxena spent most of his life teaching at SS Medical College in Rewa, Madhya Pradesh.
He died in January this year. Yet, he continues to teach, in a manner of speaking. Medical students are learning about anatomy from his cadaver.
Prof Saxena was well aware of the difficulties students faced while studying with the help of unclaimed bodies as most of them happen to be mutilated.
So, he donated his body for medical research.
RS Shrivastava, a retired SDM, wanted his "mission of social service to continue" after his death. So, he too willed his body to the medical college.
Saxena and Shrivastava are among a growing tribe of people in Madhya Pradesh who are donating their bodies for medical research and organ transplant.
As many as 605 men and women have willed their bodies to 13 medical colleges across the state in the past five years. Another 1,440 people have expressed their will to do the same after they pass away.
605 people in MP donated bodies for research in the last 5 years; 1,440 have willed to do the same
Indore has recorded the highest number of body donations with 457, followed by Bhopal with 67 people.
The donated bodies help medical students learn about anatomical structures by dissection. Cadavers also help surgeons experiment with innovative surgical skills and procedures.
Though technology has helped create assisted models - mannequins and simulations - they are not yet a replacement to a natural cadaver.