Rising violence in Kashmir: forces can't afford to stand at ease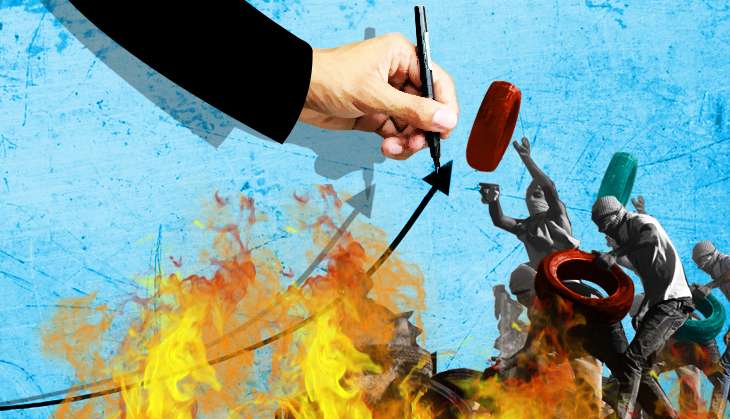 This week's edition of NDTV's 'The Buck Stops Here' (28 June) focussed on the attack by militants in Pampore in which 8 CRPF personnel were killed. The discussion gave the impression that on one hand home grown terrorism is on the rise in Kashmir and on the other, security forces lack co-ordinated action against terrorist groups. Both these developments are harming the law and order situation in the Valley.
We have to understand that ISIS has motivated Muslim youth in different parts of the world. These youngsters are not only intelligent and highly educated, but have over a period of time gotten influenced by propaganda on the internet. What they witness on a everyday basis makes them all the more sympathetic towards terrorists and ISIS.
A salient feature of these developments is that these Muslim youth try to carry out violent action against security forces and groups they perceive as un-Islamic. Even the propaganda they have been exposed to says that the fault lines in society will have to be set right by positive and direct action.
Changing patterns
In Kashmir, the pattern of militant violence switched from being locally initiated to cross border 1990 onwards. Security forces - J&K Police, Paramilitary forces (CRPF, SS.B and BSF) and the Army - have tackled these tactical maneuvers by these groups. They have been successful in keeping the militant violence within controllable limits.

From the beginning of this year, there is a definite push to increase militant violence. Militant groups both within (Hizbul Mujahideen) and those coming from across the border (Lashkar-e-Tayyeba and Jaish-e-Mohammad) have made their presence felt. This is going on when there is again talk of a lack of co-ordination among local and central police forces on one side and central forces and the Army on the other.

In the debate on NDTV, a retired DG. of CRPF who claimed to know the border dynamics of infiltration and its impact on terrorist incidents, as he had served in the BSF in Jammu, failed to articulate the present trends of militant violence in the Valley.

From the beginning of this year, the terrorists have shown that do not hesitate in carrying out daring attacks on vulnerable security forces targets. This was seen in the attacks in Pampore, Bijbehara and other such incidents in South Kashmir. The local terrorists killed were educated and from good families. They displayed a willingness to take on central forces and even the army. This is a trend which needs to be addressed immediately.

Infiltration is on the increase and the Army has been engaging infiltrators in North Kashmir. This means that even the LeT and JeM are continue to push terrorists into Kashmir, which could lead to a rise in incidents in the summer months. The Amarnath Yatra has once gain become vulnerable.

In such a scenario, it does not augur well for the two senior officers - one from the Army and the other from the CRPF - to fight it out on a TV channel. This shows signs of destructive competition which can be harmful for the forces on the ground.

The state government needs to take stock of the situation and get all the forces on the same page. It also seems that there is a leadership problem within the security forces, which needs to be addressed.

Attacks on convoys and static security posts as well as security lapses on part of personnel who go to crowded places alone or without arms, shows that the Standard Operating Procedures are not being followed. For this we cannot blame the militants.

Close supervision and strict vigilance is the only answer. These incidents embolden the terrorists who are always on the lookout for laxity and lethargy on the part of the forces.

It is time for the forces to carry out co-ordinated action against homegrown terrorists. Intelligence gathering also needs to be revamped for pinpointed operations against these local terrorist groups which are small in number.

The writer had a long stint with the Intelligence Bureau in Jammu and Kashmir. He is a former Director General of the Sashastra Seema Bal.

The views expressed here are personal and do not necessarily reflect those of the organisation.

More in Catch

P { margin-bottom: 0.08in; }A:link { }

Pampore attack: why is Kashmir becoming deadlier for the CRPF?

P { margin-bottom: 0.08in; }A:link { }

Mehbooba's sole priority is BJP's goodwill. Kashmir be damned

P { margin-bottom: 0.08in; }A:link { }

Mehbooba's Eid gift: amnesty for Kashmir's 'misguided' youth