Retired DU teachers & employees struggle without pensions, launch stir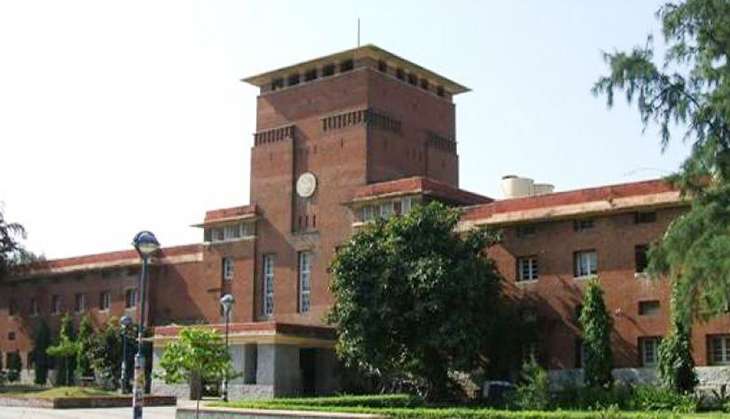 Retired teachers and non-teaching staff of the Delhi University (DU) on Thursday staged a protest dharna, demanding the release of pensions for hundreds of former employees, who are struggling to make ends meet.
They demanded that the university implement the double bench Delhi High Court order of 24 August 2016, which stated that all retired employees be given a monthly pension under the General Provident Fund (GPF) scheme, whether or not they had earlier opted to move to GPF from the Contributory Provident Fund (CPF) scheme.
Amid heavy police deployment ordered by the vice-chancellor, more than 500 ex-employees gathered before the Arts Faculty main gate at the varsity's North Campus for the protest from 1pm to 4pm.
The dharna was jointly organised by the Delhi University Teachers' Association (DUTA), the Delhi University College Karamchari Union (DUCKU), the Delhi University College Lab Staff Association (DUCLSA), the SC/ST Employees Association and the Samajik Nyaya Morcha.
A delegation led by DUTA president Nandita Narain later went to meet the vice-chancellor Yogesh Tyagi at his office, but the VC was not available.
They submitted a memorandum to the VC and plan to submit the same to the Prime Minister, said Narain.
CPF vs GPF
On 1 May 1987, based on the recommendations of the Fourth Pay Commission, the Central government had ordered that all its employees appointed on or after 1 January 1986 would be covered under the GPF pension scheme.
Employees who were in service on or before 1 January 1986 were given the option to either continue with CPF or switch to the pension scheme; they had until 30 September 1987 to make the choice. While some employees opted for CPF, which paid a cumulative one-time sum at retirement with an attractive interest rate, there were some who did not opt to remain and according to government orders should have been transferred to the GPF scheme. However they were made to continue under CPF.
Till 1998, DU gave a few more chances to its staff to choose between the two schemes. However a large number of teaching and non-teaching employees never exercised this choice, as they were simply not aware of the short windows when DU opened the option to shift to the pension scheme (GPF).
After the Fifth Pay Commission brought in a significant pay hike in 1997, employees realised the benefits of GPF, which is linked to the pay commission and indexed to inflation, while the interest rates on CPF kept declining.
In 2006, some teachers went to court. This included both those who had opted for remaining in CPF and those who hadn't.
On 30 April 2014, a single judge bench of the Delhi High Court ruled that those who had made no choice at all in 1987 or who had opted to remain in CPF after the cut-off date of 30 September 1987 should be deemed to have moved to the pension scheme. However it did not give this advantage to those who had opted to remain in CPF within the stipulated time frame.
However, DU filed an appeal against the single bench order on 14 August 2014. Further it also suspended payment of pensions to those employees whom it had itself allowed to move to the pension scheme under special short-term provisions made by the University till 1998.
"The then-VC, Dinesh Singh, vindictively decided to act against the university's own staff, as this was the same year that the collective action of DU teachers had forced the rollback of the Four-Year Undergraduate Programme (FYUP)," said Rudrashish Chakraborty, assistant professor at Kirori Mal College, and member of DU's Academic Council.
Finally, on 24 August 2016, the court ruled that all employees were eligible for GPF (i.e. all those appointed before 2004 after which a new pension scheme was introduced).
Growing old without pension
It's been five months since the high court order, but DU is yet to release pensions for around 3,000 teaching and non-teaching staff, despite repeated reminders and requests.
Om Prakash Sharma, a 63-year-old retired non-teaching employee, who worked as technical assistant at Ramjas College from 1975 to 2014, is among those who never made any choice, as he was simply not informed about the options and their consequences back then.
He and his wife are now facing financial hardships in the absence of a pension.
"I retired in July 2014, and have not received a penny since then, except for a small amount of gratuity. I went and met the registrar, but to no avail," said Sharma.
"My wife, who has been a housewife throughout, and I are currently living with our son, who is a teacher at an MCD school." Sharma hails from Rajasthan and does not have a house in Delhi. While he was a DU employee, he was living in the staff quarters on the Ramjas campus.
A large number of other employees who retired several years ago have neither received any amount under CPF, nor any pension under GPF, due to the protracted legal battle.
"We were told the matter is sub-judice, so they could not pay us anything until a decision was taken," said Sharma.
Chakraborty said the university administration had given no explanation for not releasing pensions, except that it was awaiting the go-ahead from the UGC.
"The university is duty-bound to follow high court orders. It is illegal to withhold pensions now. Even the UGC cannot supersede an HC judgment," said Chakraborty.
"It is a question of the livelihoods of these people, who have given almost four decades of their lives to this university. And now they are struggling to survive."
Narain said DUTA and other DU collectives also plan to take this issue to Parliament. "We plan to approach MPs across party lines with our grievances, so that they can raise the issue while Parliament is in session," she said.